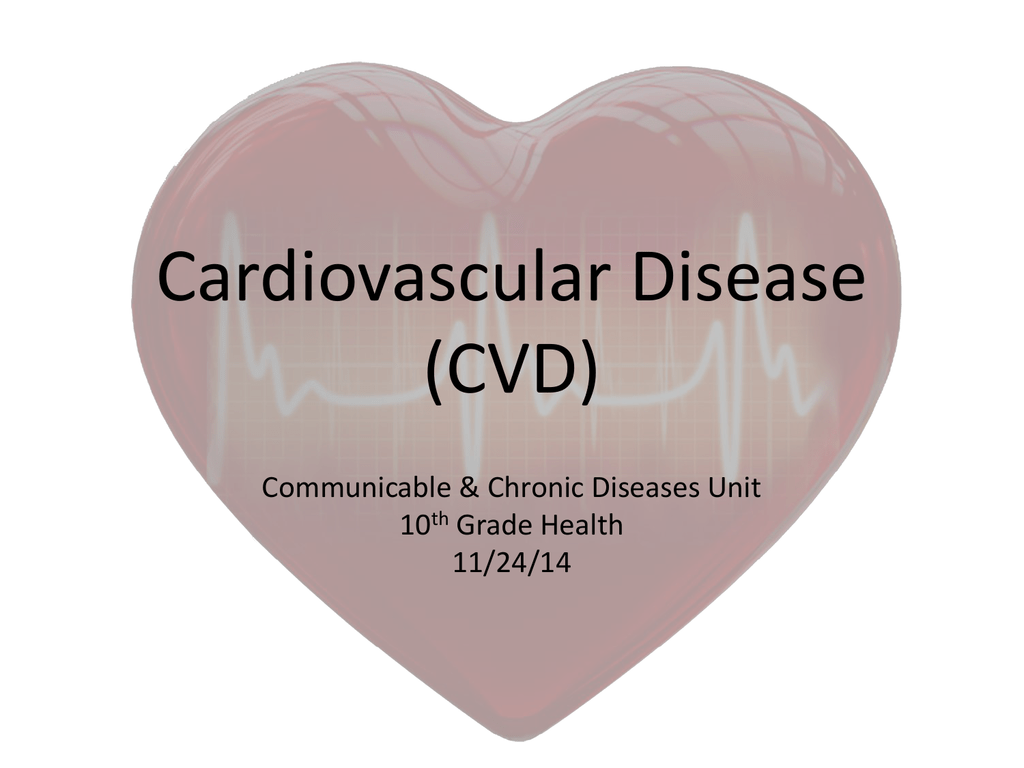 Cardiovascular Disease
(CVD)
Communicable & Chronic Diseases Unit
10th Grade Health
11/24/14
Stat of the Day
Cardiovascular disease causes nearly ____
percent of annual U.S. deaths.
Answer: 40%
CVD Learning Targets
1. Identify risk and protective factors for CVD
2. Understand the mechanism of
atherosclerosis
3. Differentiate the different types of CVD
4. Explain how CVD affects the body long term
What is Cardiovascular Disease?
• Definition: A disease that affects the heart
and/or blood vessels
• Review: What are the 4 main functions of the
cardiovascular system?
1. Transports nutrients, gases, and waste products
2. Protects against infection
3. Maintains a constant temperature
(thermoregulation)
4. Maintains fluid balance
Risk Factors for CVD
• Risk factors can be
controllable or
unavoidable
• Protective factors
are preventative
measures to combat
the risks
In your small groups…
Risk Factor
Controllable
or
unavoidable
Protective
factor(s)
Types of CVD:
Hypertension
• Definition: High blood pressure
– Major risk factor for other CVDs
– Few to no symptoms in early stages
– Affects 1/3 of U.S. adults
• Treatments
– Weight management
– Proper diet
– Exercise
– Medication
Types of CVD:
Atherosclerosis
• Definition: Accumulation of plaque on artery
walls
• Results in arteriosclerosis: hardened arteries
with reduced elasticity
• Cause: Diet high in saturated fat and/or
cholesterol
Atherosclerosis Activity
• Which group was the most successful? Why?
– PVC pipe/marble
• What is the relationship between resistance and
blood flow V?
– Resistance is inversely proportional to blood flow V
• How is artery resistance affected by plaque buildup (2 ways)?
– Increases due to smaller diameter
– Increases due to lessened elasticity
Types of CVD:
Diseases of the Heart
• Angina Pectoris:
Group 1
• Arrhythmias: Group
2
• Heart Attack: Group
3
• Congestive Heart
Failure: Group 4
Make a poster that:
1. Describes the
condition
2. Outlines the
symptoms and
complications
3. Explains the treatment
options
Exit Slip
Choose one controllable risk factor for CVD that
applies to you.
Write a personal behavior change goal to reduce
this risk and a 2-3 sentence action plan for
achieving it.