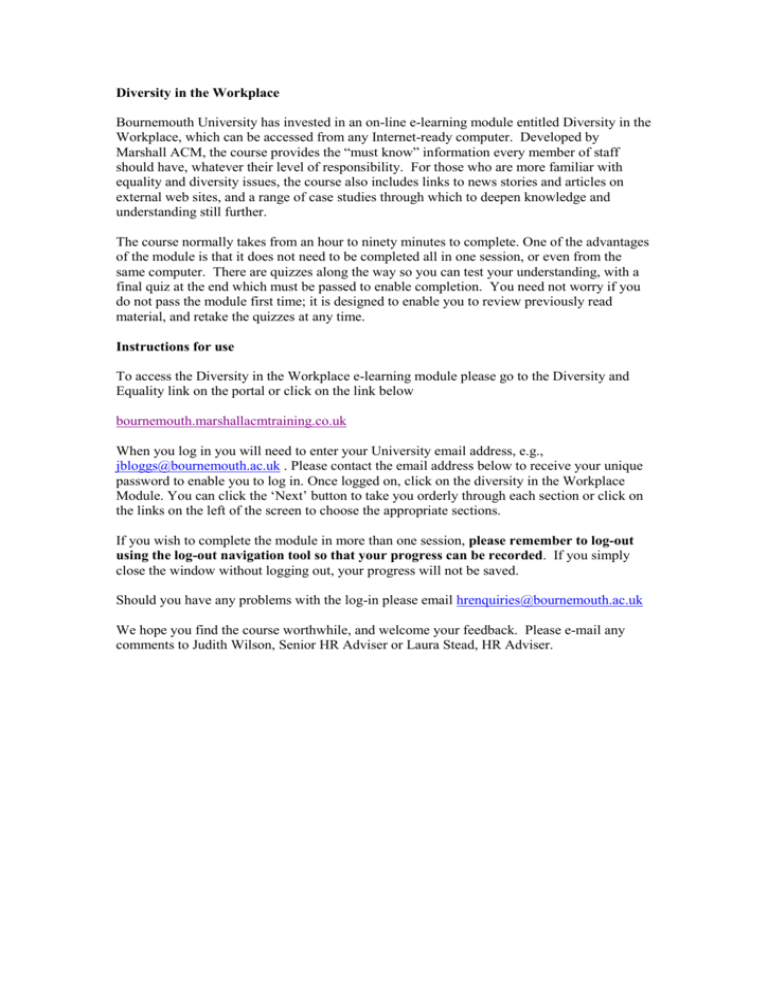 Diversity in the Workplace
Bournemouth University has invested in an on-line e-learning module entitled Diversity in the
Workplace, which can be accessed from any Internet-ready computer. Developed by
Marshall ACM, the course provides the "must know" information every member of staff
should have, whatever their level of responsibility. For those who are more familiar with
equality and diversity issues, the course also includes links to news stories and articles on
external web sites, and a range of case studies through which to deepen knowledge and
understanding still further.
The course normally takes from an hour to ninety minutes to complete. One of the advantages
of the module is that it does not need to be completed all in one session, or even from the
same computer. There are quizzes along the way so you can test your understanding, with a
final quiz at the end which must be passed to enable completion. You need not worry if you
do not pass the module first time; it is designed to enable you to review previously read
material, and retake the quizzes at any time.
Instructions for use
To access the Diversity in the Workplace e-learning module please go to the Diversity and
Equality link on the portal or click on the link below
bournemouth.marshallacmtraining.co.uk
When you log in you will need to enter your University email address, e.g.,
jbloggs@bournemouth.ac.uk . Please contact the email address below to receive your unique
password to enable you to log in. Once logged on, click on the diversity in the Workplace
Module. You can click the 'Next' button to take you orderly through each section or click on
the links on the left of the screen to choose the appropriate sections.
If you wish to complete the module in more than one session, please remember to log-out
using the log-out navigation tool so that your progress can be recorded. If you simply
close the window without logging out, your progress will not be saved.
Should you have any problems with the log-in please email hrenquiries@bournemouth.ac.uk
We hope you find the course worthwhile, and welcome your feedback. Please e-mail any
comments to Judith Wilson, Senior HR Adviser or Laura Stead, HR Adviser.