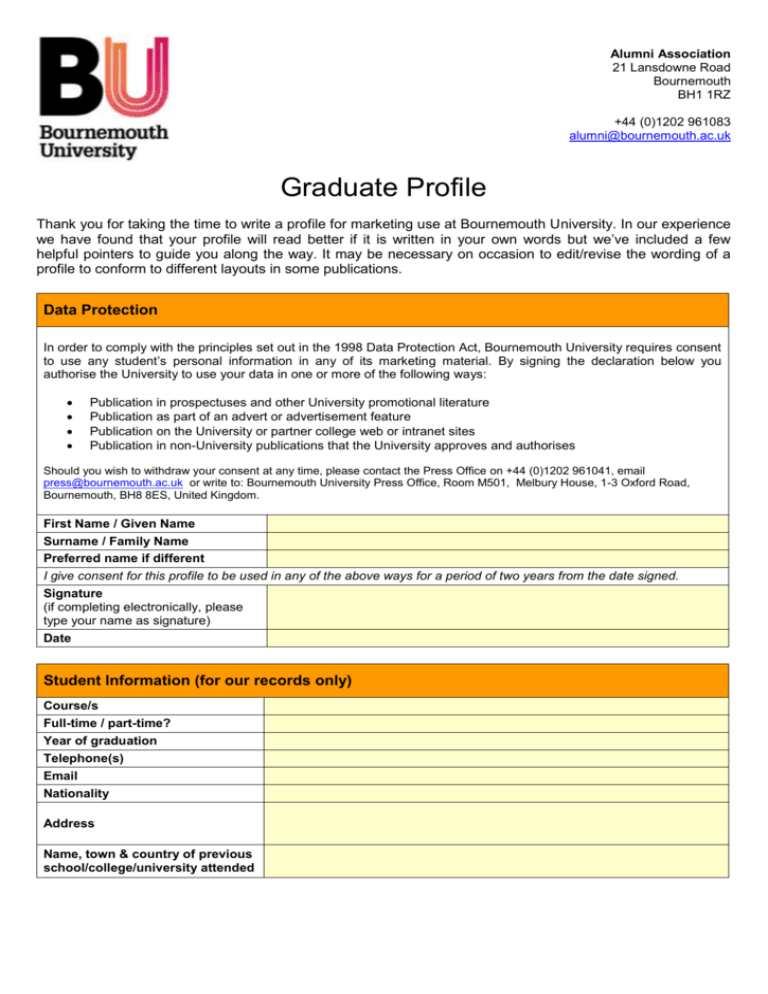 Alumni Association
21 Lansdowne Road
Bournemouth
BH1 1RZ
+44 (0)1202 961083
alumni@bournemouth.ac.uk
Graduate Profile
Thank you for taking the time to write a profile for marketing use at Bournemouth University. In our experience
we have found that your profile will read better if it is written in your own words but we've included a few
helpful pointers to guide you along the way. It may be necessary on occasion to edit/revise the wording of a
profile to conform to different layouts in some publications.
Data Protection
In order to comply with the principles set out in the 1998 Data Protection Act, Bournemouth University requires consent
to use any student's personal information in any of its marketing material. By signing the declaration below you
authorise the University to use your data in one or more of the following ways:




Publication in prospectuses and other University promotional literature
Publication as part of an advert or advertisement feature
Publication on the University or partner college web or intranet sites
Publication in non-University publications that the University approves and authorises
Should you wish to withdraw your consent at any time, please contact the Press Office on +44 (0)1202 961041, email
press@bournemouth.ac.uk or write to: Bournemouth University Press Office, Room M501, Melbury House, 1-3 Oxford Road,
Bournemouth, BH8 8ES, United Kingdom.
First Name / Given Name
Surname / Family Name
Preferred name if different
I give consent for this profile to be used in any of the above ways for a period of two years from the date signed.
Signature
(if completing electronically, please
type your name as signature)
Date
Student Information (for our records only)
Course/s
Full-time / part-time?
Year of graduation
Telephone(s)
Email
Nationality
Address
Name, town & country of previous
school/college/university attended
Studying at Bournemouth – The Student Experience
Sum up your experience at Bournemouth University
We'd be particularly interested in your answers to the following questions:
 What was your main reason for undertaking a degree?
 Why did you choose Bournemouth University and your specific course? What did you hope to get out of it?
 What were the best things about your course and the overall academic experience?
 What are your views of the academic staff on your course and did anyone stand out?
 Did you go on a work placement? If so, what did you learn from this experience?
 What were your favourite aspects of non-academic life e.g. your social/cultural pastimes?
 Were you a member of any BU clubs or Societies?
 What were your favourite things about living and studying in Bournemouth?
Career and Work History
Employer
Current job title
Industry type
Year joined
Business address
Web address
Email address
Tell us about where life has taken you since leaving BU:
 What were your career aspirations before coming to BU? How did they change?
 How did you get your current job and what does the role involve?
 What do you enjoy most in your job?
 Have your any professional achievements of which you are particularly proud?
 What skills/knowledge gained from your degree are you using in your current or previous role/s?
 In what other ways has BU prepared you for work?
 Have you any job-hunting advice you can pass on to current/prospective students or other graduates?
Thank you for your help!
Please return to: alumni@bournemouth.ac.uk
If possible, please also attach one or more recent photographs of yourself that we can use alongside your profile.