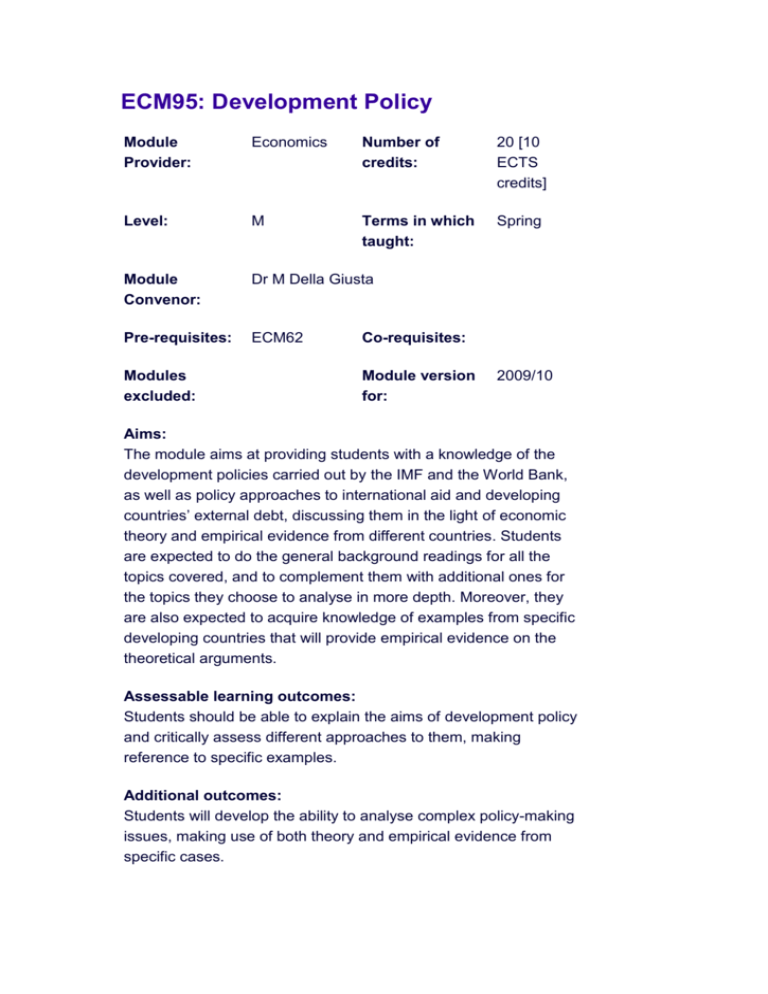 ECM95: Development Policy
Module
Provider:
Economics
Number of
credits:
20 [10
ECTS
credits]
Level:
M
Terms in which
taught:
Spring
Module
Convenor:
Dr M Della Giusta
Pre-requisites:
ECM62
Modules
excluded:
Co-requisites:
Module version
for:
2009/10
Aims:
The module aims at providing students with a knowledge of the
development policies carried out by the IMF and the World Bank,
as well as policy approaches to international aid and developing
countries' external debt, discussing them in the light of economic
theory and empirical evidence from different countries. Students
are expected to do the general background readings for all the
topics covered, and to complement them with additional ones for
the topics they choose to analyse in more depth. Moreover, they
are also expected to acquire knowledge of examples from specific
developing countries that will provide empirical evidence on the
theoretical arguments.
Assessable learning outcomes:
Students should be able to explain the aims of development policy
and critically assess different approaches to them, making
reference to specific examples.
Additional outcomes:
Students will develop the ability to analyse complex policy-making
issues, making use of both theory and empirical evidence from
specific cases.
Outline content:
 Introduction: development policy actors
 IMF and stabilisation policy: theory and empirical evidence
 The World Bank and development policy
 International aid
 Debt and debt relief
Brief description of teaching and learning methods:
Detailed guidance on the main topics of the syllabus and key
references are provided in the sessions of lectures. Students are
required to do a significant amount of reading of journal articles,
chapters of books, statistical sources and websites of national and
international organisations, and reports of development
governmental and non governmental organisations.
Contact hours:
Autumn
Lectures
Spring
Summer
10 x 2
hours
Tutorials/seminars
Practicals
Other contact (eg
study visits)
Total hours
10
Number of essays
or assignments
1
Other (eg major
seminar paper)
1
Assessment:
Coursework
One essay (2,500 words) and one test.
Relative percentage of coursework
Has a 50% weight in the overall assessment of the module.
Penalties for late submission
Penalties for late submission of course work will be in accordance
with University Policy.
Examination
Two hours examination with a weight of 50% in the overall
assessment of the module, taken in the Summer term.
Requirements for a pass
A weighted average mark of coursework and examination of 50%.
Reassessment arrangements
By examination only (coursework will not be included in the reassessment) in September.