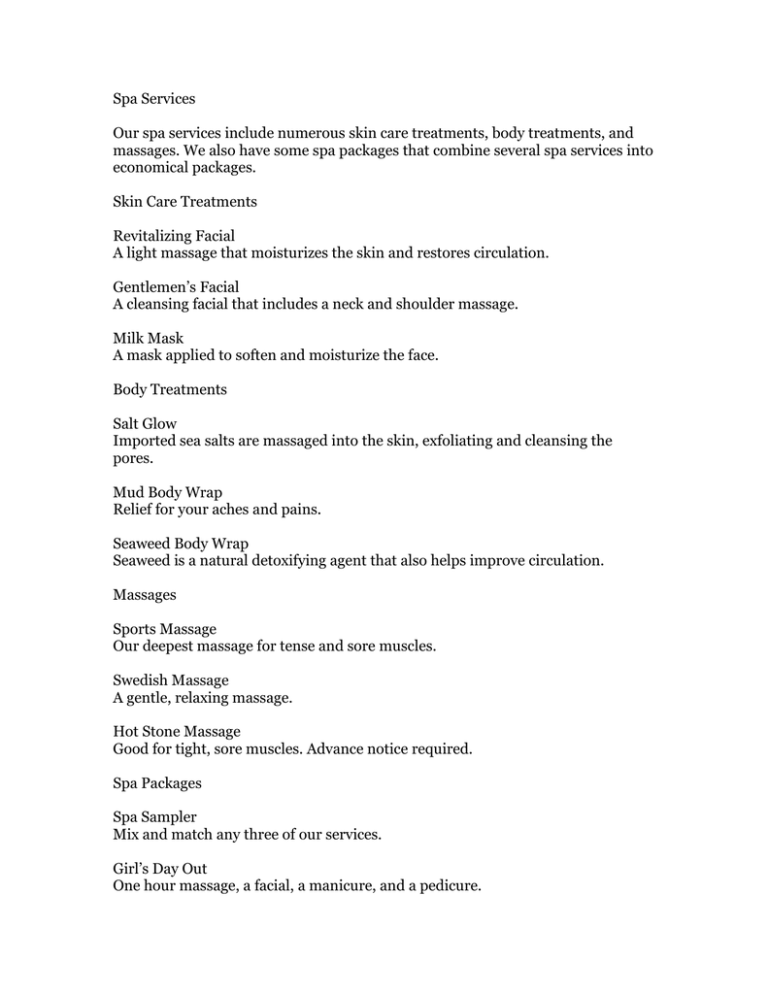 Spa Services
Our spa services include numerous skin care treatments, body treatments, and
massages. We also have some spa packages that combine several spa services into
economical packages.
Skin Care Treatments
Revitalizing Facial
A light massage that moisturizes the skin and restores circulation.
Gentlemen's Facial
A cleansing facial that includes a neck and shoulder massage.
Milk Mask
A mask applied to soften and moisturize the face.
Body Treatments
Salt Glow
Imported sea salts are massaged into the skin, exfoliating and cleansing the
pores.
Mud Body Wrap
Relief for your aches and pains.
Seaweed Body Wrap
Seaweed is a natural detoxifying agent that also helps improve circulation.
Massages
Sports Massage
Our deepest massage for tense and sore muscles.
Swedish Massage
A gentle, relaxing massage.
Hot Stone Massage
Good for tight, sore muscles. Advance notice required.
Spa Packages
Spa Sampler
Mix and match any three of our services.
Girl's Day Out
One hour massage, a facial, a manicure, and a pedicure.
Call the Spa desk for prices and reservations. Our desk is open from 7:00 a.m.
until 5:00 p.m.