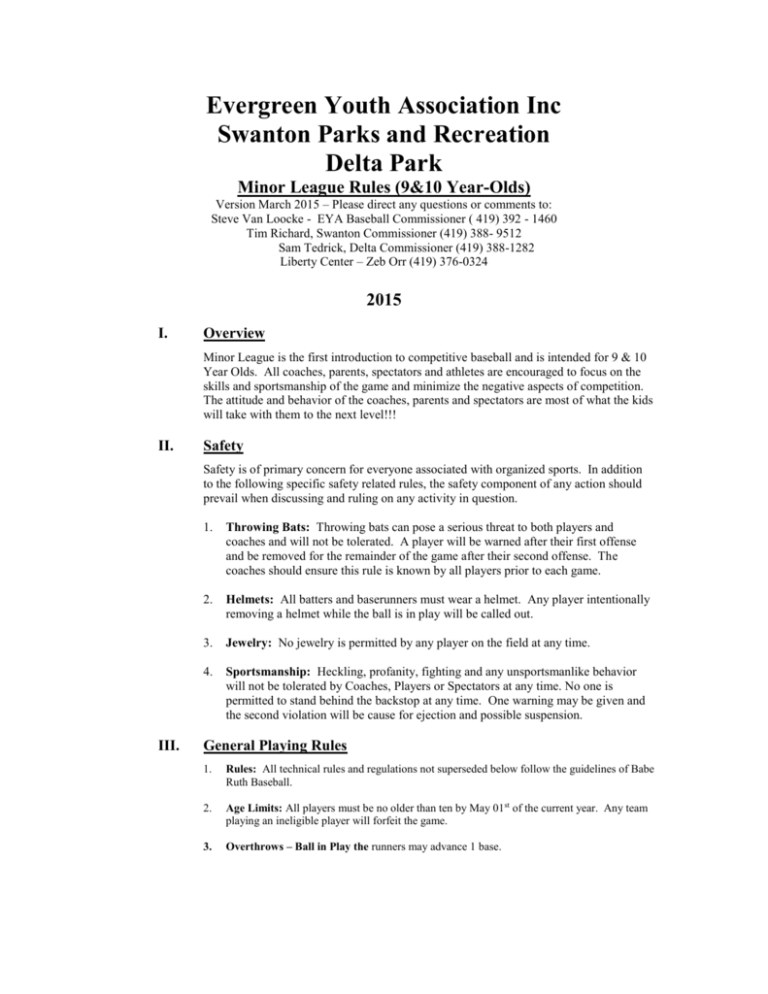 Evergreen Youth Association Inc
Swanton Parks and Recreation
Delta Park
Minor League Rules (9&10 Year-Olds)
Version March 2015 – Please direct any questions or comments to:
Steve Van Loocke - EYA Baseball Commissioner ( 419) 392 - 1460
Tim Richard, Swanton Commissioner (419) 388- 9512
Sam Tedrick, Delta Commissioner (419) 388-1282
Liberty Center – Zeb Orr (419) 376-0324
2015
I.
Overview
Minor League is the first introduction to competitive baseball and is intended for 9 & 10
Year Olds. All coaches, parents, spectators and athletes are encouraged to focus on the
skills and sportsmanship of the game and minimize the negative aspects of competition.
The attitude and behavior of the coaches, parents and spectators are most of what the kids
will take with them to the next level!!!
II.
Safety
Safety is of primary concern for everyone associated with organized sports. In addition
to the following specific safety related rules, the safety component of any action should
prevail when discussing and ruling on any activity in question.
III.
1.
Throwing Bats: Throwing bats can pose a serious threat to both players and
coaches and will not be tolerated. A player will be warned after their first offense
and be removed for the remainder of the game after their second offense. The
coaches should ensure this rule is known by all players prior to each game.
2.
Helmets: All batters and baserunners must wear a helmet. Any player intentionally
removing a helmet while the ball is in play will be called out.
3.
Jewelry: No jewelry is permitted by any player on the field at any time.
4.
Sportsmanship: Heckling, profanity, fighting and any unsportsmanlike behavior
will not be tolerated by Coaches, Players or Spectators at any time. No one is
permitted to stand behind the backstop at any time. One warning may be given and
the second violation will be cause for ejection and possible suspension.
General Playing Rules
1.
Rules: All technical rules and regulations not superseded below follow the guidelines of Babe
Ruth Baseball.
2.
Age Limits: All players must be no older than ten by May 01st of the current year. Any team
playing an ineligible player will forfeit the game.
3.
Overthrows – Ball in Play the runners may advance 1 base.
4.
Overthrows - Ball out of Play – The runner is awarded the base going to, and an additional
base. Runner approaching 1st base and ball is overthrown into foul territory Runner is awarded
2nd base.
5.
Leading Off: There is no leading-off allowed in Minor League Baseball.
6.
Stealing: Stealing is allowed once the ball has crossed home plate. Runners leaving prior to
the ball crossing home plate will be called out. Stealing home is not permitted in any
circumstance.
7.
Bats: Bats up to 2 5/8" in diameter will be permitted.
8.
Balls: Any 9", 5 Ounce, Cork/Rubber Center Ball can be used.
9.
Home Team: The Home Team will bat last and is responsible for notifying the visiting team
and commissioner of all cancellations and other events that may occur. The home team will
supply one new and one good ball for each game. (New)Home team will call opposing coach
for rain out, preferably by 5:00pm. Rescheduling with commissioner approval only and to
check fields and umpires availability.
10. Personnel: There will be only two (2) Coaches on the field and a Manager, Scorekeeper and
one (1) Batboy on the bench for each team.
11. Time Limit: Games will be Six (6) Innings. However, there will be a 1 hr 45 min Time
Limit for each game. (See exception later)However, extra time will be allowed for late-starting
games. Game is considered an official game after four (4) complete innings is played.
(New) For Game 1 the 1 hr 45 min limit can be waived by the mutual consent of both coaches
and umpires given there is not a following game.
Grace Period: There will be a Ten (10) Minute Grace Period for the 6:15PM Games only.
12. Protests: All protests shall follow the procedure outlined in Section 1 of Article XI outlined
in the Constitution and By-Laws of the Evergreen Youth Association and/or the Swanton
Parks and Recreation.
13. Tie Games: All Tie Games will continue until a winner is determined or time runs out.
14. Base Running: Pinch runners may pinch run for the batter and the batter can re-
enter the game as soon as his team takes the field. If a play is being made on any
base runner, the player is expected to slide if necessary to avoid contact. Any
intentional collision will result in the player being called out and potentially ejected
at the umpire's discretion.
15. Cleats: No metal cleats are allowed in Minor League Baseball. Intentional cleating will
result in immediate ejection and possible suspension.
16. Dropped 3rd Strike: Catchers do not have to catch a 3rd strike. The batter is automatically
out.
17. Batting: Each team must place all players in a continuous batting order. Players batting out
of order will be called out. Exception: If a player is unable to bat due to illness or injury, the
opposing Coach will be notified and they will be skipped; but, will be permitted to re-enter the
game. If a team has less than 9 players, an out will not be called for each missed at-bat. (New)
If batting team has only eight batters an out must be taken for the missed batters.
18. Fielding: Each team will field up to 10 players. There is free substitution on the field and
players may leave and re-enter as often as they want. Each player should play at least (2)
innings in the field and bat once unless disciplinary action or injury prevents playing.
19. Run Rule: There is a four (4) run limit for the first five (5) innings and unlimited runs for the
last inning. Last inning must be announced by umpire before start of inning. Mercy rule is in
effect if a team is up 15 runs or more after five (5) complete innings.
20. Pitching: Pitchers may pitch no more than three (3) innings per game. Inning must be
consecutive. One pitch counts as a complete inning. If the pitcher makes no attempt to pitch
legally to the last batter, and the run rule has been invoked, the umpire may eject the pitcher
from the game. In the event of a tie, each pitcher will be allowed to pitch one additional
inning.
21. Warm-Ups: Each pitcher is allowed only six (6) warm-up pitches at start of game. 3 warm up
pitches between each inning for remaining innings and for pitching changes.
22. Field Dimensions: Bases 60 Feet. Pitchers mound 46 Feet.
23. Play Night: Mon and Wed. and as scheduled, Approximately 10 scheduled games from MidMay, June and July. Season ending league tournament in June/July.