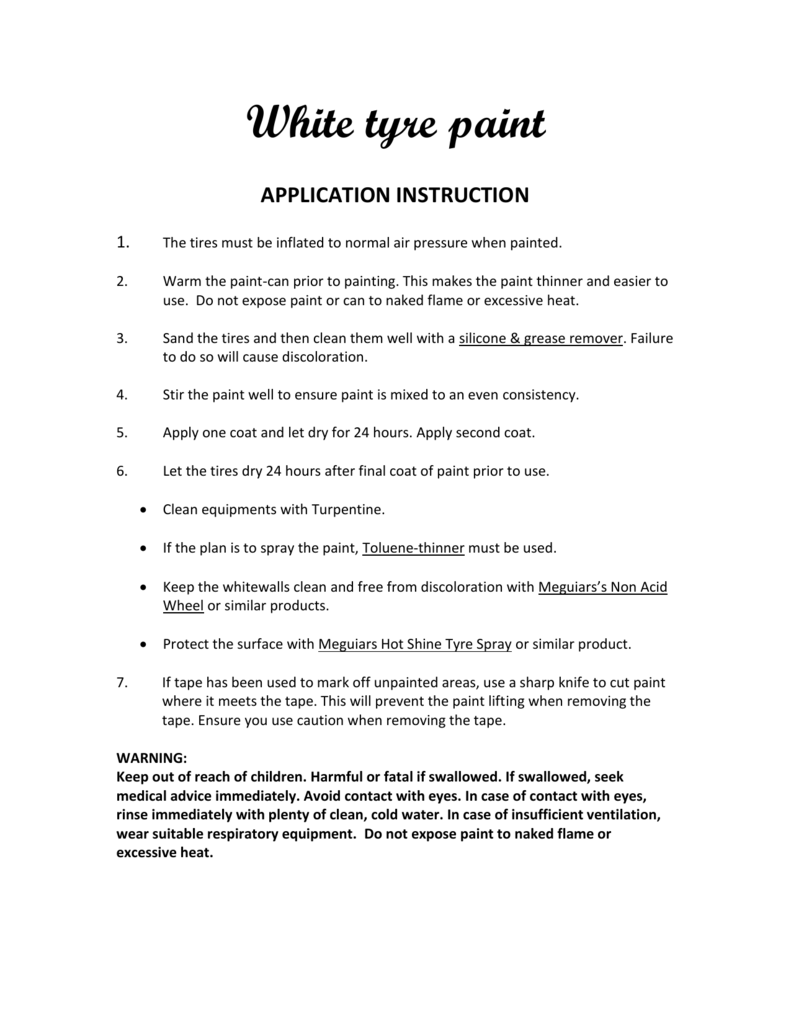 White tyre paint
APPLICATION INSTRUCTION
1.
The tires must be inflated to normal air pressure when painted.
2.
Warm the paint-can prior to painting. This makes the paint thinner and easier to
use. Do not expose paint or can to naked flame or excessive heat.
3.
Sand the tires and then clean them well with a silicone & grease remover. Failure
to do so will cause discoloration.
4.
Stir the paint well to ensure paint is mixed to an even consistency.
5.
Apply one coat and let dry for 24 hours. Apply second coat.
6.
Let the tires dry 24 hours after final coat of paint prior to use.
7.

Clean equipments with Turpentine.

If the plan is to spray the paint, Toluene-thinner must be used.

Keep the whitewalls clean and free from discoloration with Meguiars's Non Acid
Wheel or similar products.

Protect the surface with Meguiars Hot Shine Tyre Spray or similar product.
If tape has been used to mark off unpainted areas, use a sharp knife to cut paint
where it meets the tape. This will prevent the paint lifting when removing the
tape. Ensure you use caution when removing the tape.
WARNING:
Keep out of reach of children. Harmful or fatal if swallowed. If swallowed, seek
medical advice immediately. Avoid contact with eyes. In case of contact with eyes,
rinse immediately with plenty of clean, cold water. In case of insufficient ventilation,
wear suitable respiratory equipment. Do not expose paint to naked flame or
excessive heat.