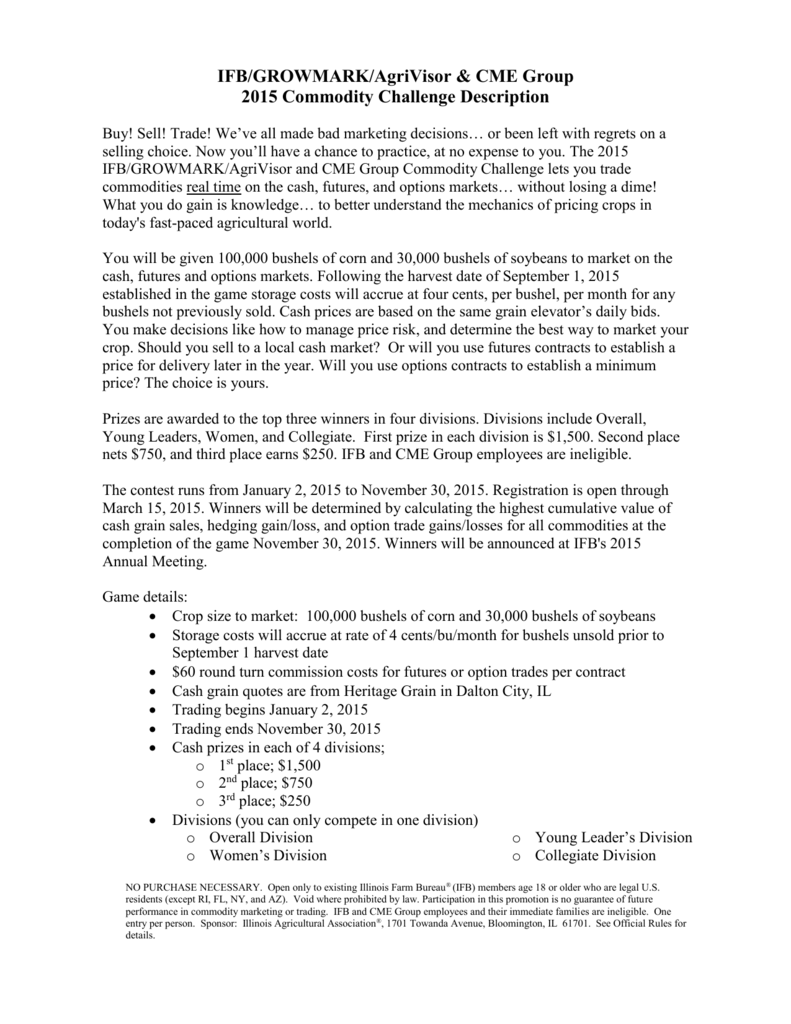 IFB/GROWMARK/AgriVisor & CME Group
2015 Commodity Challenge Description
Buy! Sell! Trade! We've all made bad marketing decisions… or been left with regrets on a
selling choice. Now you'll have a chance to practice, at no expense to you. The 2015
IFB/GROWMARK/AgriVisor and CME Group Commodity Challenge lets you trade
commodities real time on the cash, futures, and options markets… without losing a dime!
What you do gain is knowledge… to better understand the mechanics of pricing crops in
today's fast-paced agricultural world.
You will be given 100,000 bushels of corn and 30,000 bushels of soybeans to market on the
cash, futures and options markets. Following the harvest date of September 1, 2015
established in the game storage costs will accrue at four cents, per bushel, per month for any
bushels not previously sold. Cash prices are based on the same grain elevator's daily bids.
You make decisions like how to manage price risk, and determine the best way to market your
crop. Should you sell to a local cash market? Or will you use futures contracts to establish a
price for delivery later in the year. Will you use options contracts to establish a minimum
price? The choice is yours.
Prizes are awarded to the top three winners in four divisions. Divisions include Overall,
Young Leaders, Women, and Collegiate. First prize in each division is $1,500. Second place
nets $750, and third place earns $250. IFB and CME Group employees are ineligible.
The contest runs from January 2, 2015 to November 30, 2015. Registration is open through
March 15, 2015. Winners will be determined by calculating the highest cumulative value of
cash grain sales, hedging gain/loss, and option trade gains/losses for all commodities at the
completion of the game November 30, 2015. Winners will be announced at IFB's 2015
Annual Meeting.
Game details:
 Crop size to market: 100,000 bushels of corn and 30,000 bushels of soybeans
 Storage costs will accrue at rate of 4 cents/bu/month for bushels unsold prior to
September 1 harvest date
 $60 round turn commission costs for futures or option trades per contract
 Cash grain quotes are from Heritage Grain in Dalton City, IL
 Trading begins January 2, 2015
 Trading ends November 30, 2015
 Cash prizes in each of 4 divisions;
o 1st place; $1,500
o 2nd place; $750
o 3rd place; $250
 Divisions (you can only compete in one division)
o Overall Division
o Young Leader's Division
o Women's Division
o Collegiate Division
NO PURCHASE NECESSARY. Open only to existing Illinois Farm Bureau ® (IFB) members age 18 or older who are legal U.S.
residents (except RI, FL, NY, and AZ). Void where prohibited by law. Participation in this promotion is no guarantee of future
performance in commodity marketing or trading. IFB and CME Group employees and their immediate families are ineligible. One
entry per person. Sponsor: Illinois Agricultural Association ®, 1701 Towanda Avenue, Bloomington, IL 61701. See Official Rules for
details.