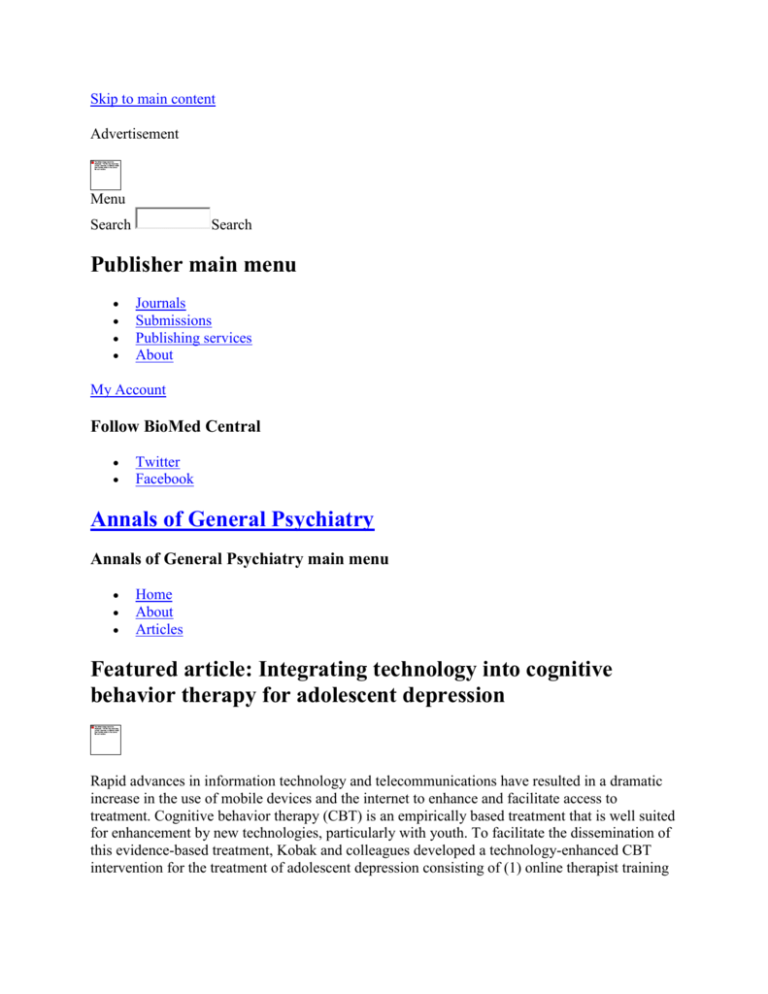 Skip to main content
Advertisement
Menu
Search
Search
Publisher main menu




Journals
Submissions
Publishing services
About
My Account
Follow BioMed Central


Twitter
Facebook
Annals of General Psychiatry
Annals of General Psychiatry main menu



Home
About
Articles
Featured article: Integrating technology into cognitive
behavior therapy for adolescent depression
Rapid advances in information technology and telecommunications have resulted in a dramatic
increase in the use of mobile devices and the internet to enhance and facilitate access to
treatment. Cognitive behavior therapy (CBT) is an empirically based treatment that is well suited
for enhancement by new technologies, particularly with youth. To facilitate the dissemination of
this evidence-based treatment, Kobak and colleagues developed a technology-enhanced CBT
intervention for the treatment of adolescent depression consisting of (1) online therapist training
(2) in-session use of tablets for teaching clients CBT concepts and skills, and (3) text messaging
for between session homework reminders and self-monitoring.
Read More
Articles


Recent
Most accessed
Recent articles
Recent articles RSS
1. Primary research
Physician perception regarding side-effect profile at the onset of
antidepressant treatment: a survey of Israeli psychiatrists and primary
care physicians
Uri Nitzan, Tal Bekerman, Gideon Becker, Pesach Lichtenberg, Shaul Lev-Ran, Garry
Walter, Hagai Maoz and Yuval Bloch
Published on: 29 January 2016
2. Primary research
Factor structure of the Chinese version of the geriatric anxiety inventory
Ming Guan
Published on: 28 January 2016
3. Primary research
Utility of the Neurobehavioral Cognitive Status Examination
(COGNISTAT) in differentiating between depressive states in late-life
depression and late-onset Alzheimer's disease: a preliminary study
Yoshiaki Tsuruoka, Michio Takahashi, Masatoshi Suzuki, Koichi Sato and Yukihiko
Shirayama
Published on: 20 January 2016
4. Primary research
Serum levels of brain-derived neurotrophic factor (BDNF), proBDNF and
plasma 3-methoxy-4-hydroxyphenylglycol levels in chronic schizophrenia
Reiji Yoshimura, Hikaru Hori, Asuka Katsuki, Kiyokazu Atake and Jun Nakamura
Published on: 14 January 2016
5. Primary Research
The characteristics of the suicide attempter according to the onset time of
the suicidal ideation
Kotaro Otsuka, Hikaru Nakamura, Kaoru Kudo, Jin Endo, Katsumi Sanjo, Kentaro
Fukumoto, Katsuhito Hoshi, Junko Yagi and Akio Sakai
Published on: 30 December 2015
View all articles
Most accessed articles
Most accessed articles RSS
1. Review
Guidelines for rating Global Assessment of Functioning (GAF)
IH Monrad Aas
Published on: 20 January 2011
2. Review
Efficacy and safety of aripiprazole in the treatment of bipolar disorder: a
systematic review
Konstantinos N Fountoulakis and Eduard Vieta
Published on: 27 July 2009
3. Primary research
Attitude of health workers to the care of psychiatric patients
Aghukwa Nkereuwem Chikaodiri
Published on: 23 August 2009
4. Primary research
Psychoeducation and the family burden in schizophrenia: a randomized
controlled trial
Tanveer Nasr and Rukhsana Kausar
Published on: 28 July 2009
5. Primary research
The factor structure of the Strengths and Difficulties Questionnaire (SDQ)
in Greek adolescents
George Giannakopoulos, Chara Tzavara, Christine Dimitrakaki, Gerasimos Kolaitis,
Vasiliki Rotsika and Yannis Tountas
Published on: 26 August 2009
View all articles
Aims and scope
Annals of General Psychiatry considers manuscripts on all aspects of psychiatry, including
neuroscience and psychological medicine. Both basic and clinical neuroscience contributions are
encouraged.
Annals of General Psychiatry emphasizes a biopsychosocial approach to illness and health and
strongly supports and follows the principles of evidence-based medicine. As an open access
journal, Annals of General Psychiatry facilitates the worldwide distribution of high quality
psychiatry and mental health research. The journal considers submissions on a wide range of
topics including, but not limited to, psychopharmacology, forensic psychiatry, psychotic
disorders, psychiatric genetics, and mood and anxiety disorders.
Featured conference: 5th International Congress on
Neurobiology, Psychopharmacology & Treatment Guidance
The International Society of Neurobiology and Psychopharmacology is pleased to announce that
the 5th International Congress on Neurobiology, Psychopharmacology & Treatment Guidance,
will be held in May 2017 in Chania, Crete, Greece. For more information, please visit the
website.
Official publication of the International Society of Neurobiology and Psychopharmacology.
Submit a manuscript




Impact Factor: 1.400
Submission Guidelines
Editorial Board
Sign up to article alerts
ISSN:
1744-859X
Advertisement






Contact us
Jobs
Manage manuscripts
Sign up for article alerts
Manage article alerts
Leave feedback


Press center
Read more on our blogs






Policies
Licensing
Terms and conditions
Privacy statement
Accessibility
Cookies
Follow BioMed Central




Twitter
Facebook
Google Plus
YouTube



LinkedIn
Reddit
Weibo
© 2016 BioMed Central Ltd unless otherwise stated. Part of Springer Science+Business Media.
By continuing to use this website, you agree to our Terms and Conditions, Privacy statement and
Cookies policy.