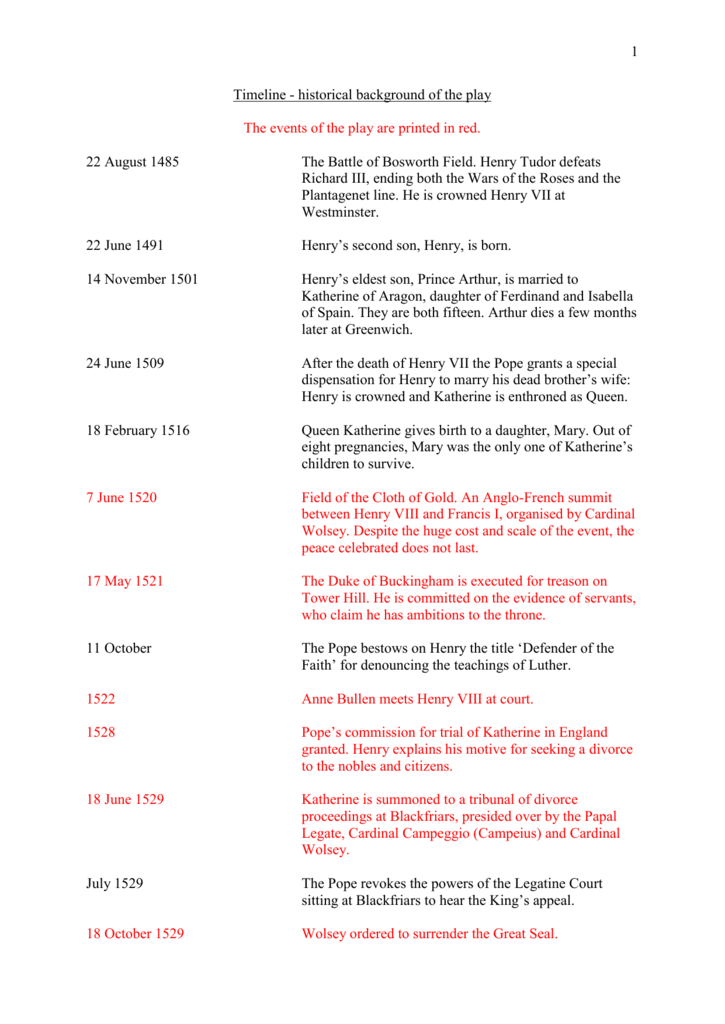 1
Timeline - historical background of the play
The events of the play are printed in red.
22 August 1485
The Battle of Bosworth Field. Henry Tudor defeats
Richard III, ending both the Wars of the Roses and the
Plantagenet line. He is crowned Henry VII at
Westminster.
22 June 1491
Henry's second son, Henry, is born.
14 November 1501
Henry's eldest son, Prince Arthur, is married to
Katherine of Aragon, daughter of Ferdinand and Isabella
of Spain. They are both fifteen. Arthur dies a few months
later at Greenwich.
24 June 1509
After the death of Henry VII the Pope grants a special
dispensation for Henry to marry his dead brother's wife:
Henry is crowned and Katherine is enthroned as Queen.
18 February 1516
Queen Katherine gives birth to a daughter, Mary. Out of
eight pregnancies, Mary was the only one of Katherine's
children to survive.
7 June 1520
Field of the Cloth of Gold. An Anglo-French summit
between Henry VIII and Francis I, organised by Cardinal
Wolsey. Despite the huge cost and scale of the event, the
peace celebrated does not last.
17 May 1521
The Duke of Buckingham is executed for treason on
Tower Hill. He is committed on the evidence of servants,
who claim he has ambitions to the throne.
11 October
The Pope bestows on Henry the title 'Defender of the
Faith' for denouncing the teachings of Luther.
1522
Anne Bullen meets Henry VIII at court.
1528
Pope's commission for trial of Katherine in England
granted. Henry explains his motive for seeking a divorce
to the nobles and citizens.
18 June 1529
Katherine is summoned to a tribunal of divorce
proceedings at Blackfriars, presided over by the Papal
Legate, Cardinal Campeggio (Campeius) and Cardinal
Wolsey.
July 1529
The Pope revokes the powers of the Legatine Court
sitting at Blackfriars to hear the King's appeal.
18 October 1529
Wolsey ordered to surrender the Great Seal.
2
1530
Wolsey arrested for treason; dies at Leicester Abbey.
25 June 1531
The Pope threatens Henry VIII with excommunication.
1 September 1532
Anne Bullen created marchioness of Pembroke.
25 January 1533
Henry secretly marries Anne in Whitehall Palace.
23 May
Thomas Cranmer, Archbishop of Canterbury, annuls
Henry's marriage to Katherine.
1 June
Anne crowned by Cranmer at Westminster Abbey. She is
several months pregnant.
7 September
Anne gives birth to a girl, Elizabeth, at Greenwich.
23 March 1534
The Pope declares Henry's marriage to Katherine valid.
17 November
Act of Supremacy makes Henry Supreme Head of the
Church of England.
6 July 1535
Thomas More is beheaded.
7 January 1536
Katherine of Aragon, under house arrest at Kimbolton,
dies.
29 January
Anne miscarries a male child.
10 May
Anne is indicted for High Treason on charge of adultery
and incest.
19 May
Anne is beheaded at the Tower.
30 May
Henry marries his third wife, Jane Seymour.
Dissolution of the monasteries organised by Thomas
Cromwell.
12 October 1537
Jane Seymour gives birth to a son, Edward.
12 November
Jane Seymour dies.
18 July 1540
Thomas Cromwell is executed.
Thomas Cranmer survives a plot to condemn him for
heresy and turns the tables on his enemies.
21 January 1547
The Earl of Surrey is executed. The Duke of Norfolk is
arrested for treason.
28 January
Henry VIII dies at Westminster.
3
___________________________________________________________________________
1547-1553
The reign of the boy king, Edward VI, plunges the
country into chaos.
1553-1558
The reign of 'Bloody Mary', daughter of Katherine of
Aragon, marked by a savage persecution of the
Protestants during which Thomas Cranmer is burnt at the
stake at Oxford.
1559-1603
Anne Bullen's daughter, Elizabeth I, reigns for 44 years
and dies childless.
1603
James I, son of Mary Queen of Scots, ascends to the
throne.
1612
James I's daughter, Elizabeth, is betrothed to the German
protestant prince Frederick, Elector Palatine. The
wedding is postponed when the Prince of Wales dies
suddenly at the age of 18. He would have been Henry IX.
1613
Putative performance of All is true in the Private
Playhouse at Blackfriars. The theatre is built in the very
chamber where Katherine of Aragon faced the tribunal in
1529.
24 June 1613
The Globe Theatre is burnt down during a performance
of All is true.
Diese Zeitleiste habe ich wortwörtlich aus dem RSC Programmheft der Aufführung
1996/97 abgeschrieben – Urheberrechte?
Ab dem Strich könnte man die Zeitleiste kürzen.
Ich fände es auch ganz cool, wenn wir die Zeitleiste auf einem Bildschirm im Foyer der
BF vor der Aufführung laufen lassen würden.