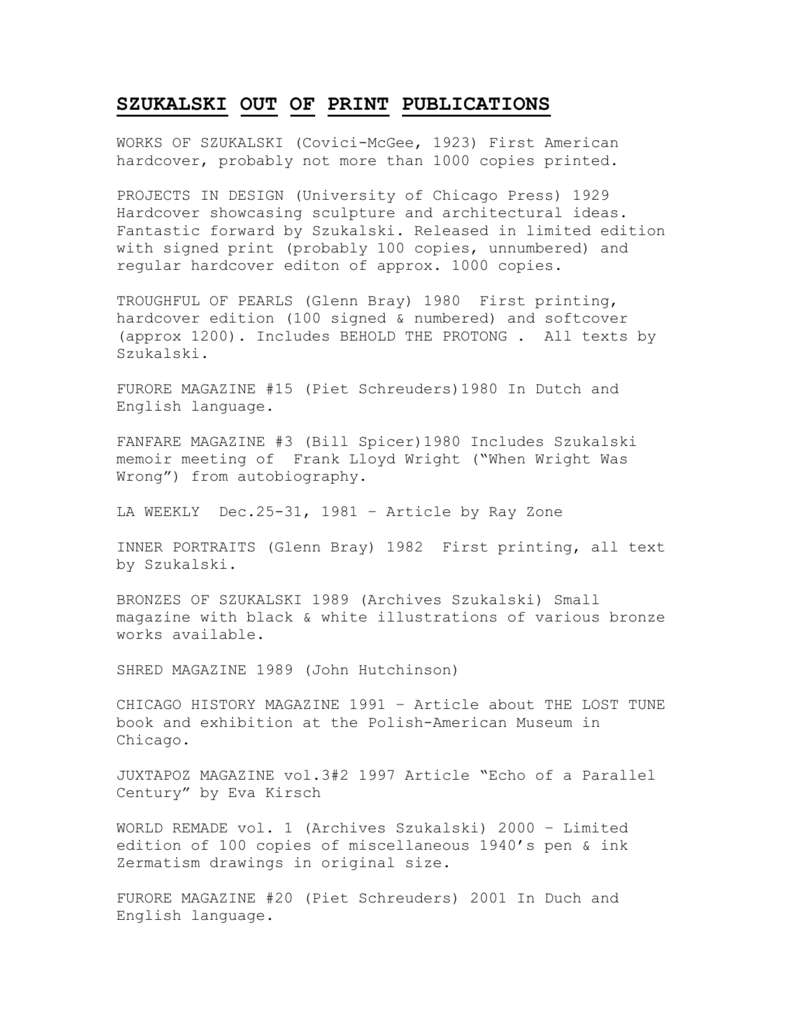 SZUKALSKI OUT OF PRINT PUBLICATIONS
WORKS OF SZUKALSKI (Covici-McGee, 1923) First American
hardcover, probably not more than 1000 copies printed.
PROJECTS IN DESIGN (University of Chicago Press) 1929
Hardcover showcasing sculpture and architectural ideas.
Fantastic forward by Szukalski. Released in limited edition
with signed print (probably 100 copies, unnumbered) and
regular hardcover editon of approx. 1000 copies.
TROUGHFUL OF PEARLS (Glenn Bray) 1980 First printing,
hardcover edition (100 signed & numbered) and softcover
(approx 1200). Includes BEHOLD THE PROTONG . All texts by
Szukalski.
FURORE MAGAZINE #15 (Piet Schreuders)1980 In Dutch and
English language.
FANFARE MAGAZINE #3 (Bill Spicer)1980 Includes Szukalski
memoir meeting of Frank Lloyd Wright ("When Wright Was
Wrong") from autobiography.
LA WEEKLY
Dec.25-31, 1981 – Article by Ray Zone
INNER PORTRAITS (Glenn Bray) 1982
by Szukalski.
First printing, all text
BRONZES OF SZUKALSKI 1989 (Archives Szukalski) Small
magazine with black & white illustrations of various bronze
works available.
SHRED MAGAZINE 1989 (John Hutchinson)
CHICAGO HISTORY MAGAZINE 1991 – Article about THE LOST TUNE
book and exhibition at the Polish-American Museum in
Chicago.
JUXTAPOZ MAGAZINE vol.3#2 1997 Article "Echo of a Parallel
Century" by Eva Kirsch
WORLD REMADE vol. 1 (Archives Szukalski) 2000 – Limited
edition of 100 copies of miscellaneous 1940's pen & ink
Zermatism drawings in original size.
FURORE MAGAZINE #20 (Piet Schreuders) 2001 In Duch and
English language.
FLUID MAGAZINE 2003 – Polish language article.
JUXTAPOZ MAGAZINE Dec. 2005 Article SHOWSTOPPERS: The
Self-Born, Stanislav Szukalski
KRAK SYN LUDOLI 2007 –Polish hardcover book with
illustrations, reprinting
Szukalski's tragedy written in the 1930's.
FORGOTTEN MASTERS REVIVED catalogue flyer for 2007 exhibit
at Fullerton Art Museum, curated by Eva Kirsch
SZCEP ROGATE SERCE (Lechoslaw Lamenski) 2007 Hardcover
limited edition, 506 page biography of Szukalski with many
important illustrations.
X-TRA MAGAZINE 2010 – Article of Pasadena Art Gallery
exhibition MANTONG AND PROTONG.