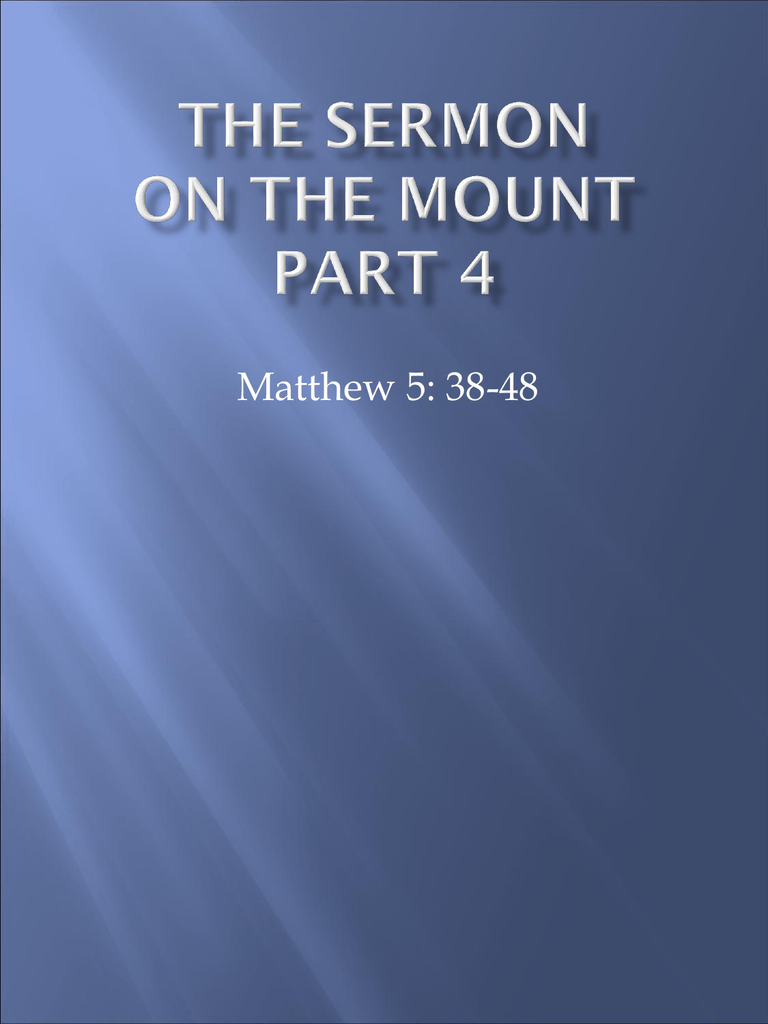 Matthew 5: 38-48
1.
2.
This text uses the same formula,
earlier in chapter 5: "You have
heard that is has been said. . .
But I say to you. . . "
Rather than condemn us, the
Sermon on the Mount seeks to
bring us into the light of God's
Kingdom.
I.
A.
vv. 38-42 On Revenge
Conventional Wisdom: "You have
heard it said, 'An eye for an eye and
a tooth for a tooth"
*from Exodus 21:24; Leviticus 24:20;
and Deuteronomy 19:21
B. Jesus' Emphasis: "But I say to you:
*Do not resist an evil-doer
*If anyone strikes you on the cheek,
turn the other also
*If anyone wants your coat, give him
you cloak as well.
*if anyone forces you to go a mile, go
two
*give to anyone who begs from you.
C. Interior Point: God alone will
avenge and is the source of our
provision. Every human being bears
he image of God, as we should treat
them as such.
II.
vv. 43-48 On Love
A.
Conventional Wisdom: "You
have heard hat it was said, 'You
shall love your neighbor and
hate your enemy." Lev. 19:18
B.
Jesus' Emphasis: "But I say to
you, "Love your enemies and
pray for those who persecute
you."
C.
1.
2.
3.
Further Teaching:
Why should we pray for our enemies?
v. 45a "so that you may be children of
your Father in heaven;"
God is our example v. 45b "for He
[God] makes his sun rise on the evil
and the good, and sends rain on the
righteous and the unrighteous."
vv. 46-47 "For if you love those who
love you, what reward do you have?
Do not even the tax collectors do the
same? And if you greet only your
brothers and sisters what more are you
doing than others? Do not even the
Gentiles do the same?
4. Be perfect, therefore, as your
heavenly Father is perfect."
A.
B.
C.
D.
Greek word for perfection means
complete/whole
John Wesley "perfect in love"
Perfection, then, is a journey
requiring constant attention and
awareness.
God's grace will bear us up, but
the Law of Grace requires you to
TRY or put forth effort—AND
GOD WILL MEET YOU THERE!