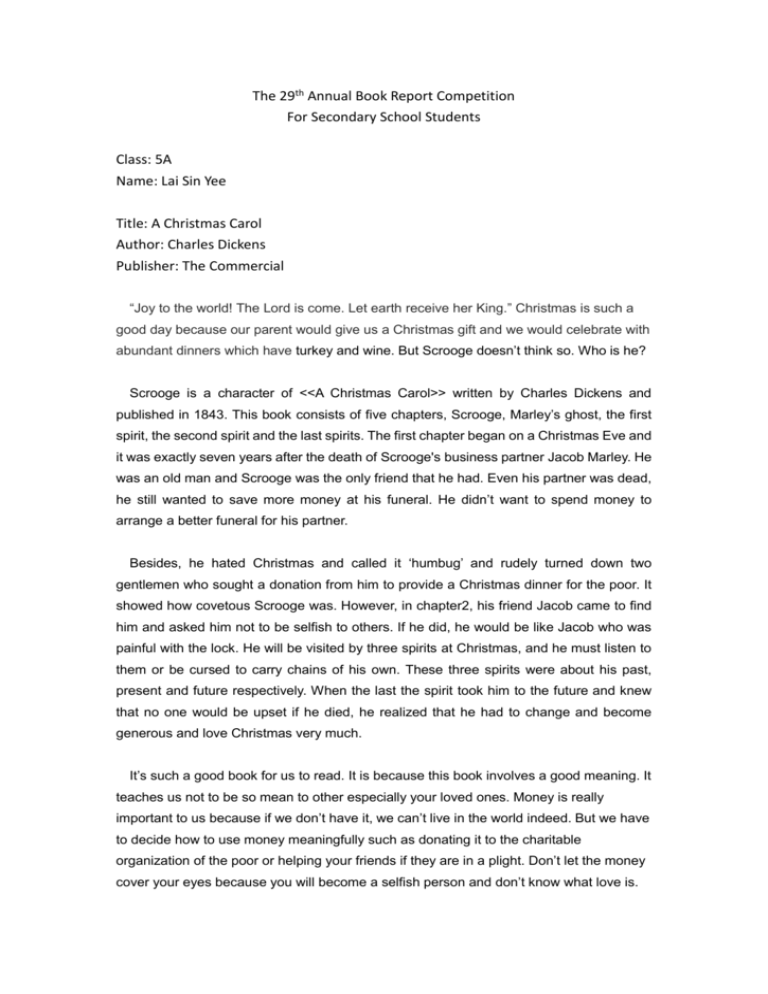 The 29th Annual Book Report Competition
For Secondary School Students
Class: 5A
Name: Lai Sin Yee
Title: A Christmas Carol
Author: Charles Dickens
Publisher: The Commercial
"Joy to the world! The Lord is come. Let earth receive her King." Christmas is such a
good day because our parent would give us a Christmas gift and we would celebrate with
abundant dinners which have turkey and wine. But Scrooge doesn't think so. Who is he?
Scrooge is a character of <<A Christmas Carol>> written by Charles Dickens and
published in 1843. This book consists of five chapters, Scrooge, Marley's ghost, the first
spirit, the second spirit and the last spirits. The first chapter began on a Christmas Eve and
it was exactly seven years after the death of Scrooge's business partner Jacob Marley. He
was an old man and Scrooge was the only friend that he had. Even his partner was dead,
he still wanted to save more money at his funeral. He didn't want to spend money to
arrange a better funeral for his partner.
Besides, he hated Christmas and called it 'humbug' and rudely turned down two
gentlemen who sought a donation from him to provide a Christmas dinner for the poor. It
showed how covetous Scrooge was. However, in chapter2, his friend Jacob came to find
him and asked him not to be selfish to others. If he did, he would be like Jacob who was
painful with the lock. He will be visited by three spirits at Christmas, and he must listen to
them or be cursed to carry chains of his own. These three spirits were about his past,
present and future respectively. When the last the spirit took him to the future and knew
that no one would be upset if he died, he realized that he had to change and become
generous and love Christmas very much.
It's such a good book for us to read. It is because this book involves a good meaning. It
teaches us not to be so mean to other especially your loved ones. Money is really
important to us because if we don't have it, we can't live in the world indeed. But we have
to decide how to use money meaningfully such as donating it to the charitable
organization of the poor or helping your friends if they are in a plight. Don't let the money
cover your eyes because you will become a selfish person and don't know what love is.
No one would be as lucky as Scrooge, who had three spirits to help him. If we consider
money as the most important thing in the world now, we have to stop this idea. Learn
how to love others and to be loved. I think it isn't too late if we change now. That's why I
think this book is good for us and it is suitable for readers at every age. I hope everyone
will realize money is not everything and regret if no one loves them. Actually, love is the
most important. If we don't have love, we would become a ruthless person and the world
would become awful.