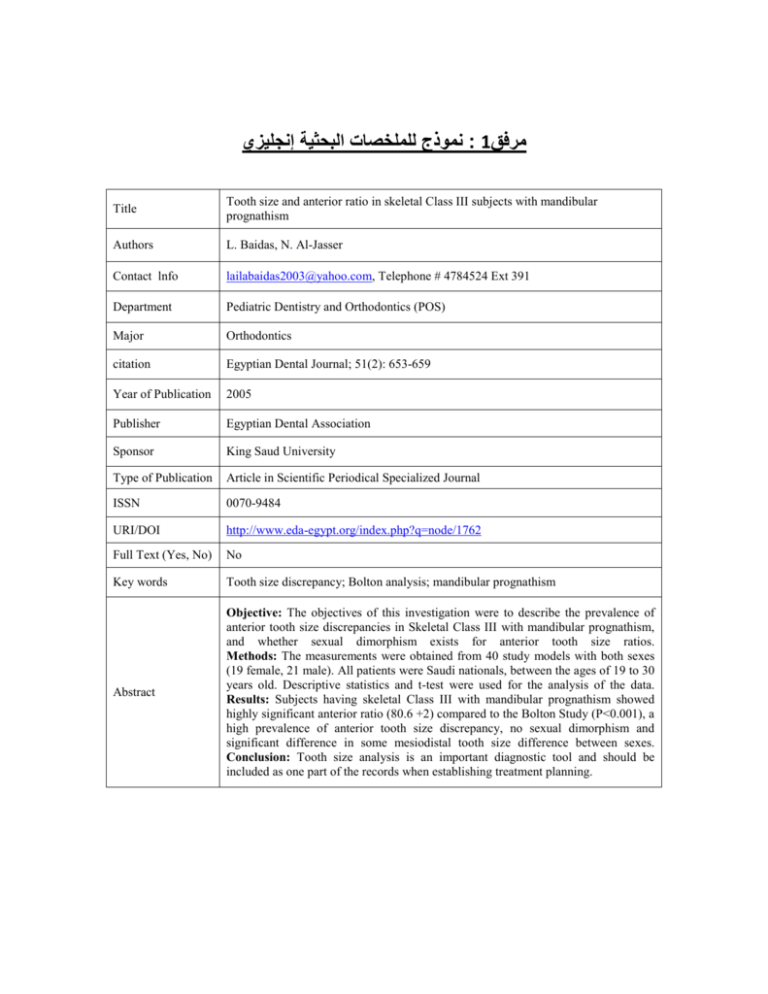 ‫ نموذج للملخصات البحثية إنجليزي‬: 1‫مرفق‬
Title
Tooth size and anterior ratio in skeletal Class III subjects with mandibular
prognathism
Authors
L. Baidas, N. Al-Jasser
Contact lnfo
lailabaidas2003@yahoo.com, Telephone # 4784524 Ext 391
Department
Pediatric Dentistry and Orthodontics (POS)
Major
Orthodontics
citation
Egyptian Dental Journal; 51(2): 653-659
Year of Publication
2005
Publisher
Egyptian Dental Association
Sponsor
King Saud University
Type of Publication
Article in Scientific Periodical Specialized Journal
ISSN
0070-9484
URI/DOI
http://www.eda-egypt.org/index.php?q=node/1762
Full Text (Yes, No)
No
Key words
Tooth size discrepancy; Bolton analysis; mandibular prognathism
Abstract
Objective: The objectives of this investigation were to describe the prevalence of
anterior tooth size discrepancies in Skeletal Class III with mandibular prognathism,
and whether sexual dimorphism exists for anterior tooth size ratios.
Methods: The measurements were obtained from 40 study models with both sexes
(19 female, 21 male). All patients were Saudi nationals, between the ages of 19 to 30
years old. Descriptive statistics and t-test were used for the analysis of the data.
Results: Subjects having skeletal Class III with mandibular prognathism showed
highly significant anterior ratio (80.6 +2) compared to the Bolton Study (P<0.001), a
high prevalence of anterior tooth size discrepancy, no sexual dimorphism and
significant difference in some mesiodistal tooth size difference between sexes.
Conclusion: Tooth size analysis is an important diagnostic tool and should be
included as one part of the records when establishing treatment planning.