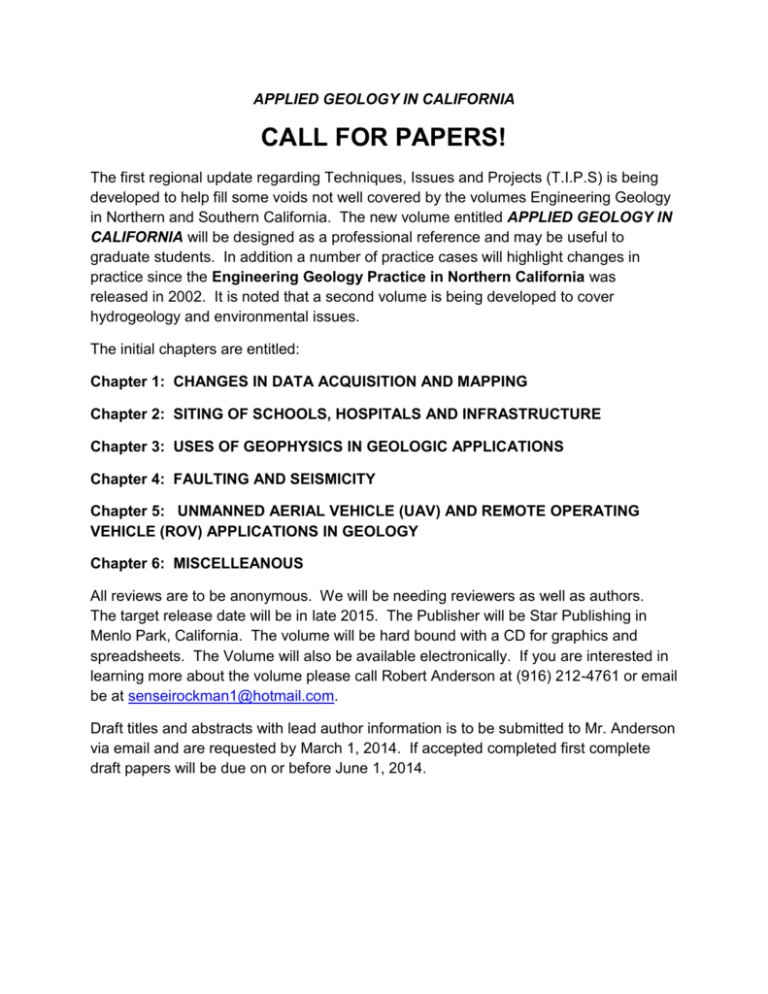 APPLIED GEOLOGY IN CALIFORNIA
CALL FOR PAPERS!
The first regional update regarding Techniques, Issues and Projects (T.I.P.S) is being
developed to help fill some voids not well covered by the volumes Engineering Geology
in Northern and Southern California. The new volume entitled APPLIED GEOLOGY IN
CALIFORNIA will be designed as a professional reference and may be useful to
graduate students. In addition a number of practice cases will highlight changes in
practice since the Engineering Geology Practice in Northern California was
released in 2002. It is noted that a second volume is being developed to cover
hydrogeology and environmental issues.
The initial chapters are entitled:
Chapter 1: CHANGES IN DATA ACQUISITION AND MAPPING
Chapter 2: SITING OF SCHOOLS, HOSPITALS AND INFRASTRUCTURE
Chapter 3: USES OF GEOPHYSICS IN GEOLOGIC APPLICATIONS
Chapter 4: FAULTING AND SEISMICITY
Chapter 5: UNMANNED AERIAL VEHICLE (UAV) AND REMOTE OPERATING
VEHICLE (ROV) APPLICATIONS IN GEOLOGY
Chapter 6: MISCELLEANOUS
All reviews are to be anonymous. We will be needing reviewers as well as authors.
The target release date will be in late 2015. The Publisher will be Star Publishing in
Menlo Park, California. The volume will be hard bound with a CD for graphics and
spreadsheets. The Volume will also be available electronically. If you are interested in
learning more about the volume please call Robert Anderson at (916) 212-4761 or email
be at senseirockman1@hotmail.com.
Draft titles and abstracts with lead author information is to be submitted to Mr. Anderson
via email and are requested by March 1, 2014. If accepted completed first complete
draft papers will be due on or before June 1, 2014.