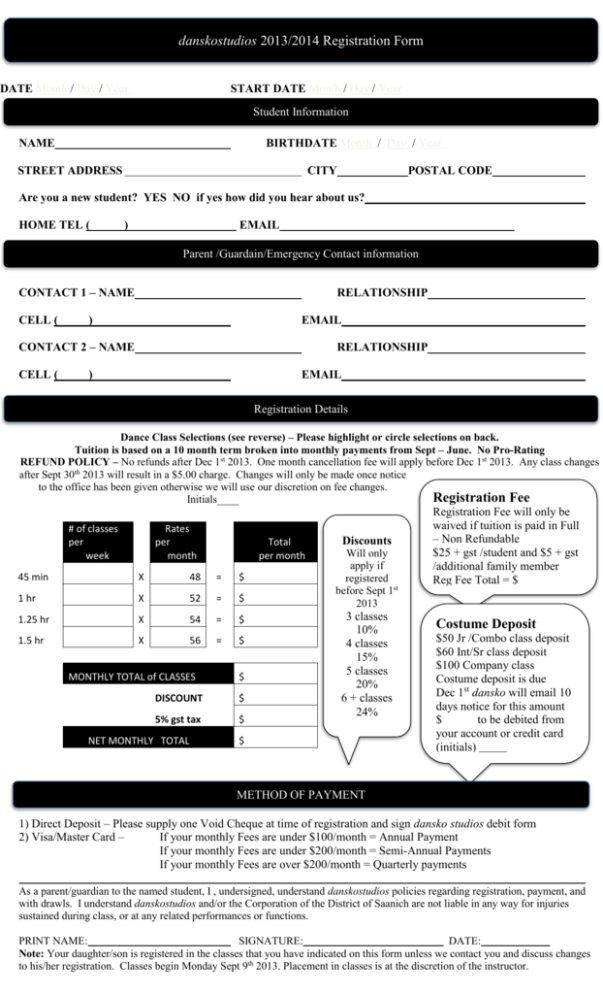 danskostudios 2013/2014 Registration Form
DATE Month / Day / Year
START DATE Month / Day / Year
Student Information
NAME
BIRTHDATE Month / Day / Year
STREET ADDRESS
CITY
POSTAL CODE
Are you a new student? YES NO if yes how did you hear about us?
HOME TEL (
)
EMAIL
Parent /Guardain/Emergency Contact information
CONTACT 1 – NAME
CELL (
RELATIONSHIP
)
EMAIL
CONTACT 2 – NAME
CELL (
RELATIONSHIP
)
EMAIL
Registration Details
Dance Class Selections (see reverse) – Please highlight or circle selections on back.
Tuition is based on a 10 month term broken into monthly payments from Sept – June. No Pro-Rating
REFUND POLICY – No refunds after Dec 1st 2013. One month cancellation fee will apply before Dec 1st 2013. Any class changes
after Sept 30th 2013 will result in a $5.00 charge. Changes will only be made once notice
to the office has been given otherwise we will use our discretion on fee changes.
Registration Fee
Initials____
# of classes
per
week
Rates
per
month
Total
per month
45 min
X
48
=
$
1 hr
X
52
=
$
1.25 hr
X
54
=
$
1.5 hr
X
56
=
$
MONTHLY TOTAL of CLASSES
$
DISCOUNT
$
5% gst tax
$
NET MONTHLY TOTAL
Discounts
Will only
apply if
registered
before Sept 1st
2013
3 classes
10%
4 classes
15%
5 classes
20%
6 + classes
24%
$
Registration Fee will only be
waived if tuition is paid in Full
– Non Refundable
$25 + gst /student and $5 + gst
/additional family member
Reg Fee Total = $
Costume Deposit
$50 Jr /Combo class deposit
$60 Int/Sr class deposit
$100 Company class
Costume deposit is due
Dec 1st dansko will email 10
days notice for this amount
$
to be debited from
your account or credit card
(initials)
METHOD OF PAYMENT
1) Direct Deposit – Please supply one Void Cheque at time of registration and sign dansko studios debit form
2) Visa/Master Card –
If your monthly Fees are under $100/month = Annual Payment
If your monthly Fees are under $200/month = Semi-Annual Payments
If your monthly Fees are over $200/month = Quarterly payments
As a parent/guardian to the named student, I , undersigned, understand danskostudios policies regarding registration, payment, and
with drawls. I understand danskostudios and/or the Corporation of the District of Saanich are not liable in any way for injuries
sustained during class, or at any related performances or functions.
PRINT NAME:
SIGNATURE:
DATE:
Note: Your daughter/son is registered in the classes that you have indicated on this form unless we contact you and discuss changes
to his/her registration. Classes begin Monday Sept 9th 2013. Placement in classes is at the discretion of the instructor.