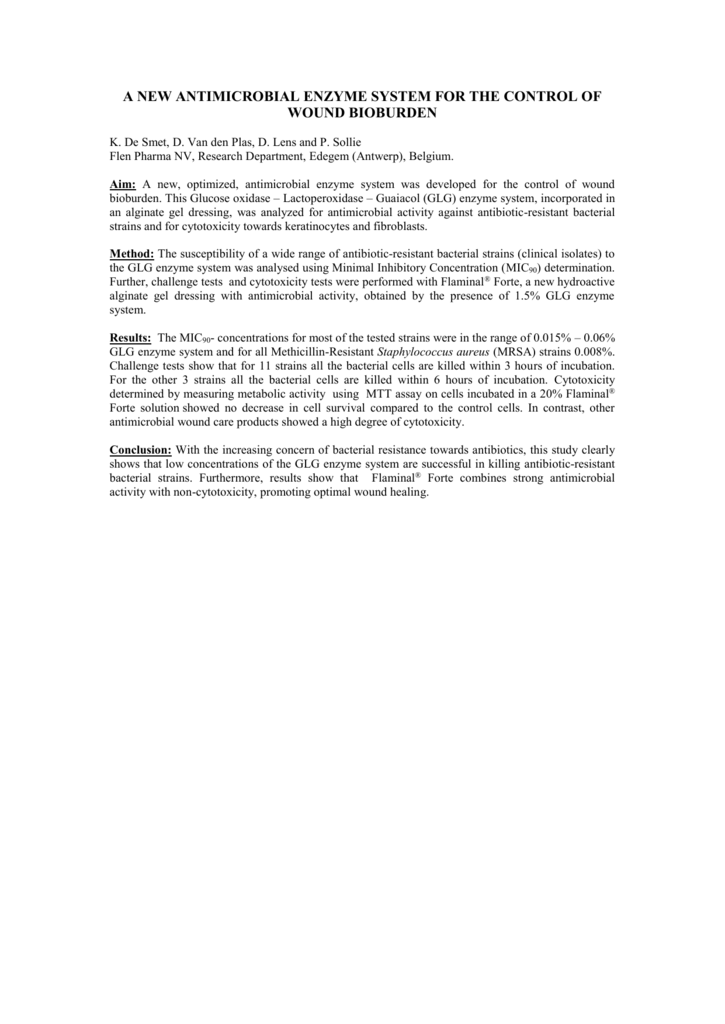 A NEW ANTIMICROBIAL ENZYME SYSTEM FOR THE CONTROL OF
WOUND BIOBURDEN
K. De Smet, D. Van den Plas, D. Lens and P. Sollie
Flen Pharma NV, Research Department, Edegem (Antwerp), Belgium.
Aim: A new, optimized, antimicrobial enzyme system was developed for the control of wound
bioburden. This Glucose oxidase – Lactoperoxidase – Guaiacol (GLG) enzyme system, incorporated in
an alginate gel dressing, was analyzed for antimicrobial activity against antibiotic-resistant bacterial
strains and for cytotoxicity towards keratinocytes and fibroblasts.
Method: The susceptibility of a wide range of antibiotic-resistant bacterial strains (clinical isolates) to
the GLG enzyme system was analysed using Minimal Inhibitory Concentration (MIC90) determination.
Further, challenge tests and cytotoxicity tests were performed with Flaminal ® Forte, a new hydroactive
alginate gel dressing with antimicrobial activity, obtained by the presence of 1.5% GLG enzyme
system.
Results: The MIC90- concentrations for most of the tested strains were in the range of 0.015% – 0.06%
GLG enzyme system and for all Methicillin-Resistant Staphylococcus aureus (MRSA) strains 0.008%.
Challenge tests show that for 11 strains all the bacterial cells are killed within 3 hours of incubation.
For the other 3 strains all the bacterial cells are killed within 6 hours of incubation. Cytotoxicity
determined by measuring metabolic activity using MTT assay on cells incubated in a 20% Flaminal®
Forte solution showed no decrease in cell survival compared to the control cells. In contrast, other
antimicrobial wound care products showed a high degree of cytotoxicity.
Conclusion: With the increasing concern of bacterial resistance towards antibiotics, this study clearly
shows that low concentrations of the GLG enzyme system are successful in killing antibiotic-resistant
bacterial strains. Furthermore, results show that Flaminal® Forte combines strong antimicrobial
activity with non-cytotoxicity, promoting optimal wound healing.