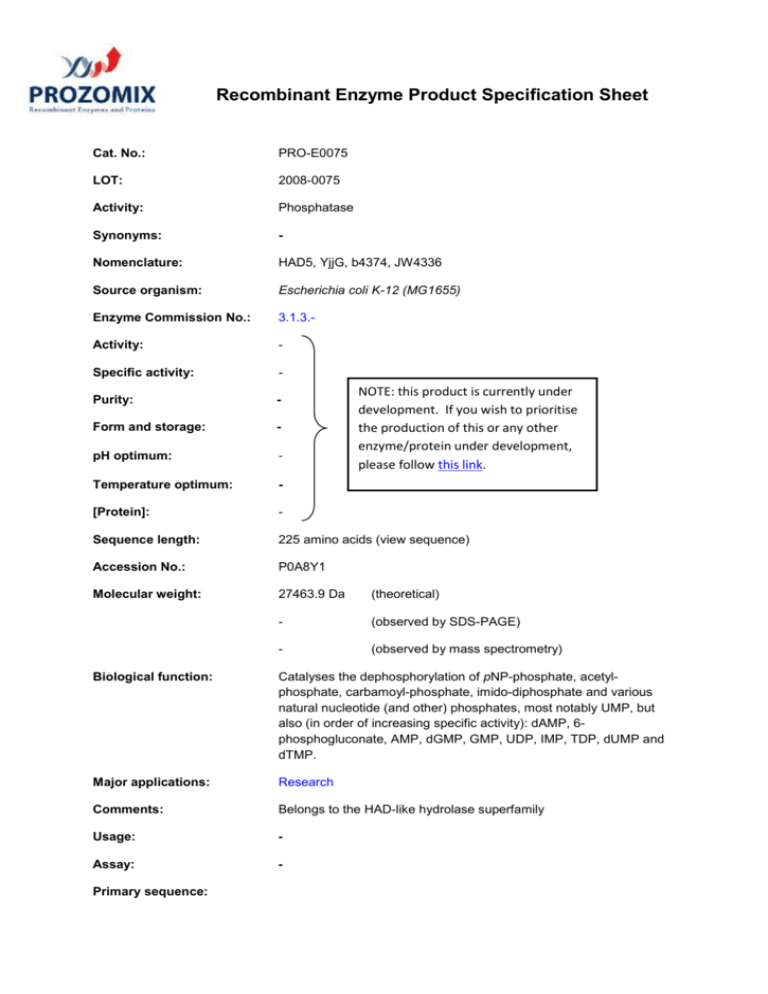 Recombinant Enzyme Product Specification Sheet
Cat. No.:
PRO-E0075
LOT:
2008-0075
Activity:
Phosphatase
Synonyms:
-
Nomenclature:
HAD5, YjjG, b4374, JW4336
Source organism:
Escherichia coli K-12 (MG1655)
Enzyme Commission No.:
3.1.3.-
Activity:
-
Specific activity:
-
Purity:
-
Form and storage:
-
pH optimum:
-
Temperature optimum:
-
[Protein]:
-
Sequence length:
225 amino acids (view sequence)
Accession No.:
P0A8Y1
Molecular weight:
27463.9 Da
(theoretical)
-
(observed by SDS-PAGE)
-
(observed by mass spectrometry)
NOTE: this product is currently under
development. If you wish to prioritise
the production of this or any other
enzyme/protein under development,
please follow this link.
Biological function:
Catalyses the dephosphorylation of pNP-phosphate, acetylphosphate, carbamoyl-phosphate, imido-diphosphate and various
natural nucleotide (and other) phosphates, most notably UMP, but
also (in order of increasing specific activity): dAMP, 6phosphogluconate, AMP, dGMP, GMP, UDP, IMP, TDP, dUMP and
dTMP.
Major applications:
Research
Comments:
Belongs to the HAD-like hydrolase superfamily
Usage:
-
Assay:
-
Primary sequence:
MKWDWIFFDADETLFTFDSFTGLQRMFLDYSVTFTAEDFQDYQAVNKPLWVDYQNGAITSLQLQHGRFES
WAERLNVEPGKLNEAFINAMAEICTPLPGAVSLLNAIRGNAKIGIITNGFSALQQVRLERTGLRDYFDLL
VISEEVGVAKPNKKIFDYALEQAGNPDRSRVLMVGDTAESDILGGINAGLATCWLNAHHREQPEGIAPTW
TVSSLHELEQLLCKH
Literature:
1. Kuznetsova et al. (2006) J. Biol. Chem. 281, 36149-36161.