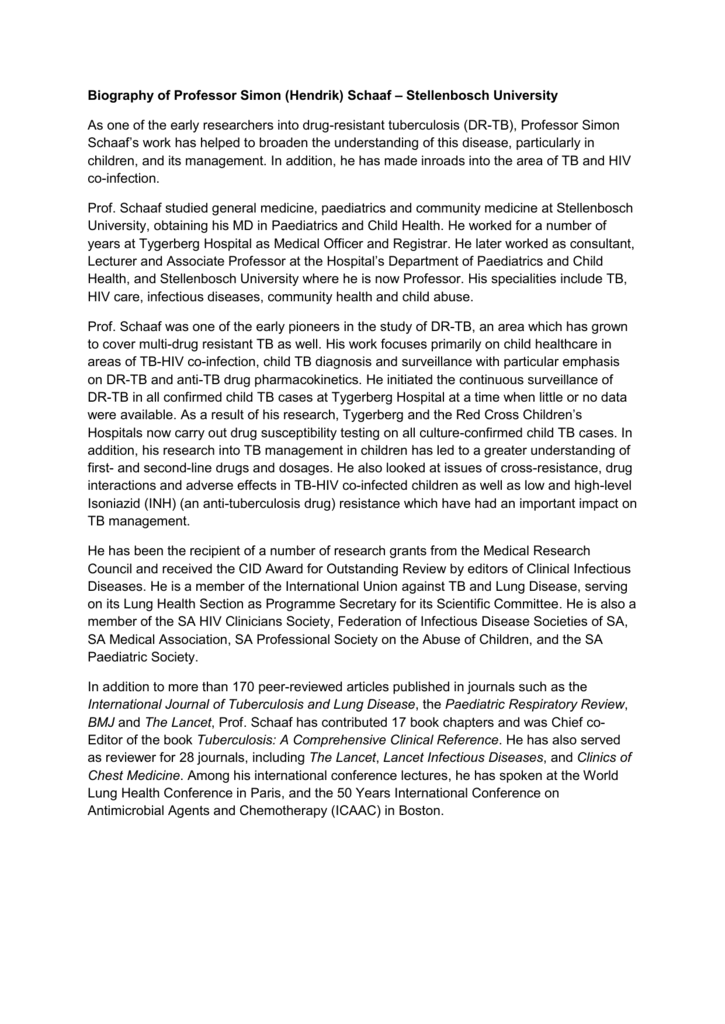 Biography of Professor Simon (Hendrik) Schaaf – Stellenbosch University
As one of the early researchers into drug-resistant tuberculosis (DR-TB), Professor Simon
Schaaf's work has helped to broaden the understanding of this disease, particularly in
children, and its management. In addition, he has made inroads into the area of TB and HIV
co-infection.
Prof. Schaaf studied general medicine, paediatrics and community medicine at Stellenbosch
University, obtaining his MD in Paediatrics and Child Health. He worked for a number of
years at Tygerberg Hospital as Medical Officer and Registrar. He later worked as consultant,
Lecturer and Associate Professor at the Hospital's Department of Paediatrics and Child
Health, and Stellenbosch University where he is now Professor. His specialities include TB,
HIV care, infectious diseases, community health and child abuse.
Prof. Schaaf was one of the early pioneers in the study of DR-TB, an area which has grown
to cover multi-drug resistant TB as well. His work focuses primarily on child healthcare in
areas of TB-HIV co-infection, child TB diagnosis and surveillance with particular emphasis
on DR-TB and anti-TB drug pharmacokinetics. He initiated the continuous surveillance of
DR-TB in all confirmed child TB cases at Tygerberg Hospital at a time when little or no data
were available. As a result of his research, Tygerberg and the Red Cross Children's
Hospitals now carry out drug susceptibility testing on all culture-confirmed child TB cases. In
addition, his research into TB management in children has led to a greater understanding of
first- and second-line drugs and dosages. He also looked at issues of cross-resistance, drug
interactions and adverse effects in TB-HIV co-infected children as well as low and high-level
Isoniazid (INH) (an anti-tuberculosis drug) resistance which have had an important impact on
TB management.
He has been the recipient of a number of research grants from the Medical Research
Council and received the CID Award for Outstanding Review by editors of Clinical Infectious
Diseases. He is a member of the International Union against TB and Lung Disease, serving
on its Lung Health Section as Programme Secretary for its Scientific Committee. He is also a
member of the SA HIV Clinicians Society, Federation of Infectious Disease Societies of SA,
SA Medical Association, SA Professional Society on the Abuse of Children, and the SA
Paediatric Society.
In addition to more than 170 peer-reviewed articles published in journals such as the
International Journal of Tuberculosis and Lung Disease, the Paediatric Respiratory Review,
BMJ and The Lancet, Prof. Schaaf has contributed 17 book chapters and was Chief coEditor of the book Tuberculosis: A Comprehensive Clinical Reference. He has also served
as reviewer for 28 journals, including The Lancet, Lancet Infectious Diseases, and Clinics of
Chest Medicine. Among his international conference lectures, he has spoken at the World
Lung Health Conference in Paris, and the 50 Years International Conference on
Antimicrobial Agents and Chemotherapy (ICAAC) in Boston.