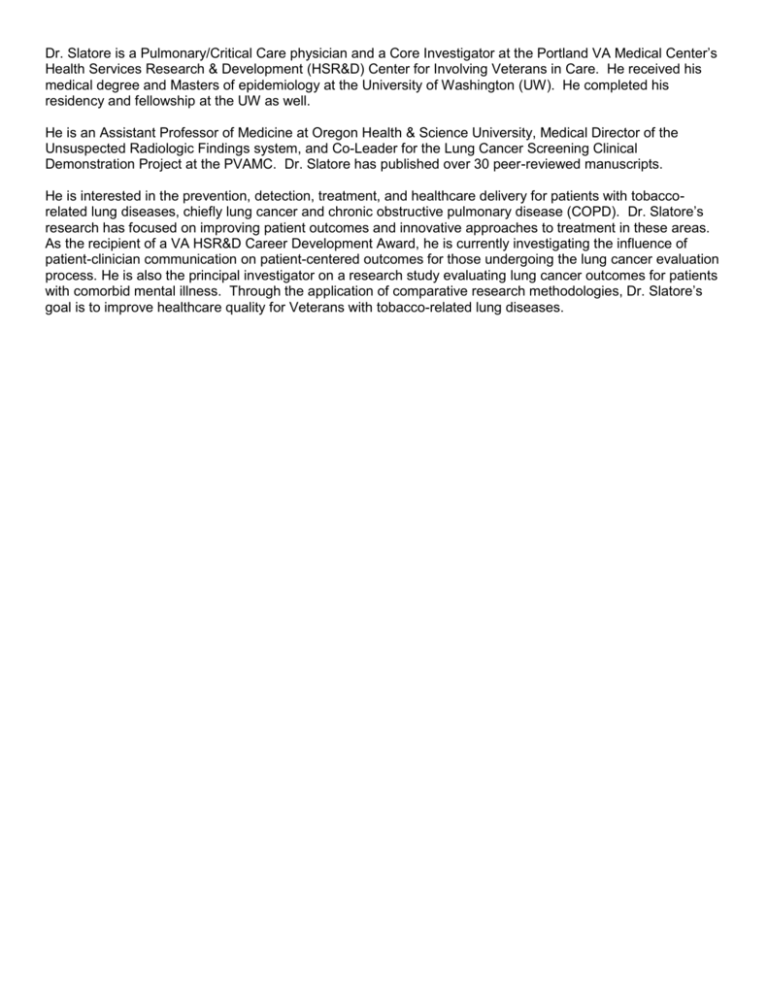 Dr. Slatore is a Pulmonary/Critical Care physician and a Core Investigator at the Portland VA Medical Center's
Health Services Research & Development (HSR&D) Center for Involving Veterans in Care. He received his
medical degree and Masters of epidemiology at the University of Washington (UW). He completed his
residency and fellowship at the UW as well.
He is an Assistant Professor of Medicine at Oregon Health & Science University, Medical Director of the
Unsuspected Radiologic Findings system, and Co-Leader for the Lung Cancer Screening Clinical
Demonstration Project at the PVAMC. Dr. Slatore has published over 30 peer-reviewed manuscripts.
He is interested in the prevention, detection, treatment, and healthcare delivery for patients with tobaccorelated lung diseases, chiefly lung cancer and chronic obstructive pulmonary disease (COPD). Dr. Slatore's
research has focused on improving patient outcomes and innovative approaches to treatment in these areas.
As the recipient of a VA HSR&D Career Development Award, he is currently investigating the influence of
patient-clinician communication on patient-centered outcomes for those undergoing the lung cancer evaluation
process. He is also the principal investigator on a research study evaluating lung cancer outcomes for patients
with comorbid mental illness. Through the application of comparative research methodologies, Dr. Slatore's
goal is to improve healthcare quality for Veterans with tobacco-related lung diseases.