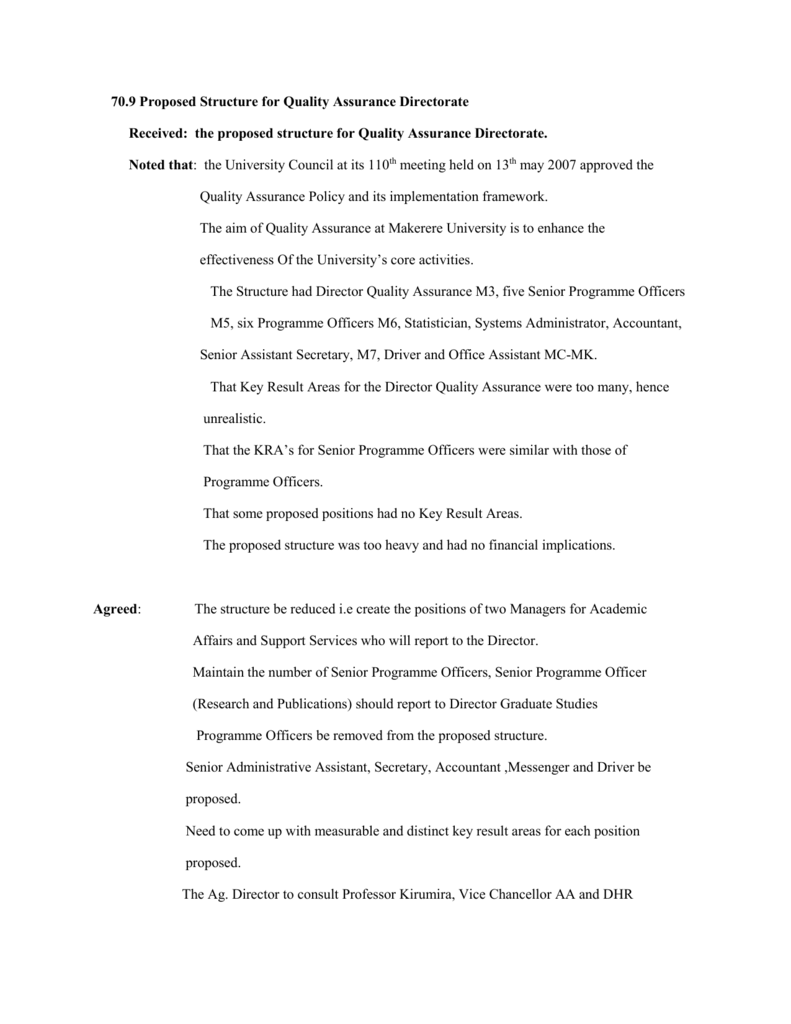 70.9 Proposed Structure for Quality Assurance Directorate
Received: the proposed structure for Quality Assurance Directorate.
Noted that: the University Council at its 110th meeting held on 13th may 2007 approved the
Quality Assurance Policy and its implementation framework.
The aim of Quality Assurance at Makerere University is to enhance the
effectiveness Of the University's core activities.
The Structure had Director Quality Assurance M3, five Senior Programme Officers
M5, six Programme Officers M6, Statistician, Systems Administrator, Accountant,
Senior Assistant Secretary, M7, Driver and Office Assistant MC-MK.
That Key Result Areas for the Director Quality Assurance were too many, hence
unrealistic.
That the KRA's for Senior Programme Officers were similar with those of
Programme Officers.
That some proposed positions had no Key Result Areas.
The proposed structure was too heavy and had no financial implications.
Agreed:
The structure be reduced i.e create the positions of two Managers for Academic
Affairs and Support Services who will report to the Director.
Maintain the number of Senior Programme Officers, Senior Programme Officer
(Research and Publications) should report to Director Graduate Studies
Programme Officers be removed from the proposed structure.
Senior Administrative Assistant, Secretary, Accountant ,Messenger and Driver be
proposed.
Need to come up with measurable and distinct key result areas for each position
proposed.
The Ag. Director to consult Professor Kirumira, Vice Chancellor AA and DHR
in making the proposed changes.
To have the proposed structure with financial implications clearly shown.
The proposed Structure be deferred and the necessary changes be made and
resubmitted within three weeks.