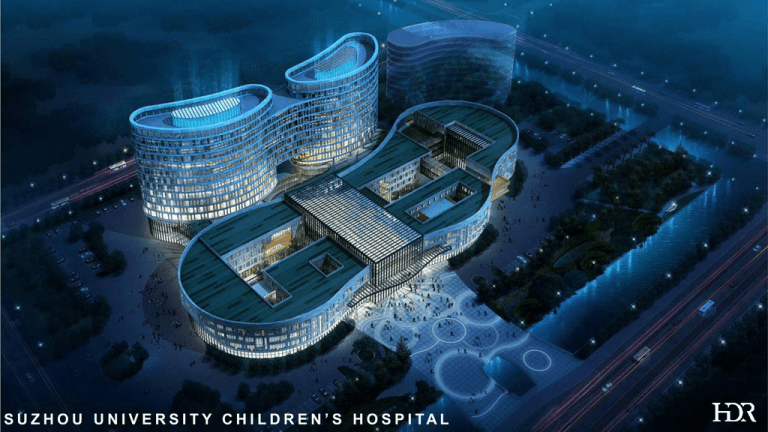 S U Z H O U U N I V E R S I T Y C H I L D R E N ' S H O S P I TA L
DOING IT RIGHT
Quality and Work Management
Planning in the Architectural Design
Community
"QUALITY MEANS
DOING IT RIGHT
WHEN NO ONE
IS LOOKING"
Henry Ford
H I S TO R I C
METHODS FOR
QUALITY
CONTROL
Practice of years ago…
» Single Authority over Design and
Construction
» Simpler Codes
» Well-Trained Trades
» Accepted Methods of Construction
W H AT C A U S E D
T H I S TO C H A N G E ?
Practice Today, we must also…
» Satisfy Codes with many more Provisions
» Work with Larger Teams
» Provide Higher Level of Documentation
» Address Energy Efficiency
» Work with many new Materials/Systems
» Accommodate Compressed Schedules
NEW TOOLS FOR QUALITY CONTROL
» Analysis & Design Programs
» Computer Aided Design
» Building Information
Modeling
» Navisworks
» Bluebeam & Acrobat for
PDFs
» Word / Excel / PowerPoint
» Outlook for email
» MS Project for planning
» Internal Assessment
Software
T Y P I C A L C AT E G O R I E S
OF RESOURCES
»
»
»
»
»
»
Codes
Product Catalogs
Master Specifications
Discipline Specific Guidebooks
Discipline Specific Checklists
LEED Manual & Calc Spreadsheet
TOOLS
RESOURCES
STANDARDS
S TA N D A R D S
What are standards?
» BIM
• Model depth
• Graphic symbols
• Document organization
» Component schedules
» Standard details
» Specifier notes
» Email
» Analysis & design program
set-ups
» QA/QC procedures
S TA N D A R D S
Why have standards?
» Promote a Uniform Practice
Among Project Team
» Reduce Repetition in Tasks
» Promote Proven and Reliable
Designs
» Reduce Learning Curve
» Reduce Errors and Omissions
QUALITY
TOOLS
RESOURCES
STANDARDS
STANDARDS
ARCHITECTURE EXCELLENCE PROGRAM
» Components
• Provides Documents & Procedures
• Creates a Quality Assurance Council
• Assigns Program Implementation
Responsibility
• Establishes Program Internal Audits
» Process & Instructions
» Project Workbook
» Project Communications
» Project Filing
» Quality Assurance Reviews
» Q-LINK
» Delivery/Use of Signed & Sealed
Documents
QUALITY CONTROL DURING CONSTRUCTION
» Construction Contract Administration
• Provides Documentation of:
»
»
»
»
»
»
Clarifications
Changes in the Work
Meetings/Reports
Required Inspections
Record Documents
Contract Closeout
QUESTIONS?