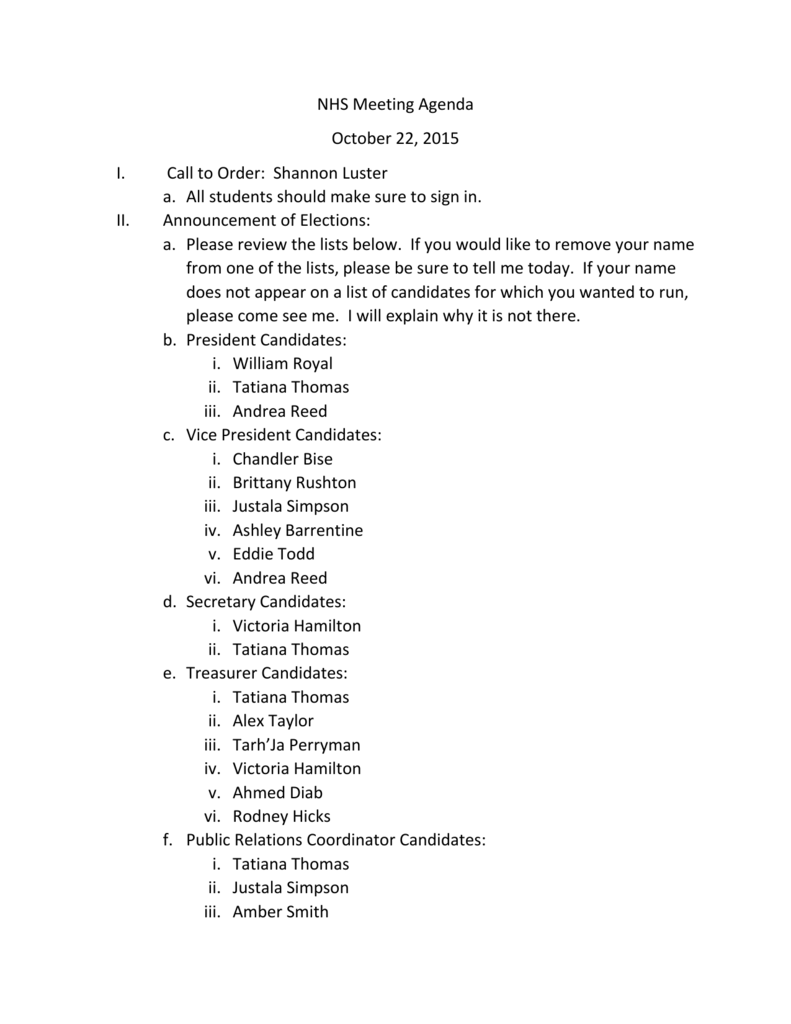 NHS Meeting Agenda
October 22, 2015
I.
II.
Call to Order: Shannon Luster
a. All students should make sure to sign in.
Announcement of Elections:
a. Please review the lists below. If you would like to remove your name
from one of the lists, please be sure to tell me today. If your name
does not appear on a list of candidates for which you wanted to run,
please come see me. I will explain why it is not there.
b. President Candidates:
i. William Royal
ii. Tatiana Thomas
iii. Andrea Reed
c. Vice President Candidates:
i. Chandler Bise
ii. Brittany Rushton
iii. Justala Simpson
iv. Ashley Barrentine
v. Eddie Todd
vi. Andrea Reed
d. Secretary Candidates:
i. Victoria Hamilton
ii. Tatiana Thomas
e. Treasurer Candidates:
i. Tatiana Thomas
ii. Alex Taylor
iii. Tarh'Ja Perryman
iv. Victoria Hamilton
v. Ahmed Diab
vi. Rodney Hicks
f. Public Relations Coordinator Candidates:
i. Tatiana Thomas
ii. Justala Simpson
iii. Amber Smith
III.
IV.
V.
VI.
iv. Eddie Todd
v. Erleshia Lloyd
Campaigning:
a. Candidates for office should campaign between October 23 and
October 30, 2015. You may place posters in the hallways to
campaign for support.
Elections:
a. Elections will be held on November 6, 2015 in my room. All members
should come to my room between 8:00-8:30 that morning to cast
your ballot for each office. If you do not come to my room during
that time period, your ballot will not be counted.
Philanthropy:
a. On November 6, 2015 we will also vote for the philanthropy we will
support. You will cast a ballot for the organization you would like to
support. Here is a list of organizations suggested to me by members.
i. Children's Hospital of Alabama
ii. American Cancer Society
iii. American Diabetes Association
iv. Montgomery Area Council on Aging
v. Sickle Cell Foundation of the Greater Montgomery Area
Remind 101
a. I have set up a Remind 101 account for NHS. Please join so you can
receive reminders about meetings and events.
b. To receive messages via text, text
@kca66 to 81010. You can opt-out
of messages at anytime by replying,
'unsubscribe @kca66'.