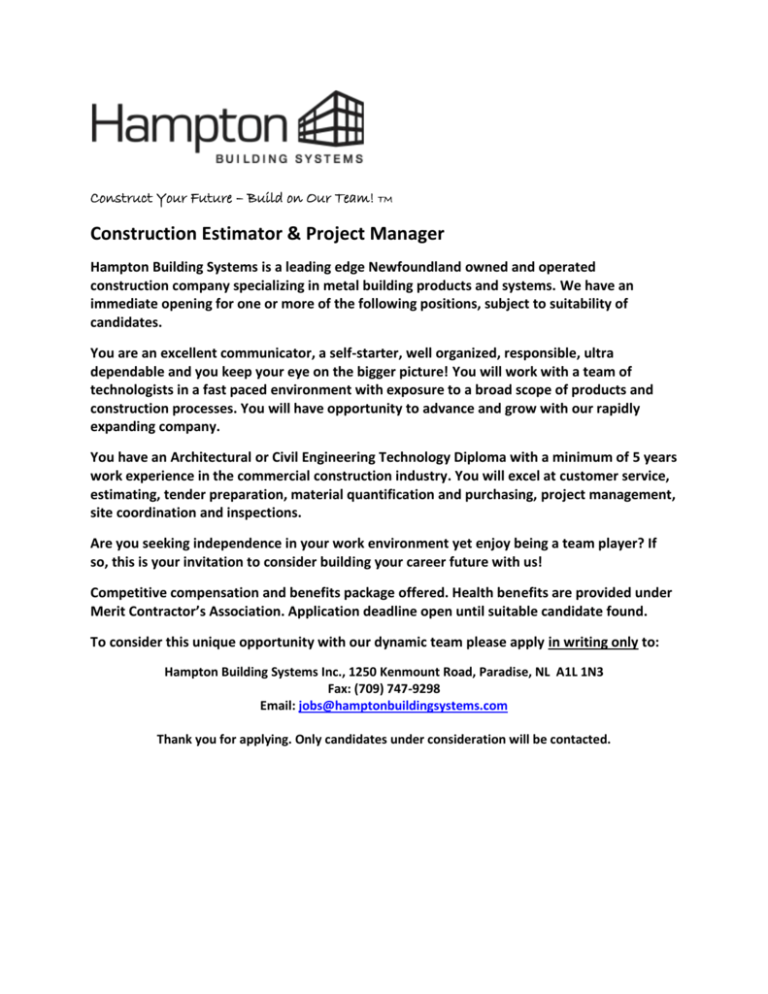 Construct Your Future – Build on Our Team! TM
Construction Estimator & Project Manager
Hampton Building Systems is a leading edge Newfoundland owned and operated
construction company specializing in metal building products and systems. We have an
immediate opening for one or more of the following positions, subject to suitability of
candidates.
You are an excellent communicator, a self-starter, well organized, responsible, ultra
dependable and you keep your eye on the bigger picture! You will work with a team of
technologists in a fast paced environment with exposure to a broad scope of products and
construction processes. You will have opportunity to advance and grow with our rapidly
expanding company.
You have an Architectural or Civil Engineering Technology Diploma with a minimum of 5 years
work experience in the commercial construction industry. You will excel at customer service,
estimating, tender preparation, material quantification and purchasing, project management,
site coordination and inspections.
Are you seeking independence in your work environment yet enjoy being a team player? If
so, this is your invitation to consider building your career future with us!
Competitive compensation and benefits package offered. Health benefits are provided under
Merit Contractor's Association. Application deadline open until suitable candidate found.
To consider this unique opportunity with our dynamic team please apply in writing only to:
Hampton Building Systems Inc., 1250 Kenmount Road, Paradise, NL A1L 1N3
Fax: (709) 747-9298
Email: jobs@hamptonbuildingsystems.com
Thank you for applying. Only candidates under consideration will be contacted.