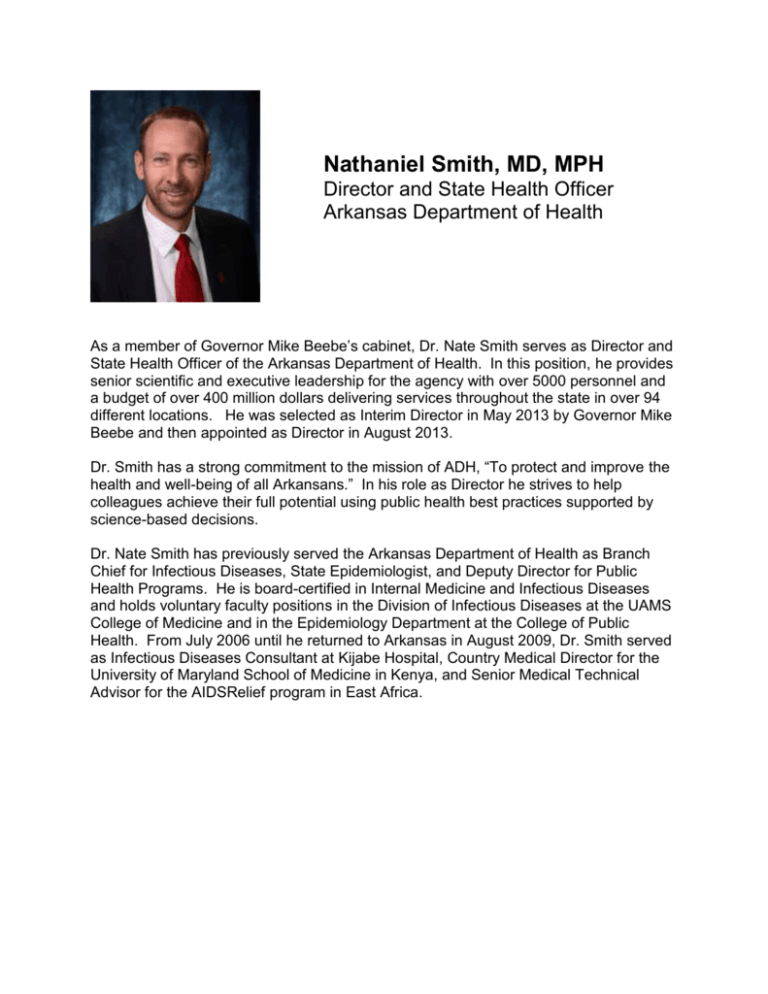 Nathaniel Smith, MD, MPH
Director and State Health Officer
Arkansas Department of Health
As a member of Governor Mike Beebe's cabinet, Dr. Nate Smith serves as Director and
State Health Officer of the Arkansas Department of Health. In this position, he provides
senior scientific and executive leadership for the agency with over 5000 personnel and
a budget of over 400 million dollars delivering services throughout the state in over 94
different locations. He was selected as Interim Director in May 2013 by Governor Mike
Beebe and then appointed as Director in August 2013.
Dr. Smith has a strong commitment to the mission of ADH, "To protect and improve the
health and well-being of all Arkansans." In his role as Director he strives to help
colleagues achieve their full potential using public health best practices supported by
science-based decisions.
Dr. Nate Smith has previously served the Arkansas Department of Health as Branch
Chief for Infectious Diseases, State Epidemiologist, and Deputy Director for Public
Health Programs. He is board-certified in Internal Medicine and Infectious Diseases
and holds voluntary faculty positions in the Division of Infectious Diseases at the UAMS
College of Medicine and in the Epidemiology Department at the College of Public
Health. From July 2006 until he returned to Arkansas in August 2009, Dr. Smith served
as Infectious Diseases Consultant at Kijabe Hospital, Country Medical Director for the
University of Maryland School of Medicine in Kenya, and Senior Medical Technical
Advisor for the AIDSRelief program in East Africa.