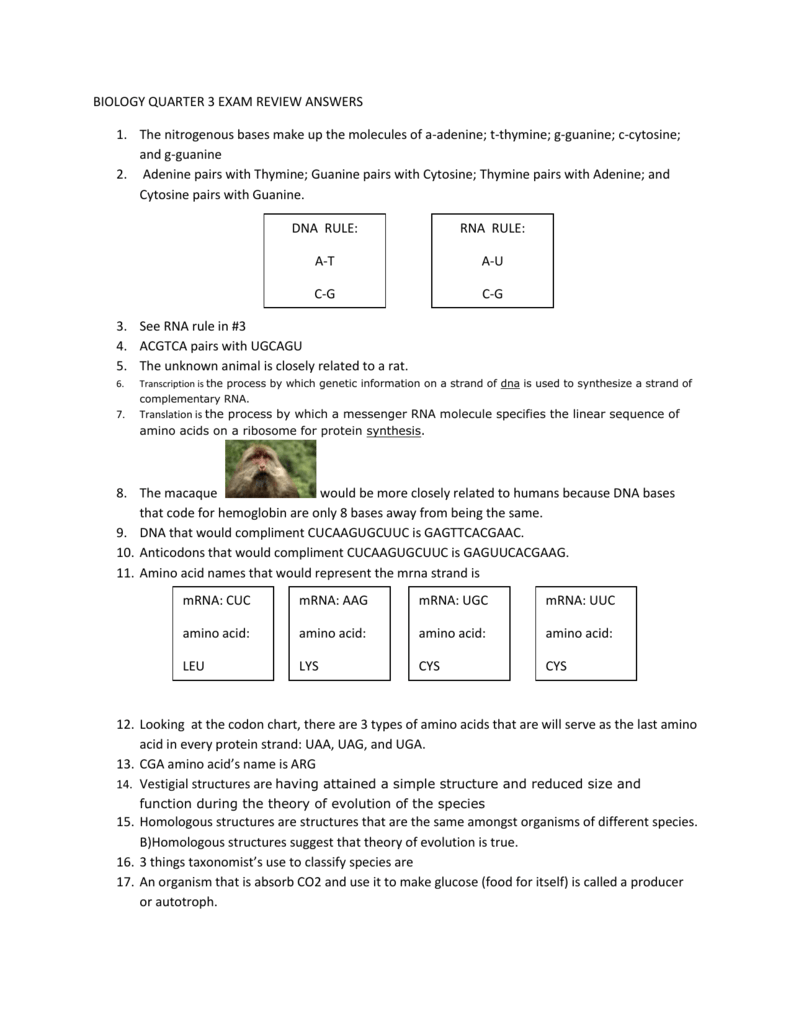 BIOLOGY QUARTER 3 EXAM REVIEW ANSWERS
1. The nitrogenous bases make up the molecules of a-adenine; t-thymine; g-guanine; c-cytosine;
and g-guanine
2. Adenine pairs with Thymine; Guanine pairs with Cytosine; Thymine pairs with Adenine; and
Cytosine pairs with Guanine.
DNA RULE:
RNA RULE:
A-T
A-U
C-G
C-G
3. See RNA rule in #3
4. ACGTCA pairs with UGCAGU
5. The unknown animal is closely related to a rat.
6.
Transcription is the process by which genetic information on a strand of dna is used to synthesize a strand of
complementary RNA.
7.
Translation is the process by which a messenger RNA molecule specifies the linear sequence of
amino acids on a ribosome for protein synthesis.
8. The macaque
would be more closely related to humans because DNA bases
that code for hemoglobin are only 8 bases away from being the same.
9. DNA that would compliment CUCAAGUGCUUC is GAGTTCACGAAC.
10. Anticodons that would compliment CUCAAGUGCUUC is GAGUUCACGAAG.
11. Amino acid names that would represent the mrna strand is
mRNA: CUC
mRNA: AAG
mRNA: UGC
mRNA: UUC
amino acid:
amino acid:
amino acid:
amino acid:
LEU
LYS
CYS
CYS
12. Looking at the codon chart, there are 3 types of amino acids that are will serve as the last amino
acid in every protein strand: UAA, UAG, and UGA.
13. CGA amino acid's name is ARG
14. Vestigial structures are having attained a simple structure and reduced size and
function during the theory of evolution of the species
15. Homologous structures are structures that are the same amongst organisms of different species.
B)Homologous structures suggest that theory of evolution is true.
16. 3 things taxonomist's use to classify species are
17. An organism that is absorb CO2 and use it to make glucose (food for itself) is called a producer
or autotroph.
18. Weevil B (Hazelnut Weevil)is more closely related to the Oak Weevil because they have the
same genus name.
19. Using the dichotomous key, the name of the shark is a leopard shark (How did I get this:
selecting choices 1b>2b>3b>4a)
20. Organism A is a plant and therefore is not related to organisms (B-D)
21. The two taxa that make up a scientific name are 1)genus (characteristics: italicized and the first
letter is lowercase) and 2) species (characteristics: italicized and the first letter is capitalized).
21b. The scientific name of humans is Homo sapien. Homo is the genus name and sapien is the
species name.
21c. A typed scientific name (genus species words) will be italicized; a written out scientific name
will be underlined to represent an italicized word.
22.
23.
24.
25.
Organisms representing Y and Z are closely related.
The oldest or most complex fossil is in level 1.
The youngest or least complex fossils are found in level 12.
The fossils in layer 11 are younger than the fossil in layer 2
26.
Species are the basic category of biological classification, composed of related
individuals that resemble one another, are able to breed among themselves, but are
not able to breed with members of another species.
27. When a species no longer exists, it is said to be extinct.
28. The survival of the fittest is also known as natural selection.
29. The pine needle plants are not classified as having the same species; KINGDOM, PHYLUM,
CLASS, ORDER, FAMILY, GENUS AND SPECIES.
30. The similarities of the embryos suggest according to the theory of evolution that the three had
the same ancestor.
31. The type of cell represented is a prokaryote because no nucleus is present and it has a cell wall.
32. The shapes of bacteria are A)bacillus B)coccus C)spirillum
33. The antibiotic that was the most effective was the one with the smallest disc (or oval). This
shows that the bacteria growth was minimum due to an effective antibiotic.
34. Escherichia coli is a type of bacteria strain.
35. Viruses are different than living things because viruses can only reproduce (make more of
themselves) by infecting a host cell. Living cells have more characteristics: life span, metabolism,
develop, grow, variation is phenotype, are made up of cells (or a cell) and can also reproduce.
36. Lytic cycle is represented by step E because the viruses are breaking out (aka lyses) of the host
cell in an effort to invade more host cells.
37. Euglena belongs to kingdom Protista
38. An amoeba ingests its food by wrapping its pseudopods (pseudo-false; pods- feet) around its
prey to feed on it.
39. The name of structure A on the paramecium is called cilia. Cilia allows the this protist to move
and sweep food into its mouth.
40. Fungi have eukaryotic cells and are consumers or hetertrophs.
41.
42.
43.
44.
45.
46.
47.
48.
49.
50.
Decomposition
Haploid spores come from sporangium at the top of the stalk.
Homeostasis the maintenance of a stable internal environment.
This organism is a plant cell
Ferns are plant and belong in the plant kingdom
Budding is an asexual process by which an organism makes another one of itself by the process
of mitosis (cell division). Gametes (sex cells) don't need to fuse together for an organism to go
through the process of budding.
Characteristics of a mammal are it has fur and mammary glands for milk production.
A vertebrate is any organism with a backbone.
Protozoans are animal-like protists; examples are parameciums and amoebas
The fossil belongs to the group of vertebrate (animals with backbones).