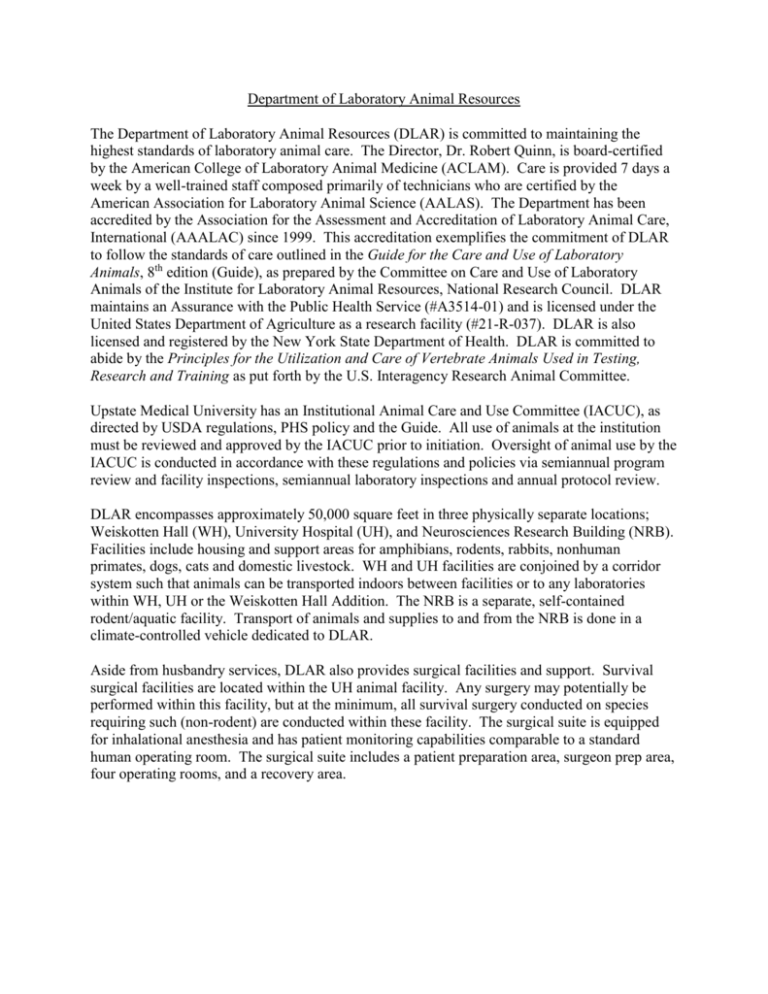 Department of Laboratory Animal Resources
The Department of Laboratory Animal Resources (DLAR) is committed to maintaining the
highest standards of laboratory animal care. The Director, Dr. Robert Quinn, is board-certified
by the American College of Laboratory Animal Medicine (ACLAM). Care is provided 7 days a
week by a well-trained staff composed primarily of technicians who are certified by the
American Association for Laboratory Animal Science (AALAS). The Department has been
accredited by the Association for the Assessment and Accreditation of Laboratory Animal Care,
International (AAALAC) since 1999. This accreditation exemplifies the commitment of DLAR
to follow the standards of care outlined in the Guide for the Care and Use of Laboratory
Animals, 8th edition (Guide), as prepared by the Committee on Care and Use of Laboratory
Animals of the Institute for Laboratory Animal Resources, National Research Council. DLAR
maintains an Assurance with the Public Health Service (#A3514-01) and is licensed under the
United States Department of Agriculture as a research facility (#21-R-037). DLAR is also
licensed and registered by the New York State Department of Health. DLAR is committed to
abide by the Principles for the Utilization and Care of Vertebrate Animals Used in Testing,
Research and Training as put forth by the U.S. Interagency Research Animal Committee.
Upstate Medical University has an Institutional Animal Care and Use Committee (IACUC), as
directed by USDA regulations, PHS policy and the Guide. All use of animals at the institution
must be reviewed and approved by the IACUC prior to initiation. Oversight of animal use by the
IACUC is conducted in accordance with these regulations and policies via semiannual program
review and facility inspections, semiannual laboratory inspections and annual protocol review.
DLAR encompasses approximately 50,000 square feet in three physically separate locations;
Weiskotten Hall (WH), University Hospital (UH), and Neurosciences Research Building (NRB).
Facilities include housing and support areas for amphibians, rodents, rabbits, nonhuman
primates, dogs, cats and domestic livestock. WH and UH facilities are conjoined by a corridor
system such that animals can be transported indoors between facilities or to any laboratories
within WH, UH or the Weiskotten Hall Addition. The NRB is a separate, self-contained
rodent/aquatic facility. Transport of animals and supplies to and from the NRB is done in a
climate-controlled vehicle dedicated to DLAR.
Aside from husbandry services, DLAR also provides surgical facilities and support. Survival
surgical facilities are located within the UH animal facility. Any surgery may potentially be
performed within this facility, but at the minimum, all survival surgery conducted on species
requiring such (non-rodent) are conducted within these facility. The surgical suite is equipped
for inhalational anesthesia and has patient monitoring capabilities comparable to a standard
human operating room. The surgical suite includes a patient preparation area, surgeon prep area,
four operating rooms, and a recovery area.