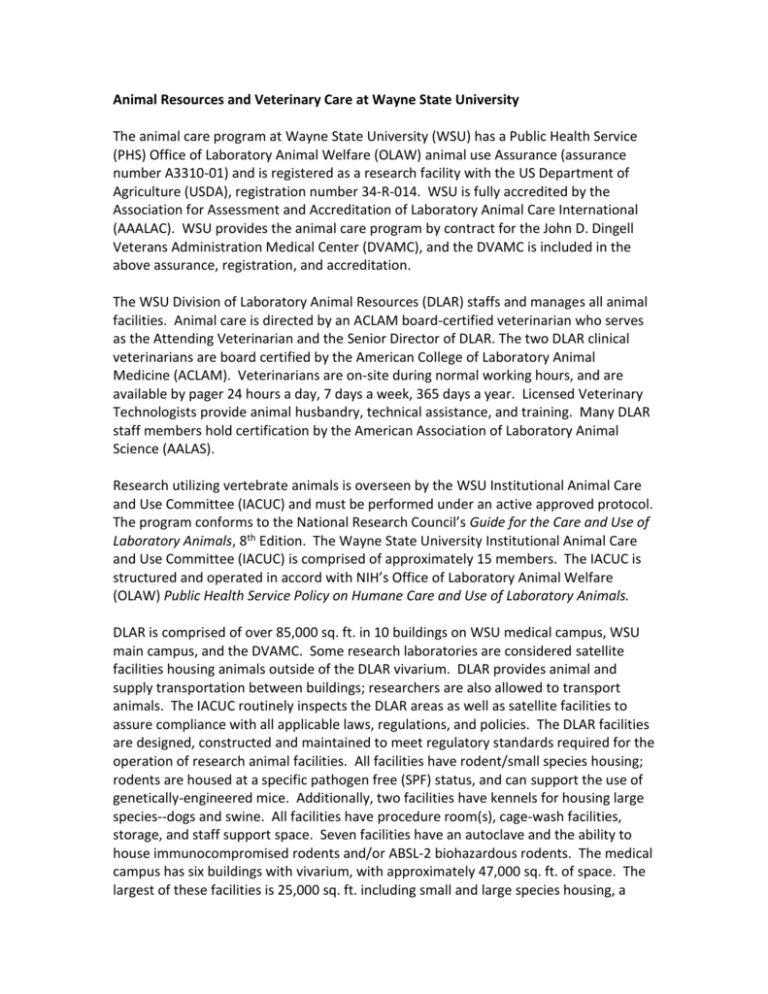 Animal Resources and Veterinary Care at Wayne State University
The animal care program at Wayne State University (WSU) has a Public Health Service
(PHS) Office of Laboratory Animal Welfare (OLAW) animal use Assurance (assurance
number A3310-01) and is registered as a research facility with the US Department of
Agriculture (USDA), registration number 34-R-014. WSU is fully accredited by the
Association for Assessment and Accreditation of Laboratory Animal Care International
(AAALAC). WSU provides the animal care program by contract for the John D. Dingell
Veterans Administration Medical Center (DVAMC), and the DVAMC is included in the
above assurance, registration, and accreditation.
The WSU Division of Laboratory Animal Resources (DLAR) staffs and manages all animal
facilities. Animal care is directed by an ACLAM board-certified veterinarian who serves
as the Attending Veterinarian and the Senior Director of DLAR. The two DLAR clinical
veterinarians are board certified by the American College of Laboratory Animal
Medicine (ACLAM). Veterinarians are on-site during normal working hours, and are
available by pager 24 hours a day, 7 days a week, 365 days a year. Licensed Veterinary
Technologists provide animal husbandry, technical assistance, and training. Many DLAR
staff members hold certification by the American Association of Laboratory Animal
Science (AALAS).
Research utilizing vertebrate animals is overseen by the WSU Institutional Animal Care
and Use Committee (IACUC) and must be performed under an active approved protocol.
The program conforms to the National Research Council's Guide for the Care and Use of
Laboratory Animals, 8th Edition. The Wayne State University Institutional Animal Care
and Use Committee (IACUC) is comprised of approximately 15 members. The IACUC is
structured and operated in accord with NIH's Office of Laboratory Animal Welfare
(OLAW) Public Health Service Policy on Humane Care and Use of Laboratory Animals.
DLAR is comprised of over 85,000 sq. ft. in 10 buildings on WSU medical campus, WSU
main campus, and the DVAMC. Some research laboratories are considered satellite
facilities housing animals outside of the DLAR vivarium. DLAR provides animal and
supply transportation between buildings; researchers are also allowed to transport
animals. The IACUC routinely inspects the DLAR areas as well as satellite facilities to
assure compliance with all applicable laws, regulations, and policies. The DLAR facilities
are designed, constructed and maintained to meet regulatory standards required for the
operation of research animal facilities. All facilities have rodent/small species housing;
rodents are housed at a specific pathogen free (SPF) status, and can support the use of
genetically-engineered mice. Additionally, two facilities have kennels for housing large
species--dogs and swine. All facilities have procedure room(s), cage-wash facilities,
storage, and staff support space. Seven facilities have an autoclave and the ability to
house immunocompromised rodents and/or ABSL-2 biohazardous rodents. The medical
campus has six buildings with vivarium, with approximately 47,000 sq. ft. of space. The
largest of these facilities is 25,000 sq. ft. including small and large species housing, a
multiple operating room surgical suite, necropsy lab, and imaging center. The DLAR
headquarters facility is located near the medical campus. It contains 13,460 sq. ft.
There is small and large species housing, a surgical suite, a necropsy lab, x-ray imaging, a
large teaching wet lab, a rodent handling and surgery training lab, and a veterinary
reference library. This facility is home to the Veterinary Technology Program, an
Associate's Degree program operated via contract with Wayne County Community
College District. There are two facilities on main campus, serving departments in the
following Colleges: Liberal Arts and Sciences, Engineering, and Nursing. The DVAMC has
15,000 sq. ft., including several small species housing rooms, several procedure rooms,
behavioral testing areas, a telemetry room, and a biocontainment area (ABSL-2).
DLAR provides several resources to aid researchers in the accomplishment of their
particular projects including husbandry, veterinary, surgical, technical, and training
services.