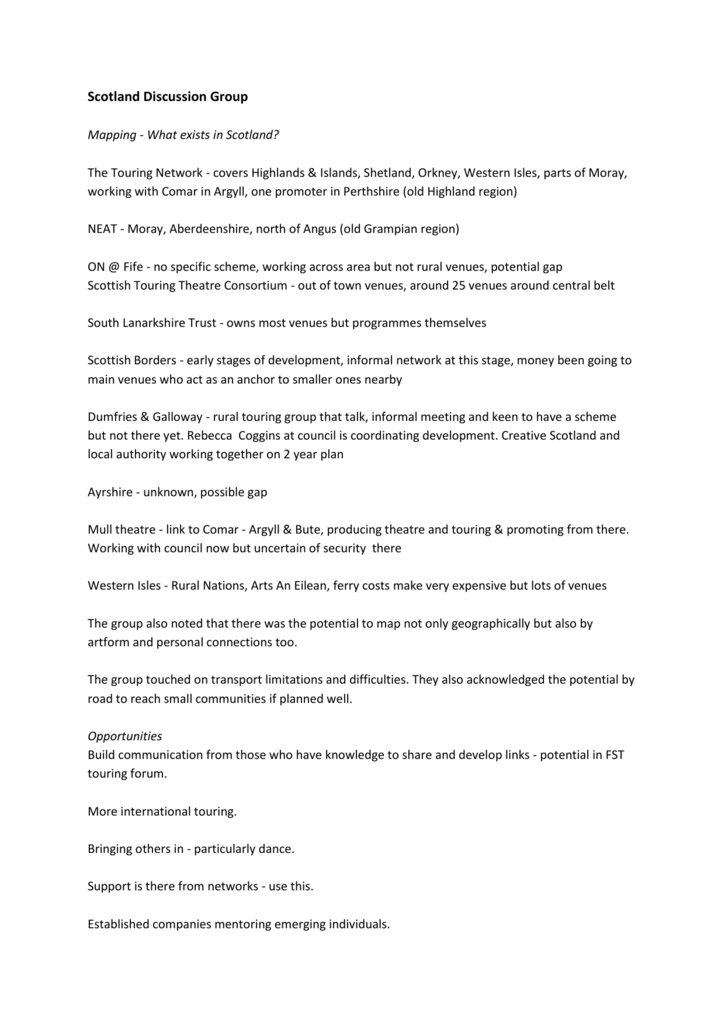 Scotland Discussion Group
Mapping - What exists in Scotland?
The Touring Network - covers Highlands & Islands, Shetland, Orkney, Western Isles, parts of Moray,
working with Comar in Argyll, one promoter in Perthshire (old Highland region)
NEAT - Moray, Aberdeenshire, north of Angus (old Grampian region)
ON @ Fife - no specific scheme, working across area but not rural venues, potential gap
Scottish Touring Theatre Consortium - out of town venues, around 25 venues around central belt
South Lanarkshire Trust - owns most venues but programmes themselves
Scottish Borders - early stages of development, informal network at this stage, money been going to
main venues who act as an anchor to smaller ones nearby
Dumfries & Galloway - rural touring group that talk, informal meeting and keen to have a scheme
but not there yet. Rebecca Coggins at council is coordinating development. Creative Scotland and
local authority working together on 2 year plan
Ayrshire - unknown, possible gap
Mull theatre - link to Comar - Argyll & Bute, producing theatre and touring & promoting from there.
Working with council now but uncertain of security there
Western Isles - Rural Nations, Arts An Eilean, ferry costs make very expensive but lots of venues
The group also noted that there was the potential to map not only geographically but also by
artform and personal connections too.
The group touched on transport limitations and difficulties. They also acknowledged the potential by
road to reach small communities if planned well.
Opportunities
Build communication from those who have knowledge to share and develop links - potential in FST
touring forum.
More international touring.
Bringing others in - particularly dance.
Support is there from networks - use this.
Established companies mentoring emerging individuals.
Tour Book - support rural touring across wider networks.
Challenges
Delivery led - what's happening and by who is unknown.
How do new/young promoters navigate/reach these promoters or access these circuits?
Not enough of right product at right time for promoters.
Not economically viable to tour for companies.
Thoughts
This meeting seen as an inaugural event for the group.
Where do we want to go next? How do we drive this forward?
Scotland Discussion Group - follow up
What are we taking away?
Range of people attending interested in rural touring.
Need to support each other and through this grow networks across Scotland.
No point in reinventing the wheel.
Touring Network opened up their annual event in late October to anyone interested in rural touring.
Suggestion of a national regular quarterly meeting for networks to come together and share.
New ideas, lots to think about and links to share with others already doing things.
Noting the differences in Scotland and that work goes everywhere to all sizes and scales of venue.
Acknowledgment of difficulties for more remote promoters - they want everything and are very
keen but companies won't come without other dates in similar area. Particularly true for Western
Isles.
Sharing the companies knowledge more. Possibly only HITN and Mull that fully understand the
requirements to make rural touring work.
Using FST meeting and network to share rural touring knowledge and requirements across the wider
sector.
Potential for opportunities with Creative Scotland. Representation required. Need for networking
and skills development not just guarantee against loss.
Need for more dialogue with national companies such as NTS. Increased dialogue with the networks
would help promoters and also the companies to find right place for best audiences for their work.
Acknowledgement that "rural" doesn't have be limiting. NRTF members include those who would
not necessarily be defined as rural. Small communities around cities and their venues can share
similar needs. Profile has been raised through having a network representing this type of touring.
Similar problems exist for all touring in Scotland not just at rural scale.
Important to have some kind of network or way to bring people together for discussion about rural
situation. This would give a unified sense if purpose. More discussion is necessary to find the best
format for that in Scotland.
Cohesion required to keep conversation going.
Use and reach all existing networks, example given of COSLA arts group.
Need champions to spread word and understanding.