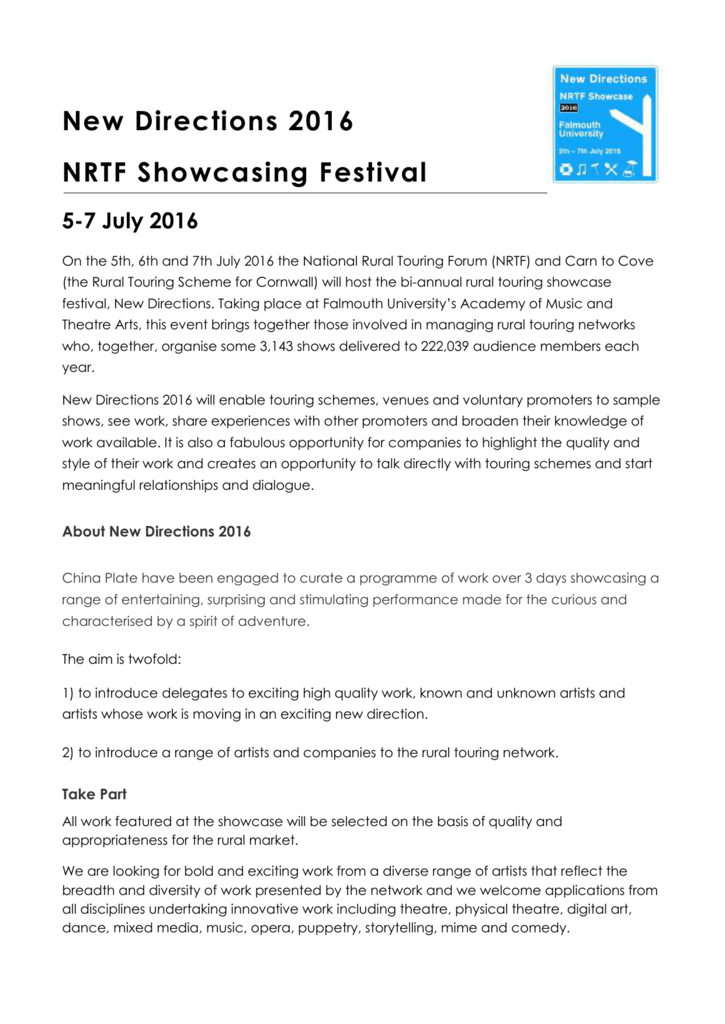 New Directions 2016
NRTF Showcasing Festival
5-7 July 2016
On the 5th, 6th and 7th July 2016 the National Rural Touring Forum (NRTF) and Carn to Cove
(the Rural Touring Scheme for Cornwall) will host the bi-annual rural touring showcase
festival, New Directions. Taking place at Falmouth University's Academy of Music and
Theatre Arts, this event brings together those involved in managing rural touring networks
who, together, organise some 3,143 shows delivered to 222,039 audience members each
year.
New Directions 2016 will enable touring schemes, venues and voluntary promoters to sample
shows, see work, share experiences with other promoters and broaden their knowledge of
work available. It is also a fabulous opportunity for companies to highlight the quality and
style of their work and creates an opportunity to talk directly with touring schemes and start
meaningful relationships and dialogue.
About New Directions 2016
China Plate have been engaged to curate a programme of work over 3 days showcasing a
range of entertaining, surprising and stimulating performance made for the curious and
characterised by a spirit of adventure.
The aim is twofold:
1) to introduce delegates to exciting high quality work, known and unknown artists and
artists whose work is moving in an exciting new direction.
2) to introduce a range of artists and companies to the rural touring network.
Take Part
All work featured at the showcase will be selected on the basis of quality and
appropriateness for the rural market.
We are looking for bold and exciting work from a diverse range of artists that reflect the
breadth and diversity of work presented by the network and we welcome applications from
all disciplines undertaking innovative work including theatre, physical theatre, digital art,
dance, mixed media, music, opera, puppetry, storytelling, mime and comedy.
We are particularly looking for companies and artists who fall into one or more of the
following categories:

Emerging artists/companies keen to be introduced to the network

More experienced companies as yet unknown to the network but interested in
making the connection

Companies already known to the network whose practice is moving in a new and
exciting direction.
The showcase programme will be selected by a working group of China Plate, Carn to Cove
and National Rural Touring Forum, and they will prioritise companies that are developing
work ready to tour to UK rural venues following New Directions from Autumn 2016 through to
Autumn 2018.
The working group are particularly looking for tour ready work however a limited number of
shows in development will also be considered.
Exciting companies not currently making work for rural touring, but who have a genuine
desire to engage with rural audiences and change or adapt how they work to become
suitable for rural touring will also be considered.
All participating artists/companies will be offered a small showcasing fee to cover expenses.
Eligibility
The programme will include work presented as a pitch or in excerpt; no full shows will be
presented.
Companies and their shows, wishing to be considered must be:
•
Available to showcase an extract not more than 20 minutes on 5, 6 or 7 July 2016
•
Have a genuine desire to engage with rural touring during 2016, 2017, 2018
•
Suitable for rural touring – size, cost, technical, quality - or be interested in changing
and adapting how they work to become suitable for rural touring
How to Apply
No company or performer will be considered for showcasing at New Directions 2016 without
completing the attached application form, which must be returned to [email protected] no
later than 14th February 2016.
We ask that all submissions are clearly marked with the name of the applying company or
artist and New Directions 2016 in the subject line. All applications will be considered by a
short-listing panel of China Plate, Carn to Cove and NRTF.
This collective will make the final decisions with regard to the showcase by the end of March
2016 at which point companies will be contacted directly.
We regret that it may not be possible to follow up all companies and that we will be unable
to give feedback on the work submitted for consideration.
New Directions 2016 – 5-7 th July
Showcase Application Form
In order to be eligible to apply for inclusion in the programme companies must be able to
reply yes to the following:
Are you available to perform an extract of not more than 20 minutes as a
YES
showcase on 5, 6 or 7 July 2015 at Falmouth University?
NO
Is your work suitable for Rural Touring?
If you are not sure then we suggest you visit
YES
NO
http://www.ruraltouring.org/work/what-is-rural-touring
You need to bear in mind – quality, size, technical requirements etc.
Will you be available to tour your work to rural and community venues
YES
throughout the UK from Autumn 2016 – Autumn 2018?
NO
PERFORMANCE INFORMATION
Company / Performer Name:
Main contact name:
Telephone number (s):
Email:
Where are you based?
Country, Region and nearest town:
Production / show title:
Is the work you wish to showcase complete
and ready to tour or in development
(please give details)?
Genre: e.g (Theatre, music, etc.)
Audience Age Guide:
Production / show out line description of
piece or type of performance: (no more
than 500 words)
What are your future ambitions for the
show? (no more than 500 words)
What experience do you have of rural
touring and/or why do you want to do rural
touring? (no more than 500 words)
Stage size required
Technical requirements
Would you be able to tour with your own
technical equipment?
Number of performers
Length of full show
Preferred touring period
Links – Web site / You Tube etc
Companies and performers wishing to be considered should also suggest a referee. Please
be aware this individual must be able to be considered as a referee and have experience
of either your current or previous touring product.
Name of Referee:
Organisation:
Name and Address:
Telephone number:
Email address:
Please return completed form to [email protected] by 14th February 2016 at the latest. You
will receive an acknowledgement of receipt. It will not be possible to give feedback on work
submitted for consideration.