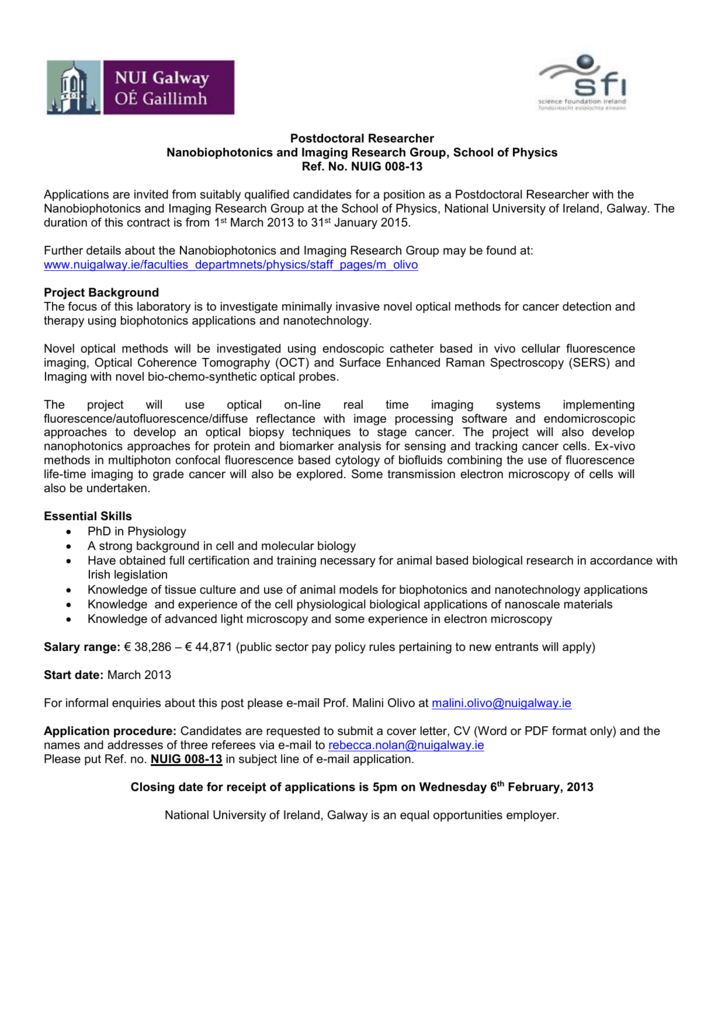 Postdoctoral Researcher
Nanobiophotonics and Imaging Research Group, School of Physics
Ref. No. NUIG 008-13
Applications are invited from suitably qualified candidates for a position as a Postdoctoral Researcher with the
Nanobiophotonics and Imaging Research Group at the School of Physics, National University of Ireland, Galway. The
duration of this contract is from 1st March 2013 to 31st January 2015.
Further details about the Nanobiophotonics and Imaging Research Group may be found at:
www.nuigalway.ie/faculties_departmnets/physics/staff_pages/m_olivo
Project Background
The focus of this laboratory is to investigate minimally invasive novel optical methods for cancer detection and
therapy using biophotonics applications and nanotechnology.
Novel optical methods will be investigated using endoscopic catheter based in vivo cellular fluorescence
imaging, Optical Coherence Tomography (OCT) and Surface Enhanced Raman Spectroscopy (SERS) and
Imaging with novel bio-chemo-synthetic optical probes.
The
project
will
use
optical
on-line
real
time
imaging
systems
implementing
fluorescence/autofluorescence/diffuse reflectance with image processing software and endomicroscopic
approaches to develop an optical biopsy techniques to stage cancer. The project will also develop
nanophotonics approaches for protein and biomarker analysis for sensing and tracking cancer cells. Ex-vivo
methods in multiphoton confocal fluorescence based cytology of biofluids combining the use of fluorescence
life-time imaging to grade cancer will also be explored. Some transmission electron microscopy of cells will
also be undertaken.
Essential Skills
 PhD in Physiology
 A strong background in cell and molecular biology
 Have obtained full certification and training necessary for animal based biological research in accordance with
Irish legislation
 Knowledge of tissue culture and use of animal models for biophotonics and nanotechnology applications
 Knowledge and experience of the cell physiological biological applications of nanoscale materials
 Knowledge of advanced light microscopy and some experience in electron microscopy
Salary range: € 38,286 – € 44,871 (public sector pay policy rules pertaining to new entrants will apply)
Start date: March 2013
For informal enquiries about this post please e-mail Prof. Malini Olivo at [email protected]
Application procedure: Candidates are requested to submit a cover letter, CV (Word or PDF format only) and the
names and addresses of three referees via e-mail to [email protected]
Please put Ref. no. NUIG 008-13 in subject line of e-mail application.
Closing date for receipt of applications is 5pm on Wednesday 6th February, 2013
National University of Ireland, Galway is an equal opportunities employer.