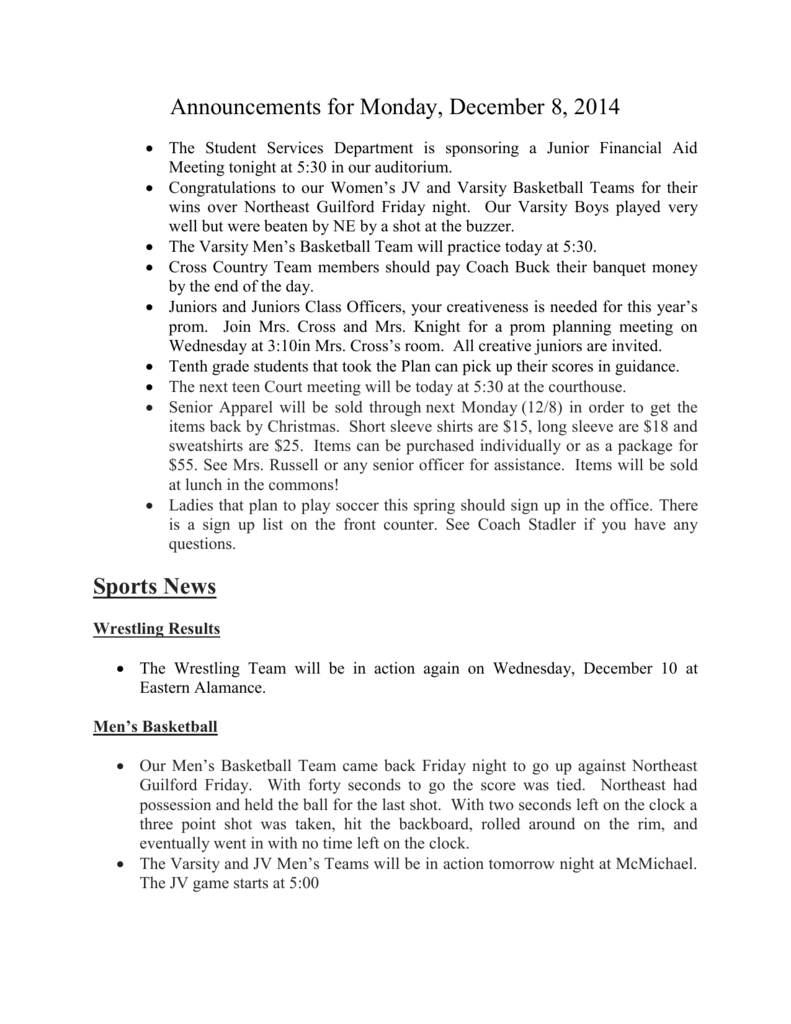 Announcements for Monday, December 8, 2014
 The Student Services Department is sponsoring a Junior Financial Aid
Meeting tonight at 5:30 in our auditorium.
 Congratulations to our Women's JV and Varsity Basketball Teams for their
wins over Northeast Guilford Friday night. Our Varsity Boys played very
well but were beaten by NE by a shot at the buzzer.
 The Varsity Men's Basketball Team will practice today at 5:30.
 Cross Country Team members should pay Coach Buck their banquet money
by the end of the day.
 Juniors and Juniors Class Officers, your creativeness is needed for this year's
prom. Join Mrs. Cross and Mrs. Knight for a prom planning meeting on
Wednesday at 3:10in Mrs. Cross's room. All creative juniors are invited.
 Tenth grade students that took the Plan can pick up their scores in guidance.
 The next teen Court meeting will be today at 5:30 at the courthouse.
 Senior Apparel will be sold through next Monday (12/8) in order to get the
items back by Christmas. Short sleeve shirts are $15, long sleeve are $18 and
sweatshirts are $25. Items can be purchased individually or as a package for
$55. See Mrs. Russell or any senior officer for assistance. Items will be sold
at lunch in the commons!
 Ladies that plan to play soccer this spring should sign up in the office. There
is a sign up list on the front counter. See Coach Stadler if you have any
questions.
Sports News
Wrestling Results
 The Wrestling Team will be in action again on Wednesday, December 10 at
Eastern Alamance.
Men's Basketball
 Our Men's Basketball Team came back Friday night to go up against Northeast
Guilford Friday. With forty seconds to go the score was tied. Northeast had
possession and held the ball for the last shot. With two seconds left on the clock a
three point shot was taken, hit the backboard, rolled around on the rim, and
eventually went in with no time left on the clock.
 The Varsity and JV Men's Teams will be in action tomorrow night at McMichael.
The JV game starts at 5:00
Women's Basketball
 The Women's JV and Varsity Basketball Teams easily defeated Northeast
Guilford Friday night.
 The Varsity Women's Basketball Team will be at McMichael Tuesday night.
Swimming
 The next swim meet is Tuesday, December 16th at RCHS against Hargrave
Military Academy and Chatham Academy.
Changes
-The JV and Varsity Boys' games with Reidsville have been moved to February
4th.
-We are moving our wrestling match with Northern Guilford and Western
Alamance from Wednesday, January 21st to Thursday, January 22nd. The change
is necessary because of a potential conflict with exams in Guilford County.