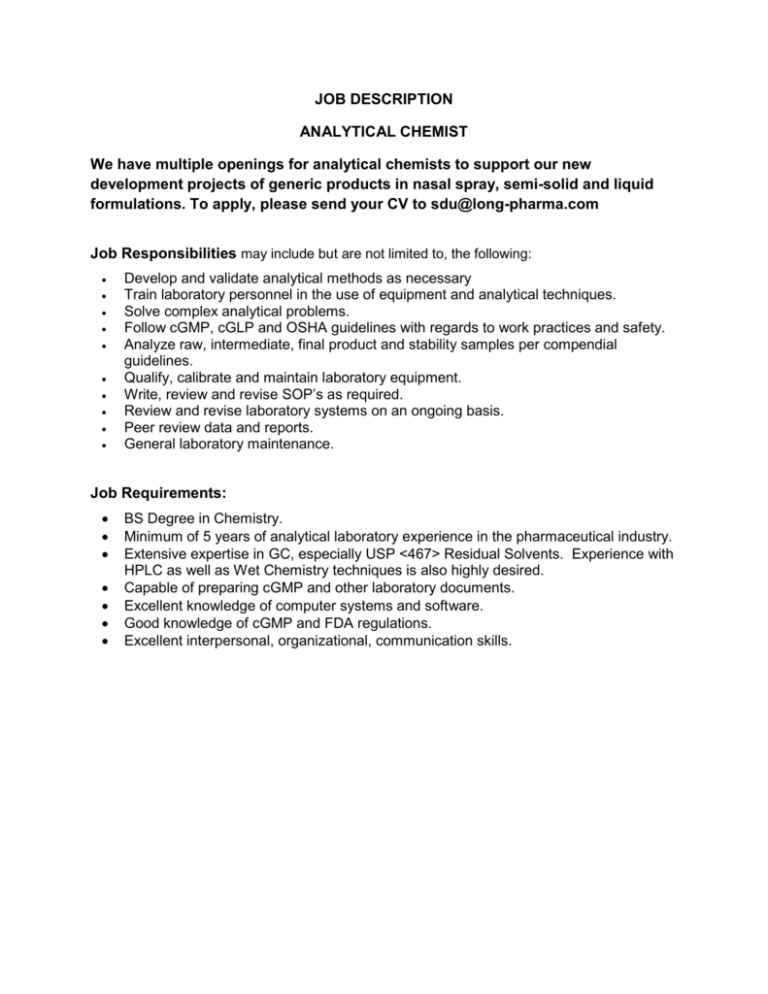 JOB DESCRIPTION
ANALYTICAL CHEMIST
We have multiple openings for analytical chemists to support our new
development projects of generic products in nasal spray, semi-solid and liquid
formulations. To apply, please send your CV to sdu@long-pharma.com
Job Responsibilities may include but are not limited to, the following:










Develop and validate analytical methods as necessary
Train laboratory personnel in the use of equipment and analytical techniques.
Solve complex analytical problems.
Follow cGMP, cGLP and OSHA guidelines with regards to work practices and safety.
Analyze raw, intermediate, final product and stability samples per compendial
guidelines.
Qualify, calibrate and maintain laboratory equipment.
Write, review and revise SOP's as required.
Review and revise laboratory systems on an ongoing basis.
Peer review data and reports.
General laboratory maintenance.
Job Requirements:







BS Degree in Chemistry.
Minimum of 5 years of analytical laboratory experience in the pharmaceutical industry.
Extensive expertise in GC, especially USP <467> Residual Solvents. Experience with
HPLC as well as Wet Chemistry techniques is also highly desired.
Capable of preparing cGMP and other laboratory documents.
Excellent knowledge of computer systems and software.
Good knowledge of cGMP and FDA regulations.
Excellent interpersonal, organizational, communication skills.