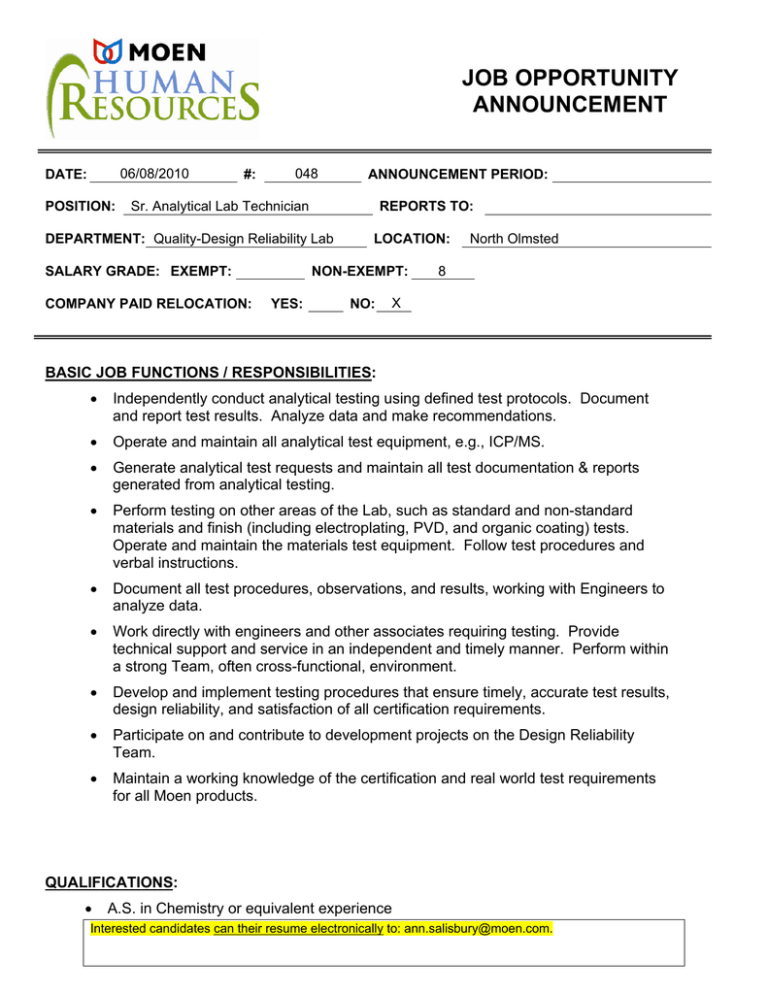 JOB OPPORTUNITY
ANNOUNCEMENT
06/08/2010
DATE:
POSITION:
#:
048
ANNOUNCEMENT PERIOD:
Sr. Analytical Lab Technician
REPORTS TO:
DEPARTMENT: Quality-Design Reliability Lab
SALARY GRADE: EXEMPT:
COMPANY PAID RELOCATION:
LOCATION:
NON-EXEMPT:
YES:
NO:
North Olmsted
8
X
BASIC JOB FUNCTIONS / RESPONSIBILITIES:
•
Independently conduct analytical testing using defined test protocols. Document
and report test results. Analyze data and make recommendations.
•
Operate and maintain all analytical test equipment, e.g., ICP/MS.
•
Generate analytical test requests and maintain all test documentation & reports
generated from analytical testing.
•
Perform testing on other areas of the Lab, such as standard and non-standard
materials and finish (including electroplating, PVD, and organic coating) tests.
Operate and maintain the materials test equipment. Follow test procedures and
verbal instructions.
•
Document all test procedures, observations, and results, working with Engineers to
analyze data.
•
Work directly with engineers and other associates requiring testing. Provide
technical support and service in an independent and timely manner. Perform within
a strong Team, often cross-functional, environment.
•
Develop and implement testing procedures that ensure timely, accurate test results,
design reliability, and satisfaction of all certification requirements.
•
Participate on and contribute to development projects on the Design Reliability
Team.
•
Maintain a working knowledge of the certification and real world test requirements
for all Moen products.
QUALIFICATIONS:
•
A.S. in Chemistry or equivalent experience
Interested candidates can their resume electronically to: ann.salisbury@moen.com.
JOB OPPORTUNITY
ANNOUNCEMENT
PAGE 2
•
2-5 years experience in analytical testing and quantitative chemistry techniques and
practices
•
Experience working in a Team environment
•
Working knowledge of analytical test equipment & methods (e.g., ICP/MS, UV-vis
spectrophotometer, wet chemistry techniques, small instrument operation, etc.)
•
Fluent with standard PC tools (i.e. word processor, spreadsheets, database, etc.).
•
Good communication & team skills
COMPETENCIES:
•
•
•
•
•
•
•
•
Functional/technical skills
Drive for results
Informing
Learning on the fly
Peer relationships
Problem solving
Decision quality
Time management
Interested candidates can their resume electronically to: ann.salisbury@moen.com.