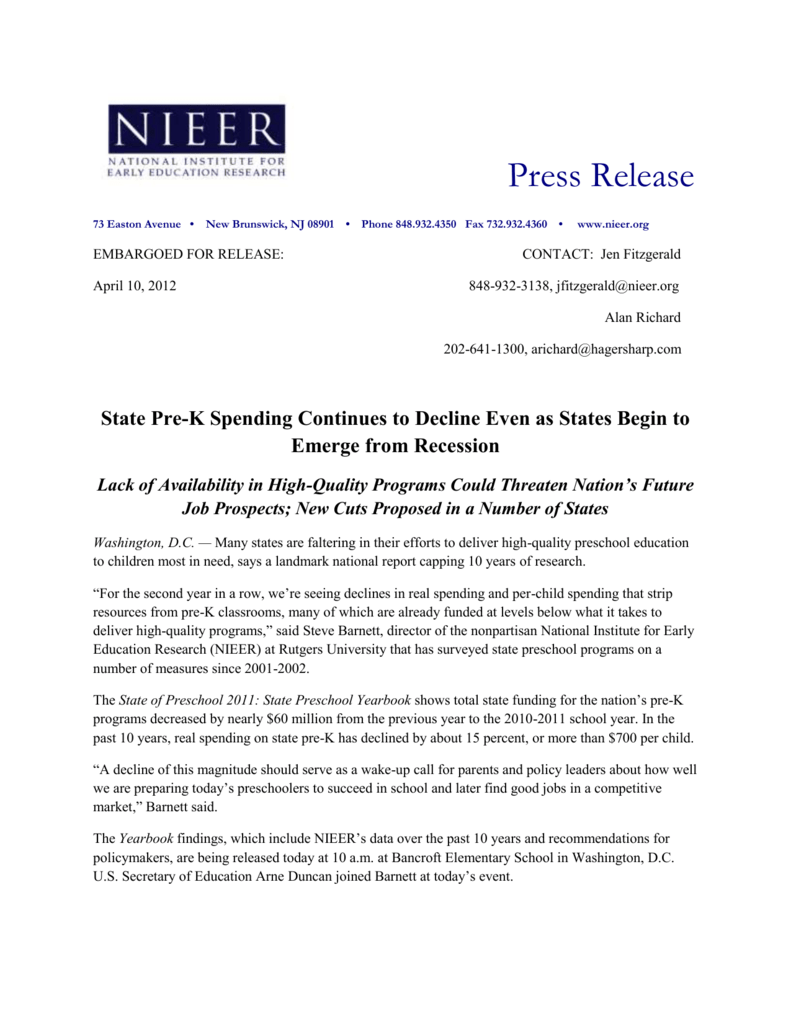 Press Release
73 Easton Avenue •
New Brunswick, NJ 08901
EMBARGOED FOR RELEASE:
April 10, 2012
•
Phone 848.932.4350 Fax 732.932.4360 •
www.nieer.org
CONTACT: Jen Fitzgerald
848-932-3138, [email protected]
Alan Richard
202-641-1300, [email protected]
State Pre-K Spending Continues to Decline Even as States Begin to
Emerge from Recession
Lack of Availability in High-Quality Programs Could Threaten Nation's Future
Job Prospects; New Cuts Proposed in a Number of States
Washington, D.C. — Many states are faltering in their efforts to deliver high-quality preschool education
to children most in need, says a landmark national report capping 10 years of research.
"For the second year in a row, we're seeing declines in real spending and per-child spending that strip
resources from pre-K classrooms, many of which are already funded at levels below what it takes to
deliver high-quality programs," said Steve Barnett, director of the nonpartisan National Institute for Early
Education Research (NIEER) at Rutgers University that has surveyed state preschool programs on a
number of measures since 2001-2002.
The State of Preschool 2011: State Preschool Yearbook shows total state funding for the nation's pre-K
programs decreased by nearly $60 million from the previous year to the 2010-2011 school year. In the
past 10 years, real spending on state pre-K has declined by about 15 percent, or more than $700 per child.
"A decline of this magnitude should serve as a wake-up call for parents and policy leaders about how well
we are preparing today's preschoolers to succeed in school and later find good jobs in a competitive
market," Barnett said.
The Yearbook findings, which include NIEER's data over the past 10 years and recommendations for
policymakers, are being released today at 10 a.m. at Bancroft Elementary School in Washington, D.C.
U.S. Secretary of Education Arne Duncan joined Barnett at today's event.
Despite a decade of progress in which many states began or improved pre-K programs, state investments
in high-quality pre-K are now slipping. In fact, many children who need access to high-quality pre-K
programs still cannot attend.
Twenty-eight percent of all 4-year-olds and 4 percent of 3-year-olds were served by state pre-K programs
in the 2010-2011 school year, raising total enrollment to more than 1.3 million. But some states have
opted to expand enrollment rather than maintain quality, resulting in greater access but lower standards.
"If ignored, states run the risk of substituting inexpensive child care for preschool education," Barnett
said.
There are winners and losers in this year's report. Winners included Maine, Kentucky, and Nebraska,
where both adjusted per-child and total funding increased by more than 5 percent over the previous year.
In addition, five states — Iowa, Maryland, Michigan, West Virginia, and Wisconsin — increased total
funding by more than 5 percent from the previous year. In all, 22 states increased enrollment, with
increases ranging from 2 percent in California, Connecticut, Georgia, and Minnesota to 24 percent in
Vermont. Georgia and New York both met new benchmarks in NIEER's Quality Standards Checklist.
Losers included Arizona, Colorado, New Mexico, Oklahoma, Oregon, and Pennsylvania that cut total
state pre-K spending by 10 percent or more from the previous year. Nine states cut pre-K enrollment,
from 1 percent in Kentucky, Nebraska, and North Carolina to 12 percent in New Mexico. A 10th state,
Arizona, entirely eliminated its Early Childhood Block Grant, becoming the 11th state to offer no state
pre-K. The others with no state pre-K program are Hawaii, Idaho, Indiana, Mississippi, Montana, New
Hampshire, North Dakota, South Dakota, Utah, and Wyoming. Four states — California, Kansas,
New York, and South Carolina — lost benchmarks on the Quality Standards Checklist, all for lessening
their level of program monitoring.
In addition, seven battleground states face additional threats to pre-K programs in 2012:




California decreased spending per child by 10 percent for 2010-2011. The state's program,
which achieves only three of NIEER's 10 benchmarks for quality, remains under threat of further
budget reductions.
Florida ranks first in the nation in pre-K access, with 76 percent of all 4-year-olds attending. But
it ranks near the bottom in program quality and spending per child. It has repeatedly reduced
funding and has not increased per-child spending to adequate levels. Class-size limits have been
raised, and further funding cuts may be on the horizon.
Georgia, the first state to adopt a goal of state pre-K for all children, and which met all 10
NIEER quality standards in 2010-2011, subsequently cut its pre-K school calendar from 10
months to nine, reduced teacher salaries, and increased class size to 22 children. Experienced
teachers fled the program. Bringing quality back will require a new revenue source because
lottery proceeds are no longer sufficient.
Illinois launched its Preschool for All program in 2006 with the goal of achieving universal
access by 2012. Instead, it has reduced total enrollment, and the program also saw no appreciable
funding increase.



Massachusetts has cut per-child funding by about 45 percent from 2001-2002 levels and operates
two new programs using federal American Recovery and Reinvestment Act (ARRA) funds that
will go away. Without new funding, these programs are threatened.
North Carolina moved its well-regarded More at Four program from the Department of Public
Instruction to Health and Human Services to align it with child care, renamed it, and reduced staff
and enrollment. The program faces additional possible cuts.
Texas, which ranks in the bottom half of states for spending per child, reduced spending per child
in 2010-2011 and faces the prospect of further cuts.
"States need to plan for future growth in pre-K just as they would for major projects, such as
infrastructure," said Barnett, "and avoid viewing pre-K as a year-to-year funding decision."
Barnett praised the federal $500 million Race to the Top-Early Learning Challenge that is providing
grants to nine states for improving quality, but said more needs to be done. President Obama has called on
Congress to increase the federal commitment to states for early childhood education.
10-Year Findings
State pre-K generally has enjoyed bipartisan support during its expansion over the past decade. An
overwhelming body of research shows that high-quality pre-K prepares children to succeed in school,
enroll in college or career training, and helps more students ultimately get better jobs that can help the
nation's economy. This year's report highlights trends in pre-K programs over past 10 years, including
these:







More than 600,000 additional children are enrolled in state pre-K programs than in 2001-2002.
The expansion of public pre-K has been especially important for Hispanic children who would
have much lower participation rates without state pre-K.
Spending per child nationally is $715 lower than the 2001-2002 level.
Disparities among states in funding per child have grown from a difference of $9,000 between the
highest and lowest in the 2001-2002 year to more than $10,000 today.
There are 51 preschool programs in 39 states plus two in the District of Columbia, compared to
42 programs in 37 states in the 2001-2002 school year.
Adoption of statewide comprehensive early learning standards has been rapid.
State progress in improving the quality of teachers responsible for achieving those learning
standards has been slow. The percentage of programs requiring lead teachers to have bachelor's
degrees has risen from 48 to 57 percent.
Little has changed in enrollment of 3-year-olds, which remains at 4 percent nationally. Hispanic
children in particular have been left behind at age 3. Only 25 percent attend public or private
preschool, compared to 43 percent of non-Hispanic children at age 3.
The National Institute for Early Education Research (www.nieer.org), a unit of the Graduate School of
Education, Rutgers University, New Brunswick, NJ, supports early childhood education policy by
providing objective, nonpartisan information based on research.