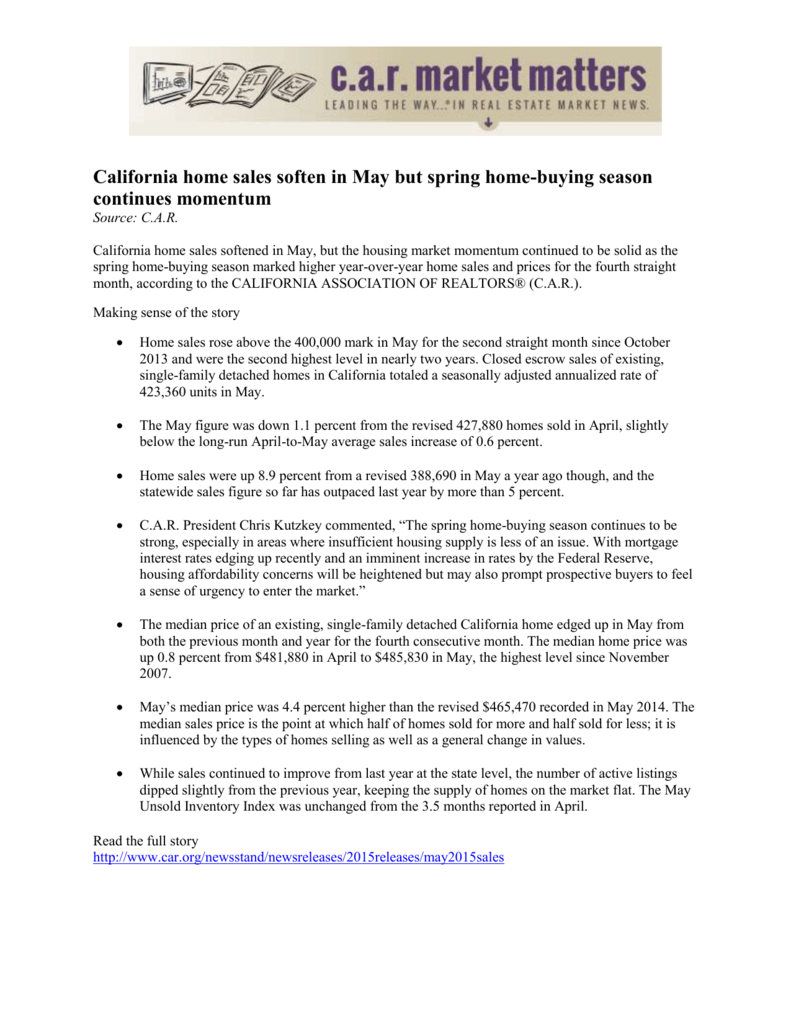 California home sales soften in May but spring home-buying season
continues momentum
Source: C.A.R.
California home sales softened in May, but the housing market momentum continued to be solid as the
spring home-buying season marked higher year-over-year home sales and prices for the fourth straight
month, according to the CALIFORNIA ASSOCIATION OF REALTORS® (C.A.R.).
Making sense of the story

Home sales rose above the 400,000 mark in May for the second straight month since October
2013 and were the second highest level in nearly two years. Closed escrow sales of existing,
single-family detached homes in California totaled a seasonally adjusted annualized rate of
423,360 units in May.

The May figure was down 1.1 percent from the revised 427,880 homes sold in April, slightly
below the long-run April-to-May average sales increase of 0.6 percent.

Home sales were up 8.9 percent from a revised 388,690 in May a year ago though, and the
statewide sales figure so far has outpaced last year by more than 5 percent.

C.A.R. President Chris Kutzkey commented, "The spring home-buying season continues to be
strong, especially in areas where insufficient housing supply is less of an issue. With mortgage
interest rates edging up recently and an imminent increase in rates by the Federal Reserve,
housing affordability concerns will be heightened but may also prompt prospective buyers to feel
a sense of urgency to enter the market."

The median price of an existing, single-family detached California home edged up in May from
both the previous month and year for the fourth consecutive month. The median home price was
up 0.8 percent from $481,880 in April to $485,830 in May, the highest level since November
2007.

May's median price was 4.4 percent higher than the revised $465,470 recorded in May 2014. The
median sales price is the point at which half of homes sold for more and half sold for less; it is
influenced by the types of homes selling as well as a general change in values.

While sales continued to improve from last year at the state level, the number of active listings
dipped slightly from the previous year, keeping the supply of homes on the market flat. The May
Unsold Inventory Index was unchanged from the 3.5 months reported in April.
Read the full story
http://www.car.org/newsstand/newsreleases/2015releases/may2015sales
In other news …
Is Getting a Mortgage Easier Than Consumers Think?
Source: Wall St. Journal
Most Americans still think getting a loan is very difficult, according to a new survey released by Wells
Fargo and Ipsos Public Affairs. While fewer Americans think it's difficult to get a loan in comparison to
last summer, the survey shows those perceptions are changing very slowly. In April, 57 percent thought it
would be very difficult to get a loan, against 61 percent last June. Notably, the survey found that for those
with a household income below $100,000, the number of people who think getting a loan is difficult is
actually increasing. More than a third of borrowers believe that a 20 percent down payment is required to
get a home.
Read the full story
http://blogs.wsj.com/economics/2015/06/16/is-getting-a-mortgage-easier-than-consumers-think/
More than 1.5 Million 'Boomerang Buyers' Could Re-Enter Mortgage
Market
Source: DSNews.com
At some point in the next three years, more than 1.5 million "boomerang buyers" could re-enter the
housing market. These buyers were negatively affected by the housing crisis, and they include those who
are 60 or more days delinquent on a mortgage loan, have had a mortgage loan modified, or have lost a
home through foreclosure, short sale, or deed-in-lieu of foreclosure. It is estimated another 2.2 million
could re-enter the market over the next five years, according to TransUnion.
Read the full story
http://dsnews.com/news/06-17-2015/more-than-1-5-million-boomerang-buyers-could-re-enter-mortgagemarket-in-next-three-years
Court: California Cities Can Require Developers To Build Affordable
Housing
Source: CBS
California's state Supreme Court ruled this week that cities have broad authority to require builders to
include a percentage of affordable housing in new projects. The court case stemmed from a 2010 San Jose
law that requires some new residential developments to set aside 15 percent of their units for sale at
below-market rates. Due to the ruling, affordable housing requirements will be kept intact in cities across
the state. Builders in the case argued that the cost of affordable units was being transferred from the
public to homebuilders by these requirements.
Read the full story
http://losangeles.cbslocal.com/2015/06/15/court-california-cities-can-require-developers-to-buildaffordable-housing/#.VX8tIyqlSX8.twitter
What Happens to Home Prices When Technologists Come to Town
Source: Redfin
The wealth-creation of Silicon Valley and tech-driven economic growth in various cities are spurring
major increases to the cost of living in the "digital diaspora," such as Seattle, Portland, Austin, Boston
and Denver. Redfin took the hiring of the four largest Internet-related companies — Google, Apple,
Facebook and Amazon, in Silicon Valley and beyond — as a proxy for each metropolitan area's overall
growth in technology hiring. Redfin found is that for every 1 percent increase in technology workers,
there's a roughly half-percent increase in home prices above and beyond the national rate of appreciation.
Read the full story
https://www.redfin.com/blog/2015/06/what-happens-to-home-prices-when-technologists-come-totown.html#.VYL9xPlVhBd
Why drought doesn't dry up home building
Source: San Diego Union-Tribune
Residential development continues unabated in California despite the state's severe drought. As
Californians are told to sacrifice to conserve water, new demand is being added to an inadequate supply.
But local water agencies that handle connection requests must consider the long-term water supply
outlook, and if the drought gets worse in the long run, agencies may have to be prepared to stop granting
new permits. When it comes to real estate development, water supplies are planned for. For now, it
appears only exceptional circumstances will cause new water connections to be denied.
Read the full story
http://www.utsandiego.com/news/2015/jun/14/why-do-they-keep-building-homes-during-a-water/
One in 10 homes is 'underwater'
Source: Inman
According to a recent analysis from CoreLogic, 10.2 percent of mortgaged homes (5.1 million)
nationwide is underwater or with negative equity. The total number of mortgaged residential properties
with equity stands at roughly 90 percent (44.9 million). CoreLogic finds that overall borrower equity
increased year over year by $694 billion in the first quarter of 2015, with 254,000 properties regaining
equity. It's worth noting that 19.4 percent of borrowers with equity have less than 20 percent equity, and
2.7 percent have less than 5 percent.
Read the full story
https://www.inman.com/2015/06/16/one-in-10-homes-is-underwater/
Talking Points …

Mortgage lenders remain optimistic about purchase mortgage demand and their profit margin
during the next three months, according to Fannie Mae's second quarter 2015 Mortgage Lender
Sentiment Survey.

Additionally, more lenders have continued to report credit loosening than tightening.

The share of lenders expecting home prices to go up over the next 12 months reached a survey
high of 70 percent.