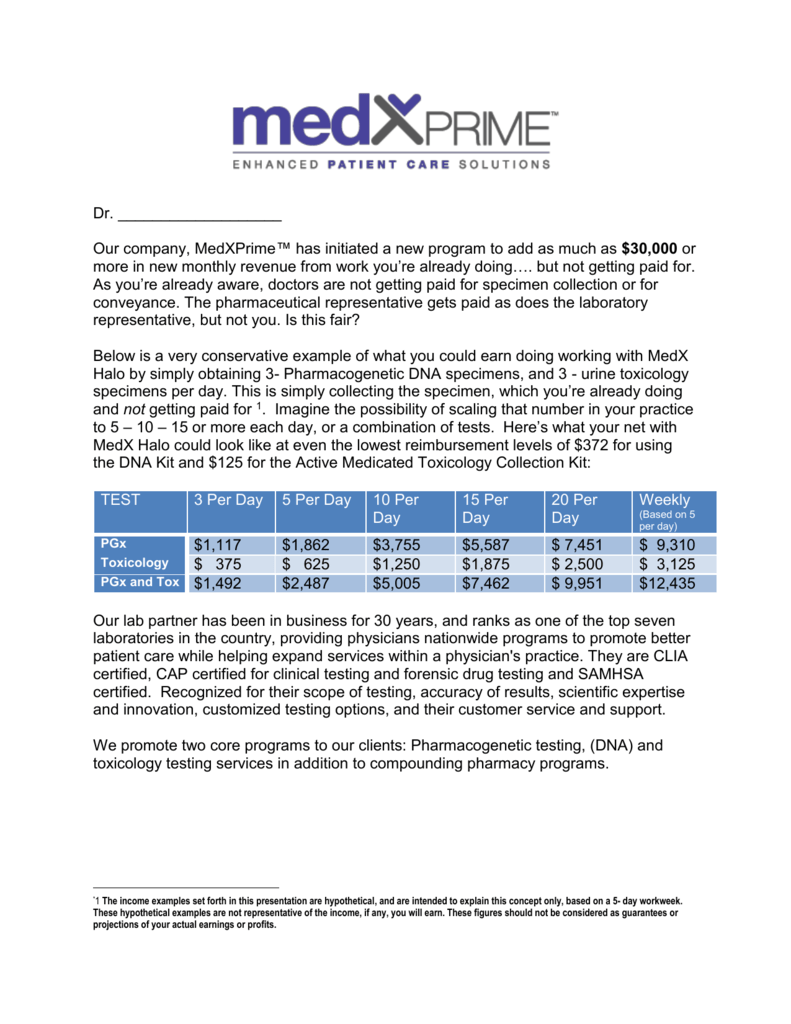 Dr. ___________________
Our company, MedXPrime™ has initiated a new program to add as much as $30,000 or
more in new monthly revenue from work you're already doing…. but not getting paid for.
As you're already aware, doctors are not getting paid for specimen collection or for
conveyance. The pharmaceutical representative gets paid as does the laboratory
representative, but not you. Is this fair?
Below is a very conservative example of what you could earn doing working with MedX
Halo by simply obtaining 3- Pharmacogenetic DNA specimens, and 3 - urine toxicology
specimens per day. This is simply collecting the specimen, which you're already doing
and not getting paid for 1. Imagine the possibility of scaling that number in your practice
to 5 – 10 – 15 or more each day, or a combination of tests. Here's what your net with
MedX Halo could look like at even the lowest reimbursement levels of $372 for using
the DNA Kit and $125 for the Active Medicated Toxicology Collection Kit:
TEST
PGx
Toxicology
PGx and Tox
3 Per Day
$1,117
$ 375
$1,492
5 Per Day
$1,862
$ 625
$2,487
10 Per
Day
15 Per
Day
20 Per
Day
Weekly
$3,755
$1,250
$5,005
$5,587
$1,875
$7,462
$ 7,451
$ 2,500
$ 9,951
$ 9,310
$ 3,125
$12,435
(Based on 5
per day)
Our lab partner has been in business for 30 years, and ranks as one of the top seven
laboratories in the country, providing physicians nationwide programs to promote better
patient care while helping expand services within a physician's practice. They are CLIA
certified, CAP certified for clinical testing and forensic drug testing and SAMHSA
certified. Recognized for their scope of testing, accuracy of results, scientific expertise
and innovation, customized testing options, and their customer service and support.
We promote two core programs to our clients: Pharmacogenetic testing, (DNA) and
toxicology testing services in addition to compounding pharmacy programs.
*1
The income examples set forth in this presentation are hypothetical, and are intended to explain this concept only, based on a 5- day workweek.
These hypothetical examples are not representative of the income, if any, you will earn. These figures should not be considered as guarantees or
projections of your actual earnings or profits.
We introduced our DNA testing with a patented billable kit with an FDA approved NDC
code. The kit costs the health care provider $100, and is successfully marketed across
the country allowing doctors after receiving pre-authorization to legitimately bill for
reimbursement ranging often times between $400-$700 or more. We have had an
overwhelming response from our doctors, as they are now able to offer a unique service
that benefits their patients immensely while enhancing their own practice revenues.
On a practical day-to-day and very conservative basis, if a doctor were to test three
patients a day using the Medicated Wet Kit, using the California Official Medical Fee
Schedule paying $472.55 increased daily revenue would be $1,417.65 with a net profit
of $1,117.65 which is $22,353.00 in new monthly revenue from pharmacogenetic
specimen collection.
In addition to the Advanced DNA Medicated Collection Kit we added recently a
billable NDC kit utilized for Active Toxicology Testing. Similar to the DNA kit, the
toxicology collection kit has an NDC code, and is already being successfully
reimbursed. We have a contract to market this kit, and you are one of the first to hear
about it.
To facilitate use of these NDC kits we have partnered with a pharmacy benefit manager
called VantageRx™. They have a proprietary software application allowing you to input
patient information, check off the test kit being utilized, and instantly see what you will
be reimbursed along with the co-pay or coinsurance the patient is responsible for and
their deductible. At that point you can choose to bill for the Wet Kit upon its use from
your dispensary or obtain
the specimen in another
manner.
Here's the bottom line:
we have a system in
place that allows you to
service your patients at a
higher level while at the
same time providing you
with an additional second
stream of income, which
up until now you've not
been able to be
reimbursed for. We have
a contract to market this
kit, and you are one of the first to hear about it.
Our Advanced DNA Medicated Collection
Kit contains 2% viscous lidocaine HCl and glycerine. It is FDA approved and identified
by NDC 76420-620-01, and billable through the pharmacy benefit of most health
insurance policies, and Worker's Compensation.
Each kit contains:
1 (20 mL) Lidocaine HCl oral topical solution 2% (Viscous)
1 Pack Oral Glycerin Swabs (3 swabs/pack)
3 Buccal Swab Sticks
1 Pair Sterile Latex Gloves – Size 7
1 Face Mask
1 CSR Wrap
The Wet Kit is manufactured by Enovachem™, and provides a mild topical anesthetic
for the mucous membranes of the mouth and pharynx in persons with a sensitive oral
cavity or an overly responsive gag reflex where obtaining a convention buccal specimen
by swabbing is difficult
The liver metabolizes lidocaine rapidly, and the kidneys excrete metabolites and
unchanged drug. 90% of lidocaine administered is excreted in the form of various
metabolites, and less than 10% is excreted unchanged.
According to Redbook Online Product Details, the Average Wholesale Price, (AWP) for
the DNA Wet Kit is $804. Below are actual EOBs and audits for using and dispensing
this unique DNA collection kit:
According to the California Official Medical Fee Schedule, the NDC Medicated DNA
Collection Kit reimburses at $472.55. The net profit to the provider when using the DNA
Medicated Wet Kit in a California Worker's Compensation claim would be about
$372.55
Adjudicated Worker's Compensation claims from other states are from MCMC, The
Hartford, Zurich, and ACE American Insurance, which pay $676.07.
Because of the value in pharmacogenetic testing, recent studies have indicated how
specific testing for variations in the CYP2D6 and the CYP2C19 genotypes may result in
improved pain management, decreasing episodes of drug toxicity, and fewer adverse
drug interactions. This assay tests for common variants that can result in increased or
decreased metabolism of opioid analgesics and other common drugs. Persons who
would most benefit from these two genotype variations would be those individuals being
considered or receiving pain
drugs metabolized by these
two enzymes. For example
CYP2D6 is specific for codeine,
hydrocodone, oxycodone,
tramadol and duloxetine while
CYP2C19 is specific for
methadone, meperidine and
ibuprofen.
Pharmacogenetic testing is
appropriate for cardiovascular
health especially those with
bleeding or blood clot
problems, thrombosis, multiple
medications, medication
resistance, or sequential
ineffective individual drug trials.
In addition this level of testing
is appropriate for mental and
behavioral health and allows
the physician to decide the best
course of treatment and deliver
personalized medicine in order to achieve the best results possible. For example
persons with an abnormally high or low metabolite to a substrate, and the complexities
of treatment required for mental and behavioral disorders and the variety of available
psychotropic drugs such as anti-anxiety, antidepressants, antipsychotics, mood
stabilizers, SSRIs, and stimulants.
Pharmacokinetic testing was first championed for oncology and cancer treatment but
avails itself to many other specialties as noted above including orthopedic surgery
especially for identifying optimal precision prescription writing for anticoagulants, pain
and other anti-inflammatories, along with antibiotics. It's estimated that 33% of
Caucasians are poor metabolizers for CYP2C9 while 2-5% of Caucasians,
4% of Africans and 13-23% of Asians or poor metabolizes for CYP2C19. These are
just two of the nine genotypes currently being tested, and physicians can adjust the
medication accordingly to achieve better compliance, better patient satisfaction, better
patient outcomes and improved risk management minimizing liability from adverse drug
reactions.
Another unique concept is utilization of our Active-Medicated Specimen Collection
Kit, also known as a urine specimen collection kit. This is identified with NDC codes
45861-107-01, and 68071-097-01.
Each kit contains:
1x furosemide 20mg tablet
3x benzalkonium choloride toweletts
1x sterile urine collection cup w/ temperature strip
1x specimen bag
Using a similar example as the DNA Wet Kit described above, using the Active
Medicated Urine Collection Kit for toxicology screen 3- times a day based on an
average reimbursement of $200 increased daily revenue would be $600 with a net profit
of $375 which is $7,500 in new monthly revenue from toxicology specimen collection.
These two new revenue streams by collecting DNA and urine toxicology specimens on
only 3- patients a day would have a potential combined new monthly revenue of
$29,853. This is work you are already doing, not being compensated for, and not
collecting anything for your time, talent, or facility expenses.
There's even more to come when you add in our specialty custom compounded
transdermal creams. You can easily have these dispensed, and this adds yet a third
revenue stream you've probably not had available to you ever before. By further
customizing patient care, personalized medicine is truly at your hands. Whether you
treat inflammation and pain, muscle spasm, migraine headaches, muscle cramps in
athletes, or plantar fasciitis there are formulas currently being compounded. Additional
formulas include problems commonly associated with dermatology, post surgical
scarring, dental care, weight loss, and podiatry.
New revenue streams by incorporating pharmacogenetic testing; toxicology screening
and custom compounded transdermal creams are what we call the "Trifecta." An
opportunity for increased patient compliance, increased patient satisfaction, improved
clinical outcomes, and improved risk management by reducing your liability from
adverse drug reactions, the 4th leading cause of death in the United States today. At
the same time you can significantly increase your bottom line doing right by doing good.
Finally you have an opportunity to get paid for what you're already doing. It's time to
share the good news. After all the Mayo Clinic recognizes the value of
pharmacogenetic testing, and the need for periodic toxicology screening follows very
closely.