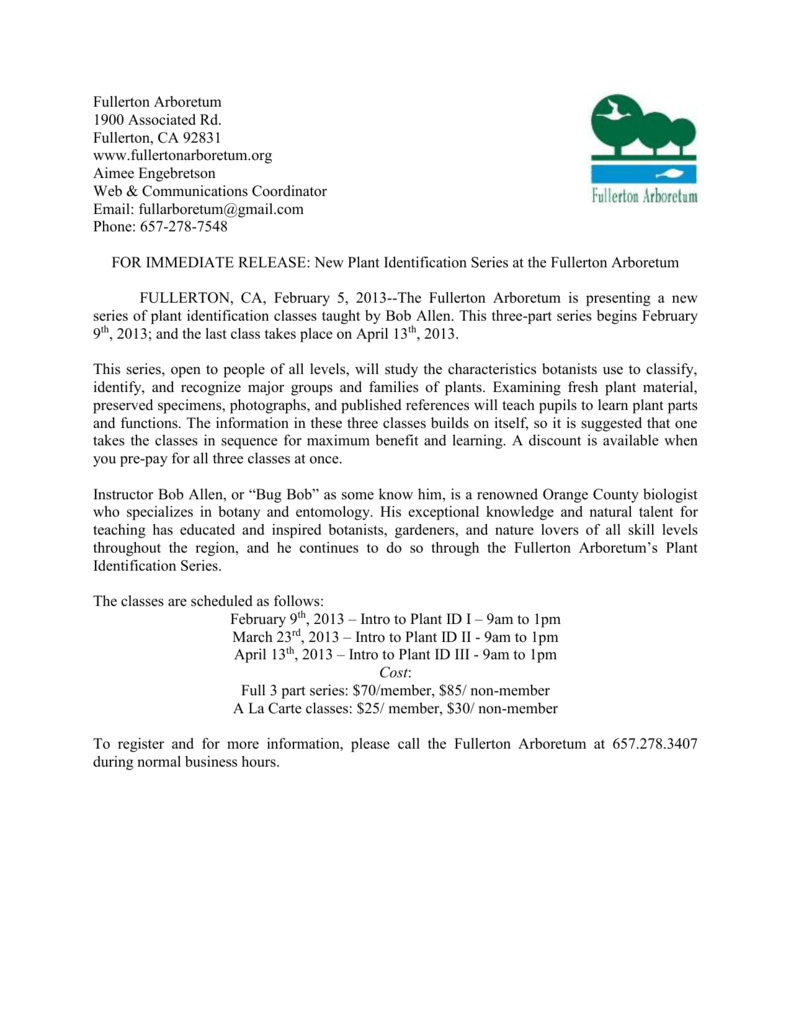 Fullerton Arboretum
1900 Associated Rd.
Fullerton, CA 92831
www.fullertonarboretum.org
Aimee Engebretson
Web & Communications Coordinator
Email: [email protected]
Phone: 657-278-7548
FOR IMMEDIATE RELEASE: New Plant Identification Series at the Fullerton Arboretum
FULLERTON, CA, February 5, 2013--The Fullerton Arboretum is presenting a new
series of plant identification classes taught by Bob Allen. This three-part series begins February
9th, 2013; and the last class takes place on April 13th, 2013.
This series, open to people of all levels, will study the characteristics botanists use to classify,
identify, and recognize major groups and families of plants. Examining fresh plant material,
preserved specimens, photographs, and published references will teach pupils to learn plant parts
and functions. The information in these three classes builds on itself, so it is suggested that one
takes the classes in sequence for maximum benefit and learning. A discount is available when
you pre-pay for all three classes at once.
Instructor Bob Allen, or "Bug Bob" as some know him, is a renowned Orange County biologist
who specializes in botany and entomology. His exceptional knowledge and natural talent for
teaching has educated and inspired botanists, gardeners, and nature lovers of all skill levels
throughout the region, and he continues to do so through the Fullerton Arboretum's Plant
Identification Series.
The classes are scheduled as follows:
February 9th, 2013 – Intro to Plant ID I – 9am to 1pm
March 23rd, 2013 – Intro to Plant ID II - 9am to 1pm
April 13th, 2013 – Intro to Plant ID III - 9am to 1pm
Cost:
Full 3 part series: $70/member, $85/ non-member
A La Carte classes: $25/ member, $30/ non-member
To register and for more information, please call the Fullerton Arboretum at 657.278.3407
during normal business hours.