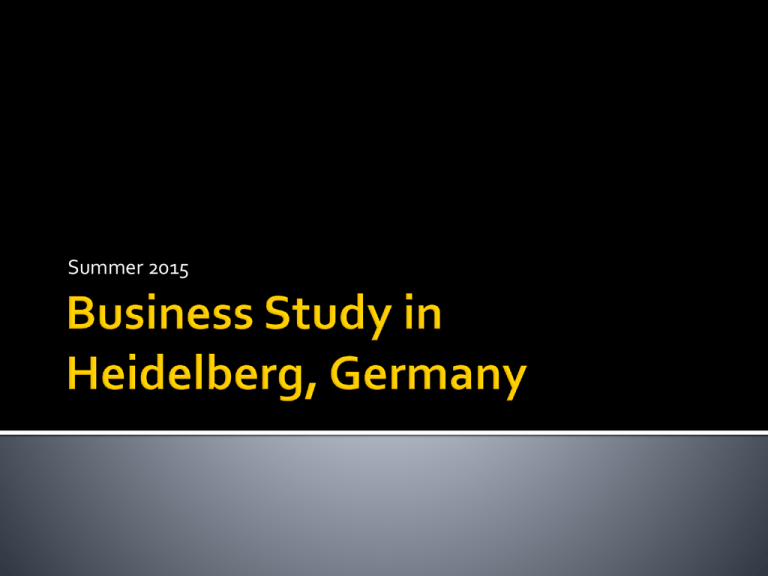 Summer 2015




Population: 150,000
Strong economy
Charming old city, yet simultaneously one of
the most progressive BIOTECH regions in
Europe
One of the top cities to visit in Germany



One of few private universities in Germany
Bachelor's and Master's degrees in various
fields, incl. Business Administration
Around 2,000 students (over 1/3 in Bus
Admin)




Three week program for international
students
Two courses
Courses taught in English
Courses include lectures and field trips to
European institutions, companies, and
cultural sites

Business in Europe
 Issues regarding doing business in Europe
 Marketing and Management in European markets
 Insights into key success factors for firms entering
European markets

European Society and Culture
 European Union, visit to EU Parliament
 History, geography, cross-cultural issues,
"survival" German

Six units
 Three in General Education
▪ GE III B. 3 and V. (now called C3 and Z)
 Three in business
▪ Required global awareness OR
▪ Elective in concentration (Management, Marketing,
Econ, Finance) OR
▪ Business Internship (for students in International
Business)



European Parliament in Strasbourg
Porsche, Audi, local brewery, and more
Optional weekend trips
 Munich
 Wine tasting at local vineyard




The university is located on a campus with
restaurants, cafes, and apartment buildings
Housing is in furnished apartments/singles
with bath
Laundry facilities in the buildings
Meal plan is included and covers all meals on
weekdays


1st Session: June 7 – June 27, 2015
2nd Session June 28 – July 18, 2015


$1,950 for program (estimate)
Does not include
 Tuition for summer school ($1,950 for up to 6
units, estimate)
 Airfare (to FRA, Germany; $1,500, estimate)
 Personal spending money
http://www.fullerton.edu/studyab
road/finances/scholarships.html

Contact Dr. Harich @ kharich@fullerton.edu
657.278.4674; SGMH 5109

http://summerschool.fh-heidelberg.de/

http://heidelbergsummerschool09.blogspot.com/

Online application form will be available soon.
Need to apply online AND on paper with Dr. Harich.