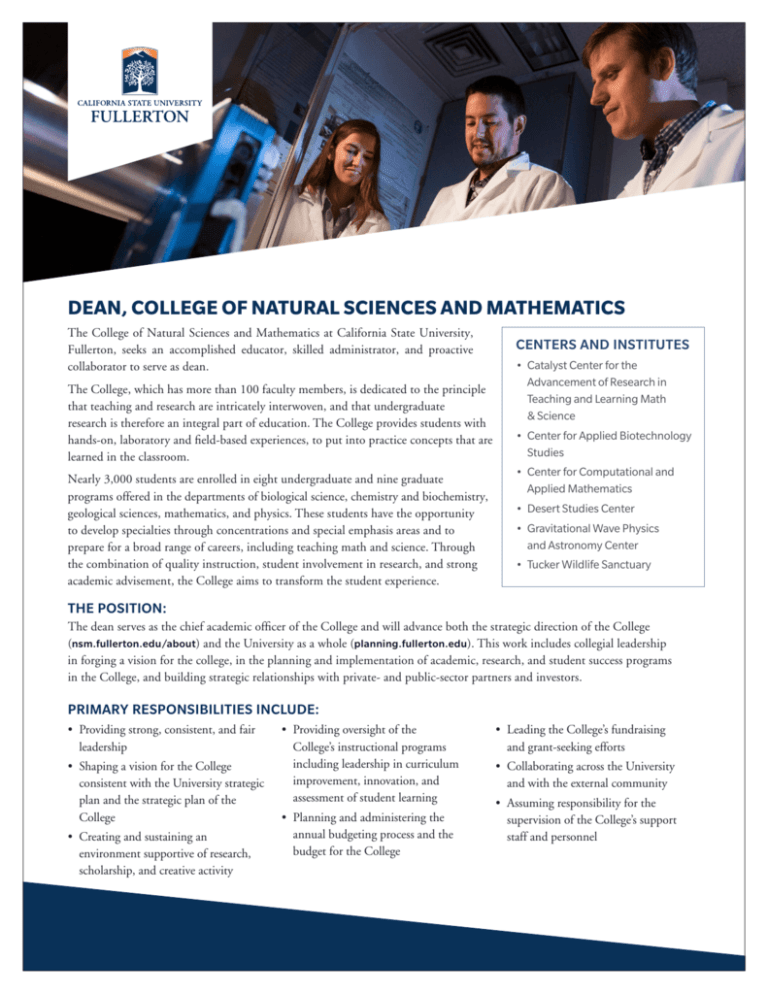 DEAN, COLLEGE OF NATURAL SCIENCES AND MATHEMATICS
The College of Natural Sciences and Mathematics at California State University,
Fullerton, seeks an accomplished educator, skilled administrator, and proactive
collaborator to serve as dean.
The College, which has more than 100 faculty members, is dedicated to the principle
that teaching and research are intricately interwoven, and that undergraduate
research is therefore an integral part of education. The College provides students with
hands-on, laboratory and field-based experiences, to put into practice concepts that are
learned in the classroom.
Nearly 3,000 students are enrolled in eight undergraduate and nine graduate
programs offered in the departments of biological science, chemistry and biochemistry,
geological sciences, mathematics, and physics. These students have the opportunity
to develop specialties through concentrations and special emphasis areas and to
prepare for a broad range of careers, including teaching math and science. Through
the combination of quality instruction, student involvement in research, and strong
academic advisement, the College aims to transform the student experience.
CENTERS AND INSTITUTES
• Catalyst Center for the
Advancement of Research in
Teaching and Learning Math
& Science
• Center for Applied Biotechnology
Studies
• Center for Computational and
Applied Mathematics
• Desert Studies Center
• Gravitational Wave Physics
and Astronomy Center
• Tucker Wildlife Sanctuary
THE POSITION:
The dean serves as the chief academic officer of the College and will advance both the strategic direction of the College
(nsm.fullerton.edu/about) and the University as a whole (planning.fullerton.edu). This work includes collegial leadership
in forging a vision for the college, in the planning and implementation of academic, research, and student success programs
in the College, and building strategic relationships with private- and public-sector partners and investors.
PRIMARY RESPONSIBILITIES INCLUDE:
• Providing strong, consistent, and fair
leadership
• Shaping a vision for the College
consistent with the University strategic
plan and the strategic plan of the
College
• Creating and sustaining an
environment supportive of research,
scholarship, and creative activity
• Providing oversight of the
College's instructional programs
including leadership in curriculum
improvement, innovation, and
assessment of student learning
• Planning and administering the
annual budgeting process and the
budget for the College
• Leading the College's fundraising
and grant-seeking efforts
• Collaborating across the University
and with the external community
• Assuming responsibility for the
supervision of the College's support
staff and personnel
MINIMUM QUALIFICATIONS:
NOMINATION PROCESS:
• A Ph.D. in a relevant discipline from an accredited
institution
Nominations can be submitted to NSMDeanSearch@
fullerton.edu.
• A record of teaching and research excellence appropriate for
appointment as a tenured full professor in the College
• Three or more years of academic administrative experience
involving strategic and operational planning, budgeting,
human resource management, program assessment,
student advisement, faculty development, and curriculum
development
• Excellent oral, written, and interpersonal communication skills
DESIRED QUALIFICATIONS:
• Experience working with ethnically and culturally diverse
students, faculty, and staff, in a shared governance environment
• Demonstrated commitment to interdisciplinary programs,
faculty-mentored student research, and other high-impact
practices such as supplemental instruction
• Demonstrated commitment to faculty research
• Demonstrated record of fundraising to support the mission
of the College
• The ability to meet the University's strategic goals
(planning.fullerton.edu)
APPLICATION PROCESS:
A completed application will include a cover letter addressing
the qualifications above, curriculum vitae, and the names,
e-mail addresses, and phone numbers of five references.
References will not be contacted without explicit permission
from the candidate. Applications can be submitted in
confidence at apps.fullerton.edu/MPPRecruitment.
The position will remain open until filled, but only
applications received by August 28, 2015, can be assured
full consideration. Confidential discussions about this
opportunity may be arranged with the search committee
chair, Dr. Anil Puri, at apuri@fullerton.edu.
California State University, Fullerton celebrates all forms
of diversity and is deeply committed to fostering an inclusive
environment within which students, staff, administrators,
and faculty thrive. Individuals interested in advancing the
University's strategic diversity goals are strongly encouraged
to apply. Reasonable accommodations will be provided for
qualified applicants with disabilities who self-disclose.
California State University, Fullerton
Cal State Fullerton, a leading institution of the 23-campus
California State University system, enrolls more than
38,000 students and offers 109 degree programs. An
intellectual and cultural center for Orange County, Cal State
Fullerton is a primary driver of workforce and economic
development throughout the region and a national model
for supporting student success through innovative,
high-impact educational and co-curricular experiences,
including faculty-student collaborative research. The
University embraces its rich diversity, recognizing that it
both enhances the educational experience for students and
uniquely prepares them to excel as emergent leaders in
the global marketplace and in their communities. Cal State
Fullerton is recognized as a top public university in the West,
in particular for its work in supporting underrepresented
students in earning a college degree. For more about
Cal State Fullerton, visit fullerton.edu.