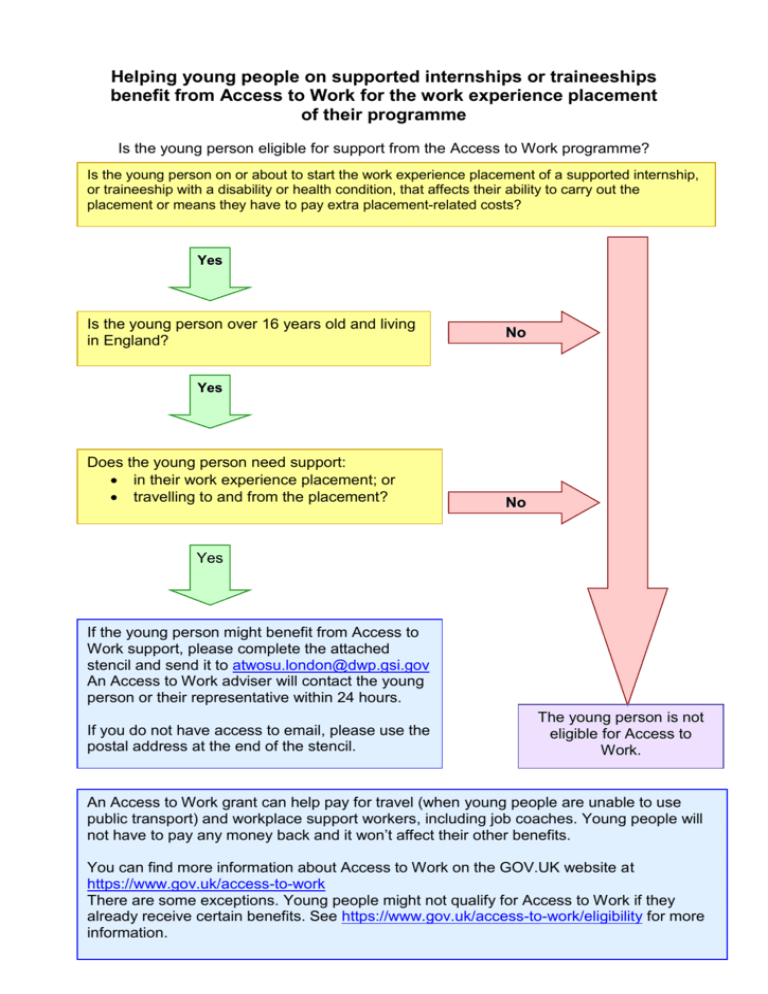 Helping young people on supported internships or traineeships
benefit from Access to Work for the work experience placement
of their programme
Is the young person eligible for support from the Access to Work programme?
Is the young person on or about to start the work experience placement of a supported internship,
or traineeship with a disability or health condition, that affects their ability to carry out the
placement or means they have to pay extra placement-related costs?
Yes
Is the young person over 16 years old and living
in England?
No
Yes
Does the young person need support:
 in their work experience placement; or
 travelling to and from the placement?
No
Yes
If the young person might benefit from Access to
Work support, please complete the attached
stencil and send it to atwosu.london@dwp.gsi.gov
An Access to Work adviser will contact the young
person or their representative within 24 hours.
If you do not have access to email, please use the
postal address at the end of the stencil.
The young person is not
eligible for Access to
Work.
An Access to Work grant can help pay for travel (when young people are unable to use
public transport) and workplace support workers, including job coaches. Young people will
not have to pay any money back and it won't affect their other benefits.
You can find more information about Access to Work on the GOV.UK website at
https://www.gov.uk/access-to-work
There are some exceptions. Young people might not qualify for Access to Work if they
already receive certain benefits. See https://www.gov.uk/access-to-work/eligibility for more
information.