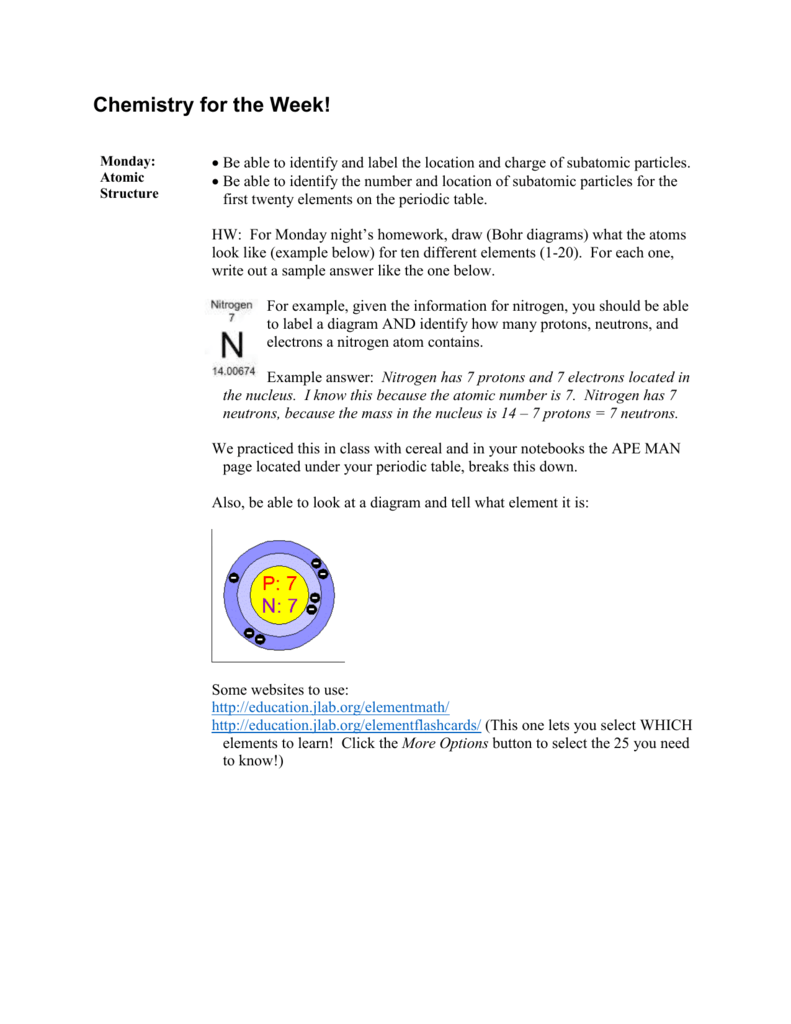 Chemistry for the Week!
Monday:
Atomic
Structure
 Be able to identify and label the location and charge of subatomic particles.
 Be able to identify the number and location of subatomic particles for the
first twenty elements on the periodic table.
HW: For Monday night's homework, draw (Bohr diagrams) what the atoms
look like (example below) for ten different elements (1-20). For each one,
write out a sample answer like the one below.
For example, given the information for nitrogen, you should be able
to label a diagram AND identify how many protons, neutrons, and
electrons a nitrogen atom contains.
Example answer: Nitrogen has 7 protons and 7 electrons located in
the nucleus. I know this because the atomic number is 7. Nitrogen has 7
neutrons, because the mass in the nucleus is 14 – 7 protons = 7 neutrons.
We practiced this in class with cereal and in your notebooks the APE MAN
page located under your periodic table, breaks this down.
Also, be able to look at a diagram and tell what element it is:
Some websites to use:
http://education.jlab.org/elementmath/
http://education.jlab.org/elementflashcards/ (This one lets you select WHICH
elements to learn! Click the More Options button to select the 25 you need
to know!)
Tuesday:
Vocabulary
HW: Make sure you could teach someone what each of the following words
means. Try it out on a family member! Draw a picture, describe, locate, etc.
neutrons
electrons
Valence electrons
Atomic number
Metals
Non-metals
groups
protons
malleability
Wednesday:
Periodic Table
atomic mass
elements
atoms
metalloids
periods
families
reactivity
density
ductility
 Explain some of the trends on the periodic table. (Mass, reactivity, metals,
non-metals, metalloids).
 Given period/family information, locate an element.
 Describe the information provided in each element box.
HW:
1. For ten elements (1-20), identify the family and period location for each,
and what knowing that tells you. Create a table for your information.
2. Reread the History of the Periodic Table homework assignment.
3. Review the 25 elements/symbols you had to know for the last two quizzes.
Make sure you know them!
Element
Nitrogen
Family
15
Period
Information
2
Non-metal with 2 electron shells; 5
valence electrons
Continue with 10
of your choice
from 1-20.
Thursday:
Chemistry of a Cookie, read and answer questions.