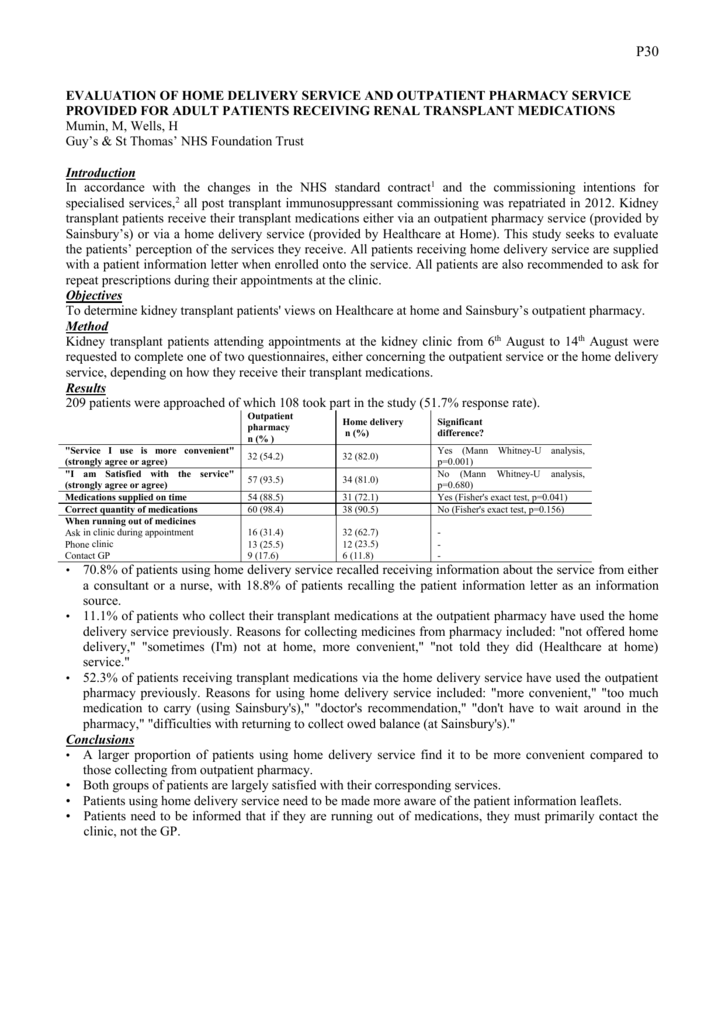 P30
EVALUATION OF HOME DELIVERY SERVICE AND OUTPATIENT PHARMACY SERVICE
PROVIDED FOR ADULT PATIENTS RECEIVING RENAL TRANSPLANT MEDICATIONS
Mumin, M, Wells, H
Guy's & St Thomas' NHS Foundation Trust
Introduction
In accordance with the changes in the NHS standard contract1 and the commissioning intentions for
specialised services,2 all post transplant immunosuppressant commissioning was repatriated in 2012. Kidney
transplant patients receive their transplant medications either via an outpatient pharmacy service (provided by
Sainsbury's) or via a home delivery service (provided by Healthcare at Home). This study seeks to evaluate
the patients' perception of the services they receive. All patients receiving home delivery service are supplied
with a patient information letter when enrolled onto the service. All patients are also recommended to ask for
repeat prescriptions during their appointments at the clinic.
Objectives
To determine kidney transplant patients' views on Healthcare at home and Sainsbury's outpatient pharmacy.
Method
Kidney transplant patients attending appointments at the kidney clinic from 6th August to 14th August were
requested to complete one of two questionnaires, either concerning the outpatient service or the home delivery
service, depending on how they receive their transplant medications.
Results
209 patients were approached of which 108 took part in the study (51.7% response rate).
"Service I use is more convenient"
(strongly agree or agree)
"I am Satisfied with the service"
(strongly agree or agree)
Medications supplied on time
Correct quantity of medications
When running out of medicines
Ask in clinic during appointment
Phone clinic
Contact GP
•
Outpatient
pharmacy
n (% )
Home delivery
n (%)
32 (54.2)
32 (82.0)
57 (93.5)
34 (81.0)
54 (88.5)
60 (98.4)
31 (72.1)
38 (90.5)
Yes (Mann Whitney-U analysis,
p=0.001)
No (Mann Whitney-U analysis,
p=0.680)
Yes (Fisher's exact test, p=0.041)
No (Fisher's exact test, p=0.156)
16 (31.4)
13 (25.5)
9 (17.6)
32 (62.7)
12 (23.5)
6 (11.8)
-
Significant
difference?
70.8% of patients using home delivery service recalled receiving information about the service from either
a consultant or a nurse, with 18.8% of patients recalling the patient information letter as an information
source.
• 11.1% of patients who collect their transplant medications at the outpatient pharmacy have used the home
delivery service previously. Reasons for collecting medicines from pharmacy included: "not offered home
delivery," "sometimes (I'm) not at home, more convenient," "not told they did (Healthcare at home)
service."
• 52.3% of patients receiving transplant medications via the home delivery service have used the outpatient
pharmacy previously. Reasons for using home delivery service included: "more convenient," "too much
medication to carry (using Sainsbury's)," "doctor's recommendation," "don't have to wait around in the
pharmacy," "difficulties with returning to collect owed balance (at Sainsbury's)."
Conclusions
• A larger proportion of patients using home delivery service find it to be more convenient compared to
those collecting from outpatient pharmacy.
• Both groups of patients are largely satisfied with their corresponding services.
• Patients using home delivery service need to be made more aware of the patient information leaflets.
• Patients need to be informed that if they are running out of medications, they must primarily contact the
clinic, not the GP.