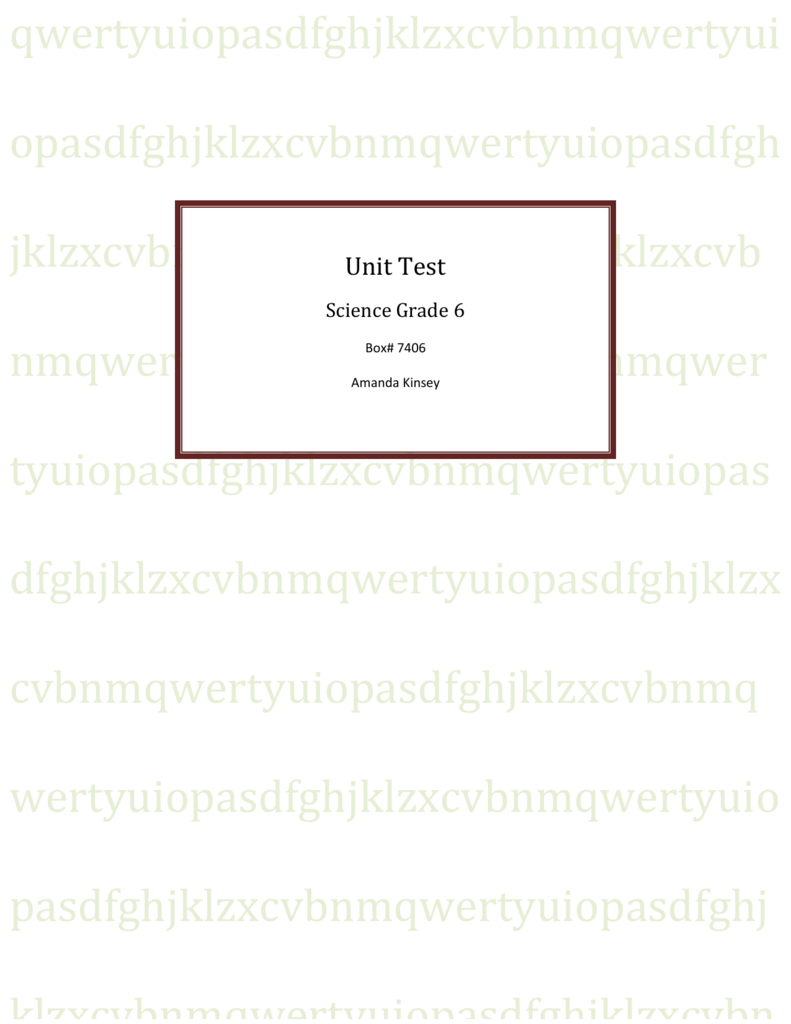 qwertyuiopasdfghjklzxcvbnmqwertyui
opasdfghjklzxcvbnmqwertyuiopasdfgh
jklzxcvbnmqwertyuiopasdfghjklzxcvb
Unit Test
Science Grade 6
nmqwertyuiopasdfghjklzxcvbnmqwer
Box# 7406
Amanda Kinsey
tyuiopasdfghjklzxcvbnmqwertyuiopas
dfghjklzxcvbnmqwertyuiopasdfghjklzx
cvbnmqwertyuiopasdfghjklzxcvbnmq
wertyuiopasdfghjklzxcvbnmqwertyuio
pasdfghjklzxcvbnmqwertyuiopasdfghj
Name _________________
Date__________________
Chapter 1 Test
Word Bank:
Bacteria
Family
Snottite
Binomial Nomenclature
Fungus
Systema Naturae
Enlightenment
Phylum
Taxidermist
Eukaryote
Prokaryote
Taxonomy
Exploration
Protist
For questions 1-5 use the above word bank. The words may be used once or not at all.
1. The science of classifying organisms into groups such as: kingdom and phylum is called
_______________.
2. The Three domains that all organisms are divided into are _______________, Archaea,
and Eukarya.
3. The two-part naming system that consists of genus and species is known as
_______________.
4. The age mentioned in this chapter that provided many discoveries which then created a
need for a catalog of living things is known as the Age of _______________.
5. A unicellular microorganism that lacks a distinct nucleus is called a(n)
_______________.
Multiple Choice: For Questions 6-10 select the correct answer by circling it. Please only circle
one answer or the question will be marked wrong.
6. Who started a simple classification system by dividing living things into two
groups—plants and animals?
a.) Dioscorides
b.) Linnaeus
c.) Aristotle
d.) Theoprastus
7. What language is universally accepted when it comes to classifying organisms?
a.) Spanish
b.) French
c.) German
d.) Latin
8. Who is known as The Founder of Biology?
a.) Ferdinand Magellan
b.) John Ray
c.) Charles Darwin
d.) Shen Nung
9. Who is considered to be the Father of Modern Taxonomy?
a.) Anton Van Leeuwenhoek
b.) Carolus Linnaeus
c.) Sir Hans Sloane
d.) Augustin Pyrame de Candolle
10. Protist, Fungus, Plant and Animal are all categories within what?
a.) Kingdom
b.) Phylum
c.) Class
d.) Species
Short Answer: For questions 11-15 please answer in the space provided.
11. What are three types of fungi?
12. An organism that produces its own food is classified as a(n)?
13. An organism that obtains its food from an outside source is classified as a(n)?
14. What is one example of an angiosperm?
15. Bacteria are often thought of as harmful but as we learned some bacteria are
helpful. What is one example of helpful bacteria?
True and False: For questions 16-20 please write out either True or False in the blank
provided.
16. ________ Dr. Alexander Flemings discovered Penicillium.
17. ________ The discovery of Penicillium came about because of a mistake.
18. ________ An Organism composed of one or more cells containing a visible nucleus
and organelles is called a thalloid.
19. ________ All living things need energy and water to survive.
20. ________ The seeds of most angiosperms are found in cones.
Matching
For questions 21-25 write the matching letter to the correct definition in the space provided.
Make sure you only select one answer for each definition and make sure your answer is clearly
written. If I cannot read it, it is wrong. 
21. ____A plant having a system of tubes
to transport water and nutrients.
22. ____A vascular cone-bearing plant
whose seeds are not enclosed
23. ____A plant having an embryo with
two cotyledons.
24. ____A plant having an embryo with a
single cotyledon.
25. ____A positive or negative involuntary
reaction of a plant to a stimulus.
A. Eukaryote
B. Gymnosperm
C. Monocot
D. Heterotroph
E. Dicot
F. Angiosperm
G. Tropism
H. Vascular
Essay
For questions 26-27 answer in at least five complete sentences. Make sure you answer the
question fully with specific examples. Use the space provided. Please print your answer
neatly!!!
26. Name three environmental factors that plants respond to and then explain and
describe the plants response.
27. Think of three examples of things that get sorted by classification. (For example
mp3 players' songs can be sorted by genre.) List your three examples and then
explain how this is similar/different to how scientists classify organisms.
Bibliography

Choices: Science Level Six. Teacher Edition. Colorado Springs, Colorado: Purposeful
Design, 2009.