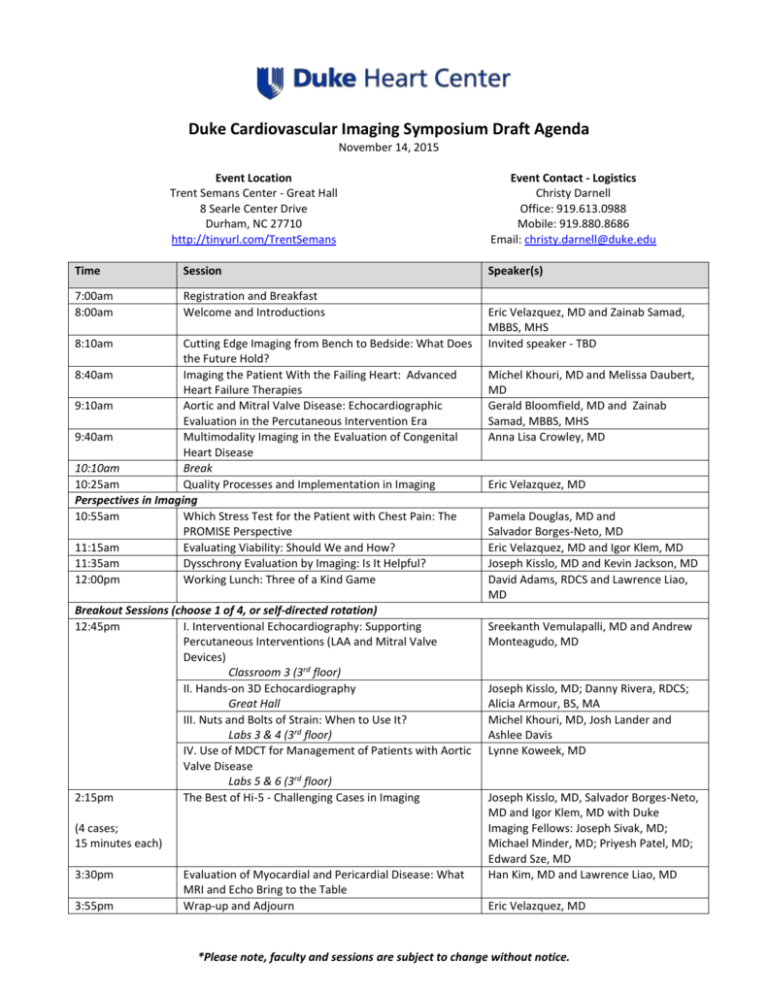 Duke Cardiovascular Imaging Symposium Draft Agenda
November 14, 2015
Event Location
Trent Semans Center - Great Hall
8 Searle Center Drive
Durham, NC 27710
http://tinyurl.com/TrentSemans
Time
Session
7:00am
8:00am
Registration and Breakfast
Welcome and Introductions
8:10am
Cutting Edge Imaging from Bench to Bedside: What Does
the Future Hold?
8:40am
Imaging the Patient With the Failing Heart: Advanced
Heart Failure Therapies
9:10am
Aortic and Mitral Valve Disease: Echocardiographic
Evaluation in the Percutaneous Intervention Era
9:40am
Multimodality Imaging in the Evaluation of Congenital
Heart Disease
10:10am
Break
10:25am
Quality Processes and Implementation in Imaging
Perspectives in Imaging
10:55am
Which Stress Test for the Patient with Chest Pain: The
PROMISE Perspective
11:15am
Evaluating Viability: Should We and How?
11:35am
Dysschrony Evaluation by Imaging: Is It Helpful?
12:00pm
Working Lunch: Three of a Kind Game
Breakout Sessions (choose 1 of 4, or self-directed rotation)
12:45pm
I. Interventional Echocardiography: Supporting
Percutaneous Interventions (LAA and Mitral Valve
Devices)
Classroom 3 (3rd floor)
II. Hands-on 3D Echocardiography
Great Hall
III. Nuts and Bolts of Strain: When to Use It?
Labs 3 & 4 (3rd floor)
IV. Use of MDCT for Management of Patients with Aortic
Valve Disease
Labs 5 & 6 (3rd floor)
2:15pm
The Best of Hi-5 - Challenging Cases in Imaging
(4 cases;
15 minutes each)
3:30pm
3:55pm
Evaluation of Myocardial and Pericardial Disease: What
MRI and Echo Bring to the Table
Wrap-up and Adjourn
Event Contact - Logistics
Christy Darnell
Office: 919.613.0988
Mobile: 919.880.8686
Email: christy.darnell@duke.edu
Speaker(s)
Eric Velazquez, MD and Zainab Samad,
MBBS, MHS
Invited speaker - TBD
Michel Khouri, MD and Melissa Daubert,
MD
Gerald Bloomfield, MD and Zainab
Samad, MBBS, MHS
Anna Lisa Crowley, MD
Eric Velazquez, MD
Pamela Douglas, MD and
Salvador Borges-Neto, MD
Eric Velazquez, MD and Igor Klem, MD
Joseph Kisslo, MD and Kevin Jackson, MD
David Adams, RDCS and Lawrence Liao,
MD
Sreekanth Vemulapalli, MD and Andrew
Monteagudo, MD
Joseph Kisslo, MD; Danny Rivera, RDCS;
Alicia Armour, BS, MA
Michel Khouri, MD, Josh Lander and
Ashlee Davis
Lynne Koweek, MD
Joseph Kisslo, MD, Salvador Borges-Neto,
MD and Igor Klem, MD with Duke
Imaging Fellows: Joseph Sivak, MD;
Michael Minder, MD; Priyesh Patel, MD;
Edward Sze, MD
Han Kim, MD and Lawrence Liao, MD
Eric Velazquez, MD
*Please note, faculty and sessions are subject to change without notice.