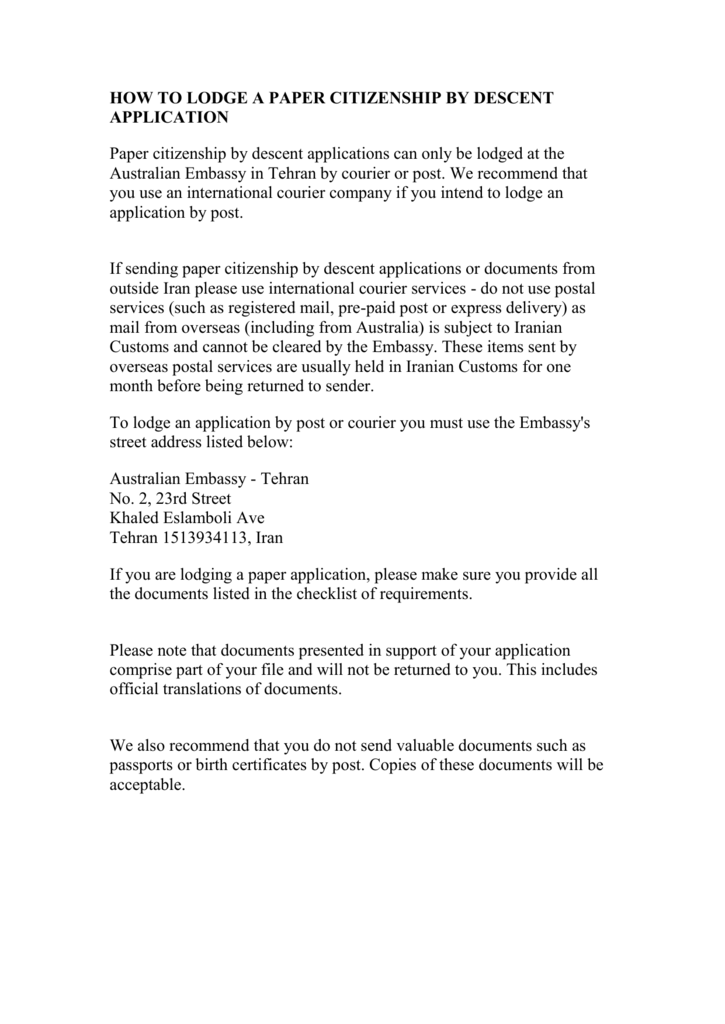 HOW TO LODGE A PAPER CITIZENSHIP BY DESCENT
APPLICATION
Paper citizenship by descent applications can only be lodged at the
Australian Embassy in Tehran by courier or post. We recommend that
you use an international courier company if you intend to lodge an
application by post.
If sending paper citizenship by descent applications or documents from
outside Iran please use international courier services - do not use postal
services (such as registered mail, pre-paid post or express delivery) as
mail from overseas (including from Australia) is subject to Iranian
Customs and cannot be cleared by the Embassy. These items sent by
overseas postal services are usually held in Iranian Customs for one
month before being returned to sender.
To lodge an application by post or courier you must use the Embassy's
street address listed below:
Australian Embassy - Tehran
No. 2, 23rd Street
Khaled Eslamboli Ave
Tehran 1513934113, Iran
If you are lodging a paper application, please make sure you provide all
the documents listed in the checklist of requirements.
Please note that documents presented in support of your application
comprise part of your file and will not be returned to you. This includes
official translations of documents.
We also recommend that you do not send valuable documents such as
passports or birth certificates by post. Copies of these documents will be
acceptable.