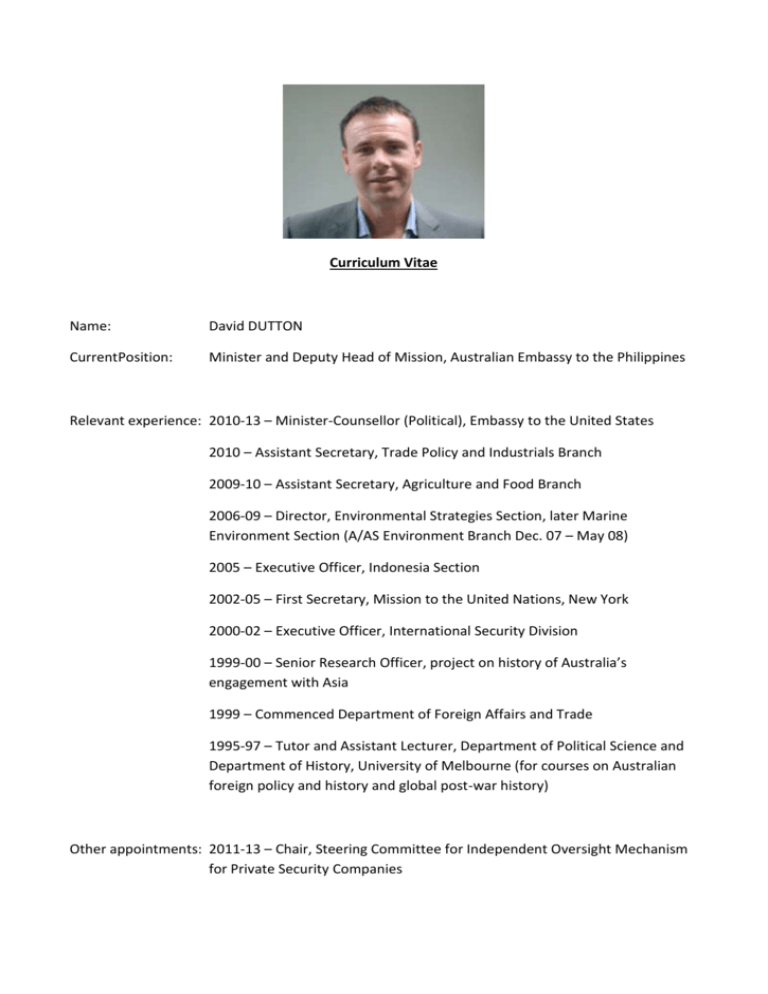 Curriculum Vitae
Name:
David DUTTON
CurrentPosition:
Minister and Deputy Head of Mission, Australian Embassy to the Philippines
Relevant experience: 2010-13 – Minister-Counsellor (Political), Embassy to the United States
2010 – Assistant Secretary, Trade Policy and Industrials Branch
2009-10 – Assistant Secretary, Agriculture and Food Branch
2006-09 – Director, Environmental Strategies Section, later Marine
Environment Section (A/AS Environment Branch Dec. 07 – May 08)
2005 – Executive Officer, Indonesia Section
2002-05 – First Secretary, Mission to the United Nations, New York
2000-02 – Executive Officer, International Security Division
1999-00 – Senior Research Officer, project on history of Australia's
engagement with Asia
1999 – Commenced Department of Foreign Affairs and Trade
1995-97 – Tutor and Assistant Lecturer, Department of Political Science and
Department of History, University of Melbourne (for courses on Australian
foreign policy and history and global post-war history)
Other appointments: 2011-13 – Chair, Steering Committee for Independent Oversight Mechanism
for Private Security Companies
2009-12 – Independent Chair, Audit Committee, International Criminal Court
2003-09 – Rapporteur and then Chair, Committee on Budget and Finance,
International Criminal Court
Education:
PhD, University of Melbourne, Department of History, 1995-98
BA Hons, First Class, Macquarie University, 1991-94
Publications:
I have published a history of citizenship and immigration in Australia (One of
Us? The boundaries of Australian Citizenship in the twentieth century, UNSW
Press, 2002) from my PhD thesis, and chapters of DFAT's history of Australian
engagement with Asia (Facing North, two volumes, UMP, 2001 and 2003) on
foreign and trade policy 1901-23, human rights diplomacy 1970-2002, and
Asian immigration. I published in the late 1990s several book chapters,
academic articles and book reviews on the subjects of citizenship, human
rights, immigration, and Australia's foreign relations. I was editor of an
academic journal from 1995 to 1997.