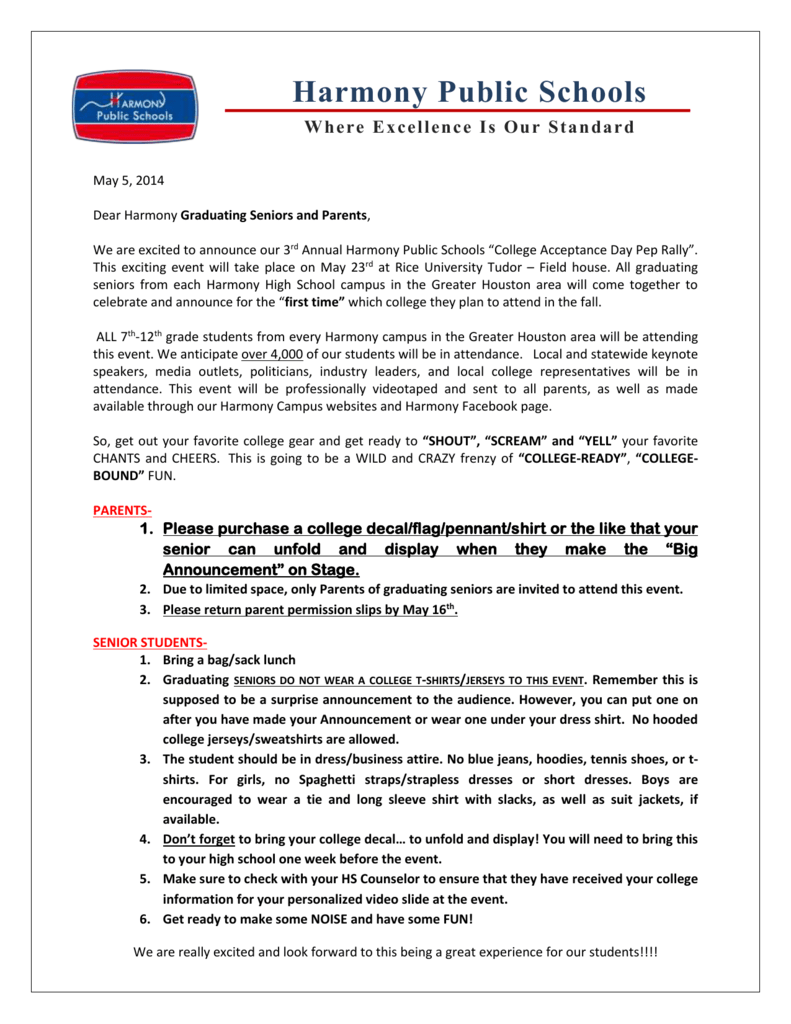 Harmony Public Schools
Where Excellence Is Our Standard
May 5, 2014
Dear Harmony Graduating Seniors and Parents,
We are excited to announce our 3rd Annual Harmony Public Schools "College Acceptance Day Pep Rally".
This exciting event will take place on May 23rd at Rice University Tudor – Field house. All graduating
seniors from each Harmony High School campus in the Greater Houston area will come together to
celebrate and announce for the "first time" which college they plan to attend in the fall.
ALL 7th-12th grade students from every Harmony campus in the Greater Houston area will be attending
this event. We anticipate over 4,000 of our students will be in attendance. Local and statewide keynote
speakers, media outlets, politicians, industry leaders, and local college representatives will be in
attendance. This event will be professionally videotaped and sent to all parents, as well as made
available through our Harmony Campus websites and Harmony Facebook page.
So, get out your favorite college gear and get ready to "SHOUT", "SCREAM" and "YELL" your favorite
CHANTS and CHEERS. This is going to be a WILD and CRAZY frenzy of "COLLEGE-READY", "COLLEGEBOUND" FUN.
PARENTS-
1. Please purchase a college decal/flag/pennant/shirt or the like that your
senior can unfold and display when they make the "Big
Announcement" on Stage.
2. Due to limited space, only Parents of graduating seniors are invited to attend this event.
3. Please return parent permission slips by May 16th.
SENIOR STUDENTS1. Bring a bag/sack lunch
2. Graduating SENIORS DO NOT WEAR A COLLEGE T-SHIRTS/JERSEYS TO THIS EVENT. Remember this is
supposed to be a surprise announcement to the audience. However, you can put one on
after you have made your Announcement or wear one under your dress shirt. No hooded
college jerseys/sweatshirts are allowed.
3. The student should be in dress/business attire. No blue jeans, hoodies, tennis shoes, or tshirts. For girls, no Spaghetti straps/strapless dresses or short dresses. Boys are
encouraged to wear a tie and long sleeve shirt with slacks, as well as suit jackets, if
available.
4. Don't forget to bring your college decal… to unfold and display! You will need to bring this
to your high school one week before the event.
5. Make sure to check with your HS Counselor to ensure that they have received your college
information for your personalized video slide at the event.
6. Get ready to make some NOISE and have some FUN!
We are really excited and look forward to this being a great experience for our students!!!!