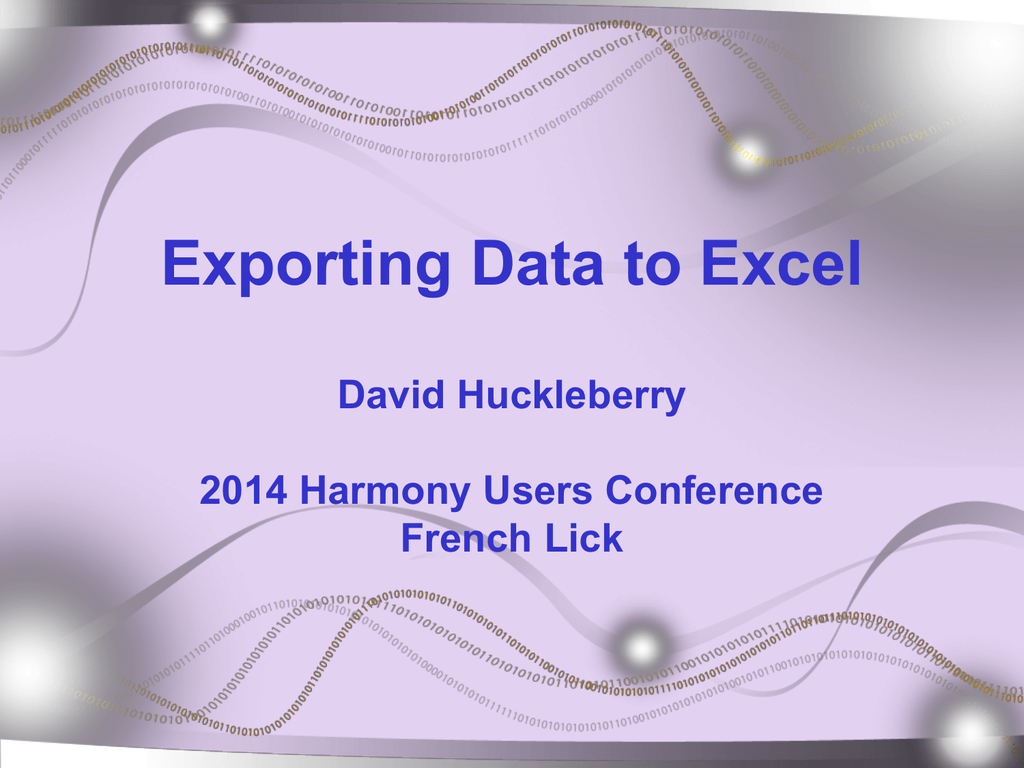 Exporting Data to Excel
David Huckleberry
2014 Harmony Users Conference
French Lick
Are you a miner?
Knowledge is power
Data is Gold!
Become a Gold Miner
and get rich…..
….ok, maybe not,
but you can be valuable!!
Why is this important?
•"I need a class list"
•"I need to make a mail merge with
student data"
•"I WISH I COULD….."
•Be thinking what you need out of
Harmony and we will discuss that in the 2nd
half today.
Direct from a Harmony View
I can SEE what I need, how do I export it?
Two possibilities:
FILE…EXPORT method
COPY SELECTED AS TABLE method
Example:
DISCIPLINE
SUSPENSIONS
SELECT ALL
Exporting from Utilities
Do you speak Harmony????
"Ok class, give me
the definition of the
fields
<A_9>,
<P_1>
&
<P_9>?"
Exporting from Utilities
Data Dictionary
Located in the Support Portal
Exporting from Utilities
•Know what database to start in
•Select the documents you want
•CREATE, UTILITIES, EXPORT DATA
•Know where you save it
•Know what forms to load
•If unsure, try it…see what it gives you.
Your Turn – Q & A on Exporting
What data do you need that you
know is in Harmony, but you'd
like to extract?
The End
Have a great
day at the conference!!