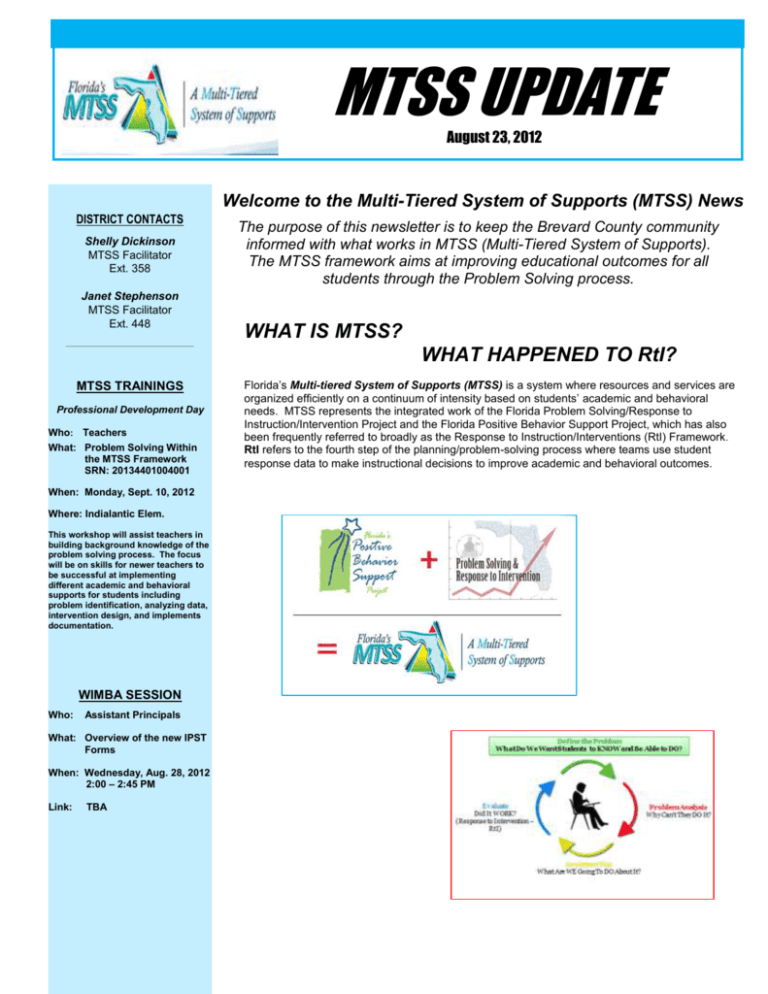 MTSS UPDATE
August 23, 2012
Welcome to the Multi-Tiered System of Supports (MTSS) News
DISTRICT CONTACTS
Shelly Dickinson
MTSS Facilitator
Ext. 358
Janet Stephenson
MTSS Facilitator
Ext. 448
The purpose of this newsletter is to keep the Brevard County community
informed with what works in MTSS (Multi-Tiered System of Supports).
The MTSS framework aims at improving educational outcomes for all
students through the Problem Solving process.
WHAT IS MTSS?
WHAT HAPPENED TO RtI?
MTSS TRAININGS
Professional Development Day
Who: Teachers
What: Problem Solving Within
the MTSS Framework
SRN: 20134401004001
When: Monday, Sept. 10, 2012
Where: Indialantic Elem.
This workshop will assist teachers in
building background knowledge of the
problem solving process. The focus
will be on skills for newer teachers to
be successful at implementing
different academic and behavioral
supports for students including
problem identification, analyzing data,
intervention design, and implements
documentation.
WIMBA SESSION
Who:
Assistant Principals
What: Overview of the new IPST
Forms
When: Wednesday, Aug. 28, 2012
2:00 – 2:45 PM
Link:
TBA
Florida's Multi-tiered System of Supports (MTSS) is a system where resources and services are
organized efficiently on a continuum of intensity based on students' academic and behavioral
needs. MTSS represents the integrated work of the Florida Problem Solving/Response to
Instruction/Intervention Project and the Florida Positive Behavior Support Project, which has also
been frequently referred to broadly as the Response to Instruction/Interventions (RtI) Framework.
RtI refers to the fourth step of the planning/problem-solving process where teams use student
response data to make instructional decisions to improve academic and behavioral outcomes.